Stephen Colbert on Joe Biden Video: 'It Makes You Want to Stand up for American Values and Maybe Buy a Reverse Mortgage'
Stephen Colbert has pored over the launch of Joe Biden's presidential nomination campaign, describing him as a genuine contender but mocking the earnestness of a video he released last week.
On Monday night, Colbert introduced a segment with a clip of Biden telling the first rally of his 2020 campaign in Pittsburgh, Pennsylvania, earlier that day that Donald Trump was the only U.S. president in history "who has decided not to represent the whole country."
The CBS host then played part of Biden's earlier YouTube video which was scored with schmaltzy music and in which Biden said that Charlottesville, Virginia, was the home of the author of one of the "greatest documents in human history."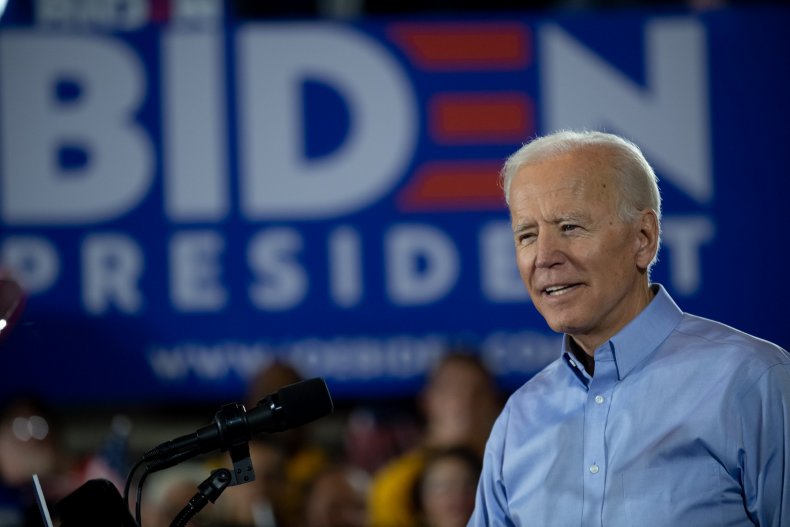 Biden quoted the second paragraph of the Declaration of Independence while a caption on the screen slowly revealed the iconic words: "We hold these truths to be self-evident, that all men are created equal, that they are endowed by their creator with certain unalienable rights."
The host of The Late Show With Stephen Colbert likened the montage to something a lot less high-flown. "That is inspiring. You want to stand up for American values and maybe buy a reverse mortgage," Colbert said to laughter from his studio audience as he added, "It seemed like an ad."
Biden went on to draw a comparison between Charlottesville as a historic center of American values in the past with the violence that erupted there in 2017 when a white supremacist rally took place and where neo-Nazis "chanted the same anti-Semitic bile heard across Europe in the 30s."
When Trump stated there were some "very fine people on both sides" of the demonstrations, Biden said in the video "at that moment, I knew that the threat to this nation was unlike any I have seen in my lifetime."
Colbert said that the video had already affected Trump and that it "did something none of the other Democrats have been able to do—put him on the defensive. After Biden's ad about Charlottesville, Trump had to answer for his Charlottesville answer again."
He then threw to a clip in which Trump defended his comment by stating that the "fine people" reference was about those who came to protest the removal of the Robert E. Lee statue.
"Trump thinks you should be honored because you're are a good general, no matter what side you fought on," Colbert noted.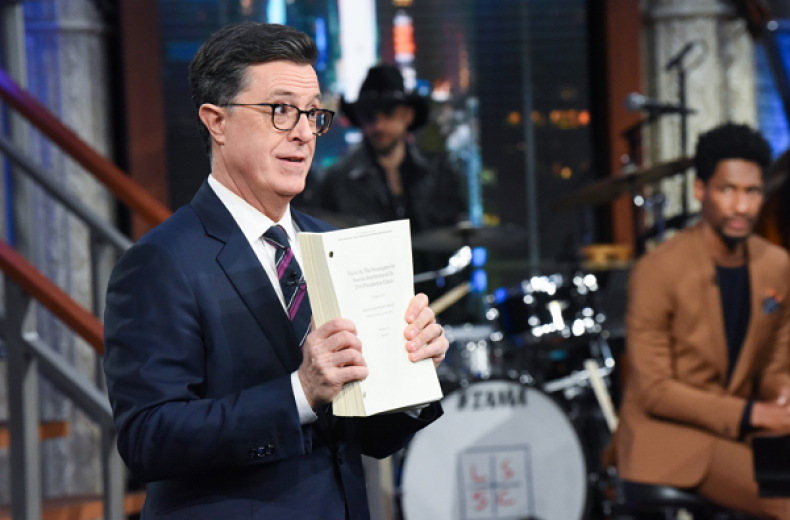 On Monday, Trump sent a series of critical tweets about the former vice president. One read: "Sleepy Joe Biden is having his first rally in the Great State of Pennsylvania. He obviously doesn't know that Pennsylvania is having one of the best economic years in its history."
Pennsylvania is a key battleground state where white, working-class defections from the Democratic Party helped Trump win in 2016.
Sen. Tim Kaine, the Democratic vice presidential candidate in 2016, said, according to The Hill: "Clearly, Vice President Biden bugs the president. I think he's very worried about Pennsylvania and he's probably thinking about Biden's strength there."
Former Republican National Committee chair Michael Steele said Trump is "concerned" about Biden, telling MSNBC last week that there would be "a lot of breast-beating and ugly tweets."
Biden is ahead of Trump by 6 percentage points among registered voters nationwide according to the latest Hill-HarrisX poll.