Stephen Colbert Spends Entire Monologue Mocking Trump's Speech to Congress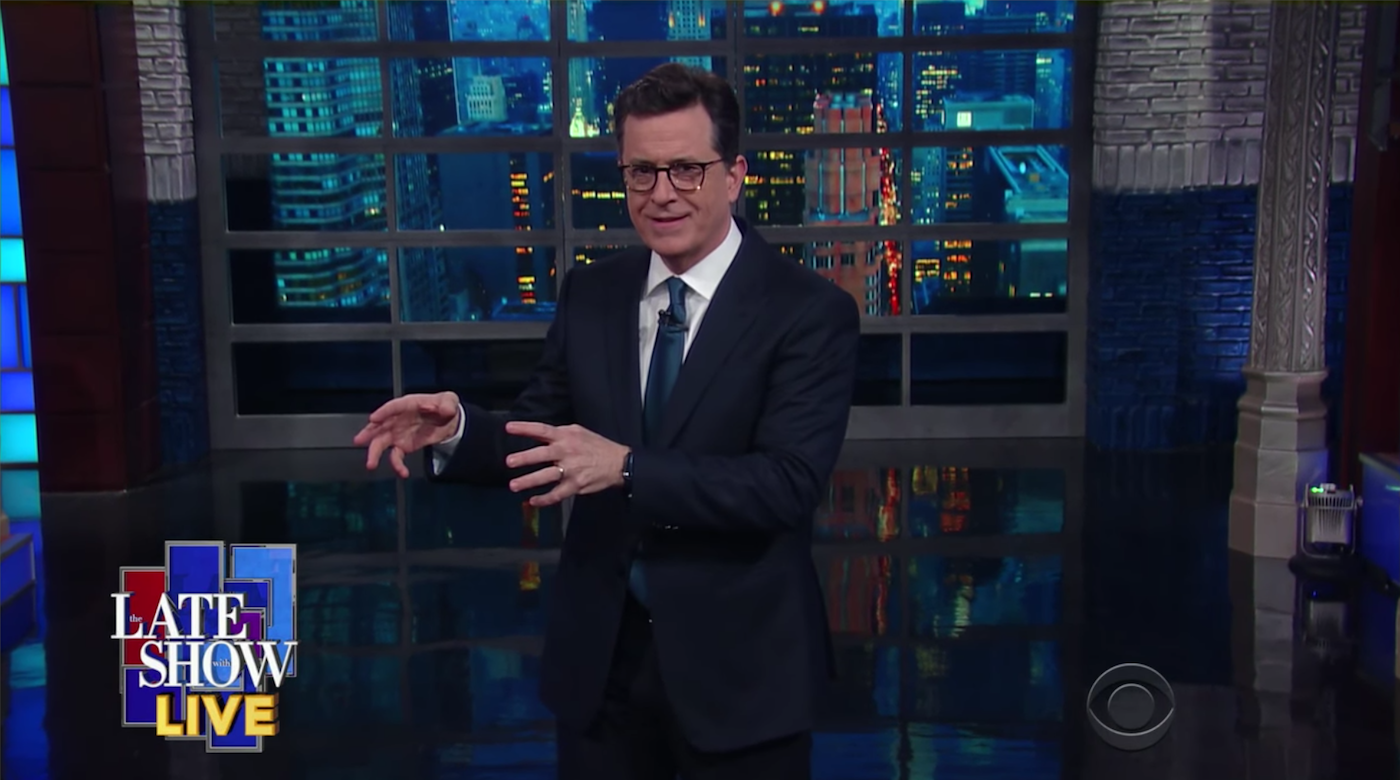 After a somewhat rocky start to his Late Show tenure, Stephen Colbert's ratings have been soaring in recent months, and he has Donald Trump to thank. While competitors Jimmy Kimmel and Jimmy Fallon have taken a soft approach to Trump's White House, Colbert has taken dead aim at the president. Mocking the political circus was his specialty on the Colbert Report, and now he's parlayed his incisive wit into big ratings on network television.
Related: Jon Stewart wants the media to stop 'whining,' but he doesn't have much hope
In such a groove is Colbert that he decided on Tuesday to film a live episode of The Late Show, ostensibly so he could react to Trump's address to a joint session of Congress...which he did, for an entire 12-minute monologue. He made no profound points during the lambasting, instead delivering one-liner after one-liner in response to various portions of the speech.
Trump mentioned a ban on lobbying for foreign governments, and Colbert responded by impersonating Trump. "Obviously, yours truly excepted," he mimicked. "I got your back, Vlad. I got your back." Trump said he was creating a deregulation task force inside of every agency to promote small government, and Colbert playfully wondered how adding task forces counts as reducing government. Trump praised Edison for inventing the "electric pen," and Colbert theorized that Trump's own electric pen might be used for housing immigrants.
This went on for more than 12 minutes.
Colbert also spent some time mocking the Democrats' rebuttal to Trump's speech. He questioned their decision to "show a retired politician from a darkened cafeteria," while commending how the speaker, Steve Beshear, implemented the Affordable Care Act in the heavily Republican state of Kentucky.
Colbert and fellow late-night hosts Seth Meyers, John Oliver and Samantha Bee have played an important role in pointing out the lunacy of Trump's administration. Unlike The New York Times, The Washington Post, CNN or other media outlets that have been criticized by Trump, the hosts have felt no pressure to remain unbiased, instead choosing to align themselves with the majority of Americans who voted against the former reality TV star.
Most of these traditional media outlets, in fact, took the relatively tame speech as a rare opportunity to praise Trump. CNN ran a piece under the headline "Presidential Trump." Van Jones, who had once been fiercely critical of Trump, said the commander in chief "became President of the United States in that moment, period," in reference to a point in the speech where Trump honored the widow of the Navy SEAL who died in the controversial raid on Yemen in January. Earlier in the day, Trump deflected blame for the death onto his generals, despite authorizing the raid himself. Also on Tuesday, a report found that no significant intelligence was gathered as a result of the raid.
Trump's tribute to fallen Navy SEAL Ryan Owens did not, however, sway Colbert. "As we come to the end of tonight's address to Congress, I think we can all agree on one thing," he said, gritting his teeth. "One down...seven to go."
Read more from Newsweek.com:
- Trump's harsh words are encouraging violent racists
- Trump's U.N. envoy vows to 'call out' Russia for transgressions
- President Trump salutes widow of Navy SEAL in Yemen raid