Stephen Colbert Reacts to #FireColbert, Has No Regrets Over Donald Trump Insults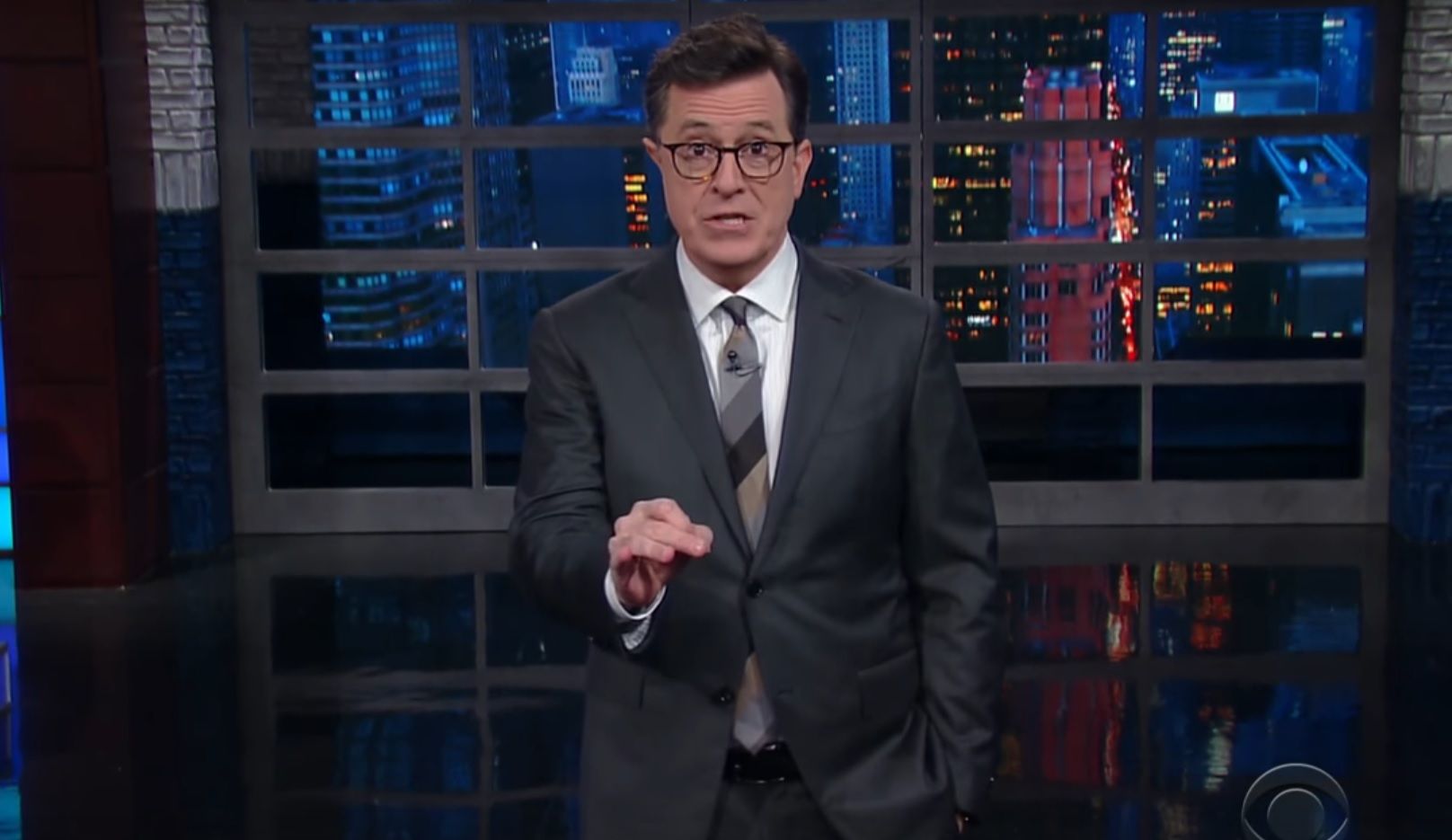 Stephen Colbert stopped short of apologizing for jokes he made about U.S. President Donald Trump on Monday's The Late Show that resulted in calls for him to be fired by CBS.
But the late-night talk show host did backtrack on a crude sexual joke he made about the commander-in-chief and Vladimir Putin when he addressed the #FireColbert controversy made viral by Trump supporters on Twitter in the 48 hours since Monday's broadcast.
Colbert told his audience Wednesday night: "I have jokes, he has the launch codes. So, it's a fair fight."
The comedian aimed part of his opening monologue Monday at Trump, who on Saturday railed against the "fake" mainstream media in an interview with CBS's John Dickerson on Face the Nation, and branded the show "Deface the Nation."
"If you saw my monologue, you know that I was a little upset at Donald Trump for insulting a friend of mine," Colbert said on Wednesday's program. "So at the end of that monologue, I had a few choice insults for the president in return. I don't regret that."
Watch below:
However, Colbert did offer one caveat—he said he "would change a few words that were cruder than they needed to be."
On Monday's Late Show, Colbert joked that the only thing the president's "mouth is good for is being Vladimir Putin's cock holster."
Though the controversy stemmed largely from alt-right, some members of the LGBT community criticized the the comedian's choice of words as homophobic.
The deputy editor for The Huffington Post's Queer Voices section, James Michael Nichols, wrote that, "Colbert's decision to make this kind of joke illustrates a kind of casual homophobia that permeates American culture―even among supposed liberal allies with massive media platforms. It positions sex between two men as doing something so mockable and inherently emasculating that it's the ultimate "fuck you" to Donald Trump."
"I'm not going to repeat the phrase," Colbert said Wednesday. "But I just want to say for the record, life is short, and anyone who expresses their love for another person, in their own way, is to me, an American hero. I think we can all agree on that. I hope even the president and I can agree on that."
Trump supporters in particular took issue with Colbert—who also referred to the president as the "presi-dunce," among other insults, Monday—and seized the opportunity to trend #FireColbert on Twitter. Some also urged people to contact Late Show advertisers to apply pressure on CBS.