Stephen Colbert Tells the Rock 'We Don't Need Another Celebrity President' Amid Speculation
Stephen Colbert on Tuesday night told Dwayne 'the Rock' Johnson that "we don't need another celebrity in the White House," amid speculation that the Hollywood star could run for president.
"I love Dwayne "Rock" the Johnson as much as the next middle-aged man who loves fast cars. But for the love of Ludacris, Dwayne, we don't need another celebrity in the White House," Colbert said during his show The Late Show With Stephen Colbert. "Just 'cause people love something doesn't mean we should hand it nuclear codes. That's why we've never elected President Surprise Onion Ring in your French fries."
Newsweek reached out to CBS News for a comment from Colbert, but did not receive a response in time for publication.
The comments by Colbert come amid speculation that the actor could make a run for the presidency.
On Sunday, Johnson spoke with NBC News' Today, and told host Willie Geist that he has a "goal" to bring America together.
"I do have that goal to unite our country," Johnson said on Today. "I also feel that, if this is what the people want, then I will do that."
He continued: "I am passionate about making sure our country is united, because a united country, as we know, is its strongest and I want to see that for our country."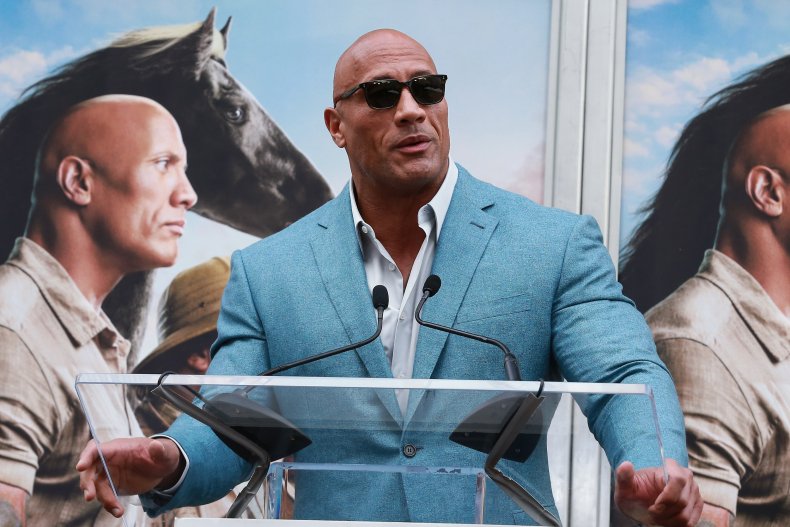 Prior to his comments made during the Today show, Johnson responded to a Newsweek article on Twitter, which reported a poll showing that at least 46 percent of Americans say they would support a presidential run for Johnson.
"Not sure our Founding Fathers ever envisioned a six-four, bald, tattooed, half-Black, half-Samoan, tequila drinking, pick up truck driving, fanny pack wearing guy joining their club - but if it ever happens it'd be my honor to serve the people," Johnson wrote on Twitter responding to Newsweek's poll story.
Despite Colbert's most recent comments about Johnson potentially running for the presidency, the superstar has hinted at it for several years now.
Johnson called the idea of being president "alluring" in a 2016 interview with GQ magazine. And during a 2017 appearance on The Ellen DeGeneres Show, Johnson said that he was "seriously considering" a run for the Oval Office.
He also spoke about a potential presidential bid while speaking with Colbert in 2018, saying that he would need to "get some experience and understand policy" before becoming a candidate. However, Johnson noted that he was still "absolutely" considering it.
More recently, Johnson spoke to USA Today in February and said: "I would consider a presidential run in the future if that's what the people wanted."
"Truly I mean that, and I'm not flippant in any way with my answer. That would be up to the people... So I would wait, and I would listen," he added.
Johnson's new NBC sitcom, Young Rock, has sparked some of the rumors surrounding his potential run for presidency as it shows his childhood experiences while also depicting him running for the presidency in the future.
Newsweek reached out to Johnson's publicist for comment, but did not receive a response in time for publication.