'Insane' Stephen Curry Makes NBA History as Warriors Knock off Pelicans, Win Sixth Straight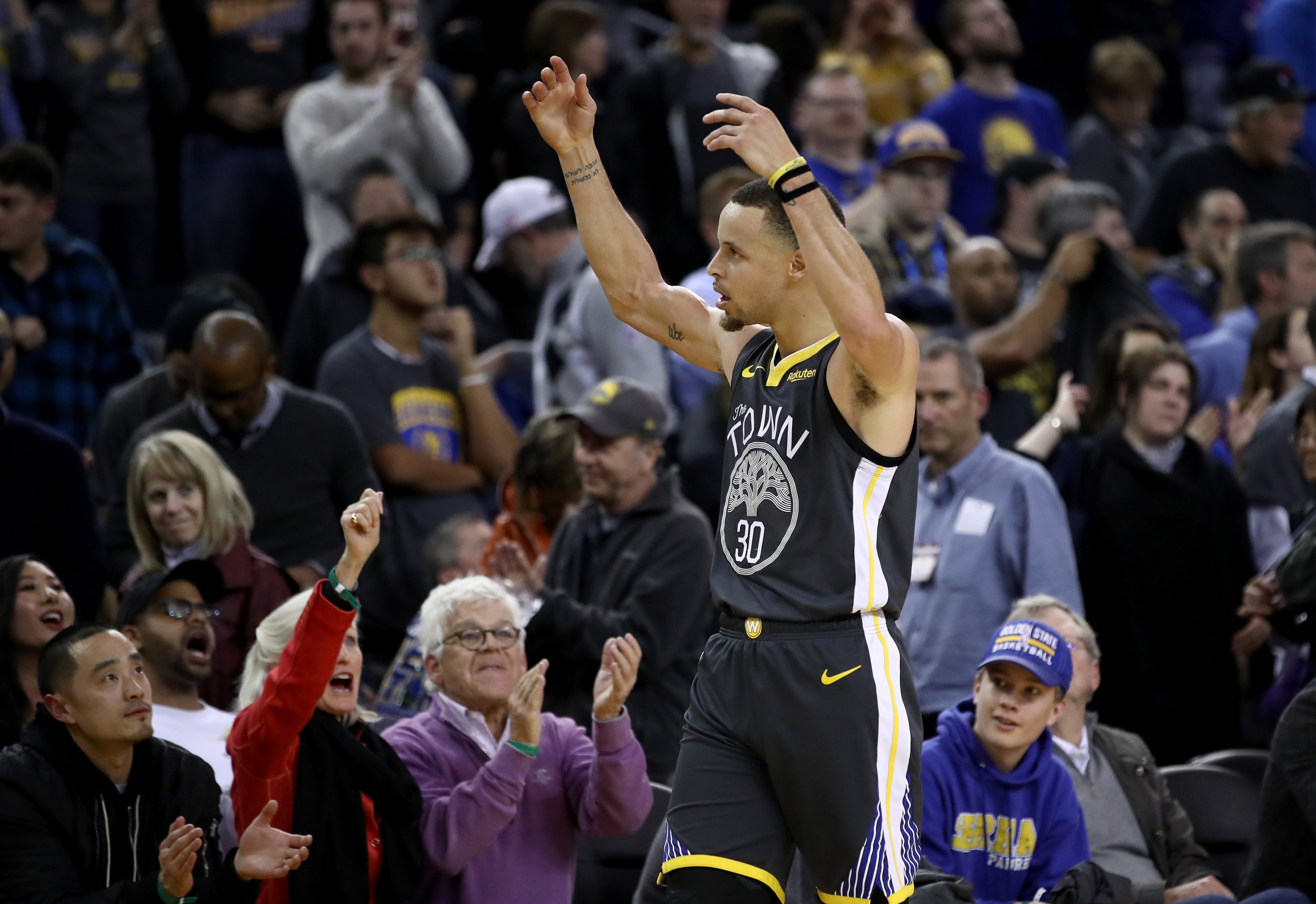 Stephen Curry wrote his name in the NBA history books yet again on Wednesday night as he became the first player to score eight or more three-pointers in three consecutive games.
The three-time NBA champion shot 9-of-17 from beyond the arc as the Golden State Warriors beat the New Orleans Pelicans 147-140 on home court. Curry finished with 41 points on 11-of-22 from the field, adding five rebounds and three assists.
Read more: The Golden State Warriors broke another NBA record on Tuesday night
The Warriors were hot from beyond the arc and made 24 three-pointers, matching their best ever performance from deep. Golden State has now scored 18 or more three-pointers in the last four games, setting a new franchise record.
The combined 43 three-pointers the Pelicans and Golden State scored in the game also made the history books, breaking the previous record the Warriors and the Kings had set on January 5 when they scored a combined 41 shots from three-point.
Curry has been a major factor in the offensive explosion, scoring a combined 28 three-pointers in the last three outings, over which he averages 40 points while shooting an incredible 57.4 percent from beyond the arc.
"When you get hot like that, you really don't see anything but the rim," he was quoted as saying by the Associated Press.
"You just try to stay on balance and get to your spot, wherever that is. Again, these are shots I work on, I have confidence in them, I know my teammates do."
Curry is arguably one of the greatest shooters in the history of the game but his recent run of form has been remarkable even by his already incredibly high standards.
"It's insane what he does," Warriors head coach Steve Kerr said after the game.
Aside from Curry's outstanding effort, Kevin Durant also had a big game for Golden State. The two-time NBA Finals MVP finished with 30 points, 15 rebounds and four assists, while Draymond Green had 17 points and 14 assists.
The Pelicans relied heavily on Anthony Davis yet again, with the five-time All-Star recording 30 points, 18 rebounds and seven assists in 41 minutes.
Julius Randle and Jrue Holiday combined for 48 points and Nikola Mirotic had 29 points off the bench but the Pelicans couldn't avoid a second defeat in three games and slipped to 21-24 for the season.
New Orleans concludes its five-game road trip with games in Portland and Memphis on Friday and Sunday, respectively. The Warriors, meanwhile, picked up a sixth consecutive win, improving to 31-14 and strengthened their grip onto first place in the Western Conference.