Stephen Merchant on 'The Office' Future, Working With Ricky Gervais Again
The Office has been off the air for nine years, but original co-creator Stephen Merchant thinks the show could still return in a different form.
Merchant and Ricky Gervais created the original U.K. version of The Office, then served as executive producers on the successful U.S.-adaptation, which ran for nine seasons before ending in 2013. Multiple spin-offs and reboots have been proposed in the subsequent years, and Merchant has given his blessing for future iterations to be made.
Speaking to Newsweek ahead of the launch of his upcoming comedy The Outlaws on Prime Video, Merchant discussed how The Office could return in the post-COVID era, and about his working relationship with Gervais.
An Animated The Office?
While the door is definitely closed on the U.K. version of The Office, which ran for just two seasons and finished back in 2003, Merchant admits there's more of a possibility that the American version could return.
"I think they're probably always fielding requests for people to bring it back," Merchant told Newsweek, "which seems odd to me, because it feels like it barely is just finished. It's this sort of the urge of 'we must reboot it.' It's like, 'well, it only finished last Tuesday'."
American sitcom showrunner Greg Daniels oversaw the adaptation and much of the production of The Office in America, as well as shows like Parks and Recreations, and Space Force. "The ball is in his court really," Merchant said. "It's about whether he can find a fresh angle if he was to bring it back, and whether the actors will come back? I don't know.
"It ran for nine seasons so they certainly milked that premise for all it's worth really. That's not to say they couldn't come back and find a new angle," Merchant continued, "Seeing the characters react to the climate we're living in now would be interesting. But they're more than welcome to take a stab at it."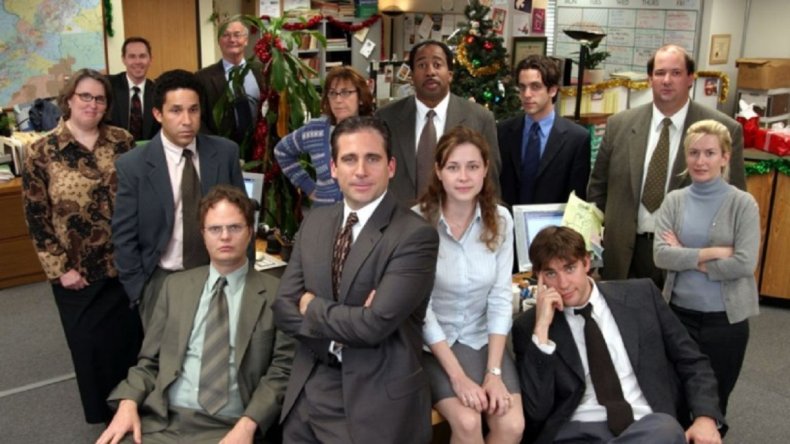 Taking his ideas one step further, Merchant threw out a couple of pitches for The Office spin-offs. "I'd like to see an animated version, maybe a version where they're all kids like the Muppet Babies," Merchant joked.
The premise of The Office may be consigned to the past in 2022 with more and more people foregoing an office environment in recent years to work from home.
"I wonder if post-COVID, will office life change? Are people going to offices as much? Is it going to seem alien to people in the future?," Merchant questioned.
Collaborating With Ricky Gervais
Merchant and Gervais created the international sensation that was The Office, but they also collaborated on a number of other television, radio, movie and podcast projects. The pair haven't been credited as working together on a project since the 2013 mockumentary series starring Warwick Davis called Life's Too Short.
There's seemingly been no grand falling out between the pair and Merchant still gives Gervais enormous credit for his own personal successes. "I owe my career to Ricky really," he said. "I have nothing but admiration for him and I think we could do something really interesting together."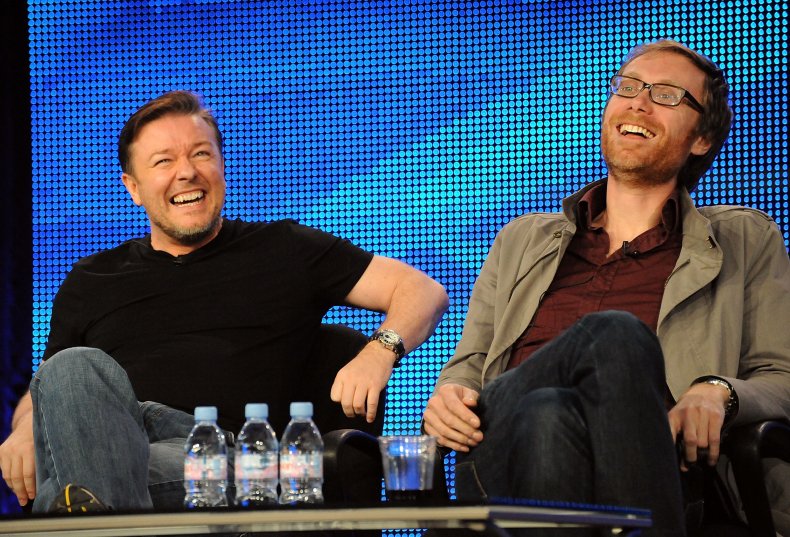 He acknowledges that their time apart has allowed him to thrive and diversify too. "Undoubtedly, I've been able to do stuff separate from Ricky that I don't think we would have done together, whether it's The Outlaws, or my Hello Ladies show which was a spin-off from my stand up act.
"I think there are areas that I have an interest that are not the same for Ricky, so I'm pleased I've been able explore other avenues. But that's not to say that if the idea came along, it wouldn't be fun to do something again."
Merchant thinks if he and Gervais ever did reunite, he's picked up a few new tricks from their time apart that could improve a future project.
"I think by refreshing myself, and working with different people, I've learned a lot, it's energized me in different ways," Merchant said. "So I think maybe if we went back to work again I can bring that with me in a way that I think would be instructive and exciting."
Merchant's next venture coming to our screens is the British comedy series The Outlaws. Christopher Walken has a leading role in the show, which is about a ragtag group performing community service in Bristol, England. Merchant writes, directs and stars in the show, which is set in his hometown.
The Outlaws launches on Prime Video in the United States on Friday, April 1, 2022. Newsweek will publish an interview with Walken and Merchant discussing the The Outlaws close to the show's launch.