Stephen Miller Outraged at Joe Biden's Immigration Plan: 'That's Just Wrong'
Donald Trump's former senior advisor Stephen Miller has criticised immigration policies enacted by Joe Biden on his first day in office which undo many of his predecessor's flagship initiatives, saying: "That is not who we are as a country."
Miller, who advised the former president on policy and also served as White House director of speechwriting to Trump, suggested executive orders signed by Biden were undemocratic.
"It's about fundamental morality, and decency, and yes democracy," he told Fox News.
"Joe Biden gave a speech yesterday about democracy and then hours later he suspends hundreds of pages of immigration law with the stroke of a pen. That is not who we are as a country. That is just wrong."
Miller also took to Twitter on Thursday to attack the new administration's immigration plans.
"Today, @POTUS pledged to be a president for all Americans," he wrote. "It's unclear how all Americans are served by opening travel from terror hot spots, proposing a giant amnesty, or halting the installation of security barriers along the Southwest border."
Among a raft of actions Biden took on his first day in charge was to sign executive orders stopping spending on the U.S.-Mexico border wall, reversing the so-called Muslim travel ban, and further revising immigration rules.
He also announced he was reversing plans to exclude people in the country illegally from the 2020 census.
"Immigrants have helped strengthen America's families, communities, businesses and workforce, and economy, infusing the United States with creativity, energy, and ingenuity," the order stated.
"My administration will reset the policies and practices for enforcing civil immigration laws to align enforcement with these values and priorities."
In total, six of Biden's 17 orders, memorandums and proclamations addressed immigration concerns that Democrats had long held relating to the previous presidency.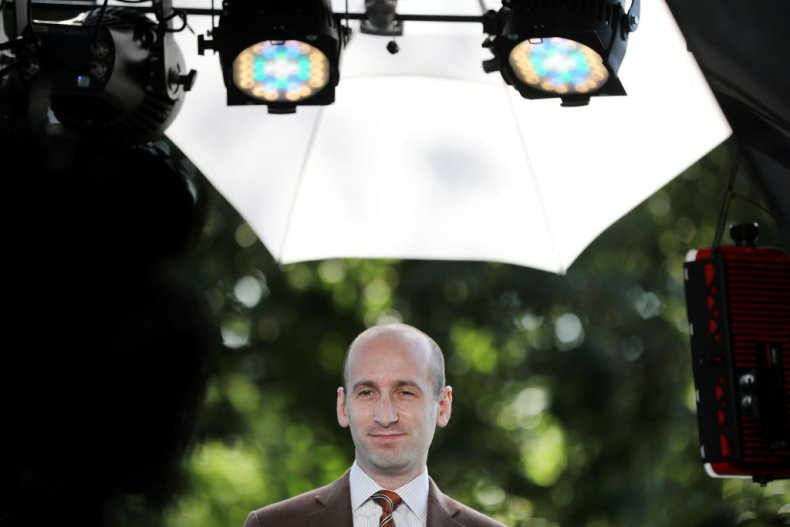 Greisa Martinez Rosas, executive director of United We Dream pro-immigration organization, called the legislation "the most progressive legalization bill in history."
"We made it," she said on Wednesday during a conference call reported by the Associated Press. "We made this day happen."
Miller is believed to have been the architect of many of the Trump administration's most controversial immigration policies, from the Muslim travel ban to family separation and using Immigration and Customs Enforcement (ICE) to pursue undocumented immigrants.
He said before the 2020 election that a future Trump administration would seek to expand the travel ban if the president were elected to a second term.
Miller outlined plans for immigration policy but stressed he was speaking as part of the Trump campaign, and not in his capacity as a White House adviser.
They would have included reducing the number of people given asylum in the U.S., placing further restrictions on work visas and cracking down on sanctuary cities.