Stephen Miller Said He'd Be 'Happy If Not a Single Refugee Foot Ever Again Touched American Soil,' Ex-Trump Aide Claims
Donald Trump's senior policy adviser Stephen Miller reportedly once told former White House communications aide Cliff Sims that he would be content if "not a single" refugee ever entered the United States again.
"I would be happy if not a single refugee foot ever again touched American soil," Miller is quoted as saying in Sims's new book, titled Team of Vipers: My 500 Extraordinary Days in the Trump White House.
When asked about Miller's quote during a press briefing on Monday afternoon, White House press secretary Sarah Huckabee Sanders said she was "not aware of any statement like that that Stephen Miller has ever made, and it's certainly not the policy of the administration."
Sims also described how many members of the Trump administration, including Miller, would dismiss the successes of immigrants while "going out of their way to vilify all immigrants with stories of the bad apples."
"Any time a refugee or immigrant committed a gruesome crime in the United States, for example, Stephen Miller would come down to the [communications] office demanding a press release about it," Sims wrote.
Miller has taken a hard-line immigration stance during his time with the Trump administration, orchestrating some of the president's more controversial policies. He is known for being influential in the administration's "zero tolerance" immigration approach that led to thousands of families being separated at the southern border. Miller has also focused a lot of energy on limiting the number of refugees admitted into the country.
Miller's policies have faced public scrutiny, even from his own family and friends. The adviser's childhood rabbi, Neil Comess-Daniels, once said that Miller "set back the Jewish contribution to making the world spiritually whole through [his] arbitrary division of these desperate people."
Miller's uncle, David Glosser, wrote an op-ed in Politico last summer blasting the adviser as an "immigration hypocrite." Glosser said "watched with dismay and increasing horror as my nephew, an educated man who is well aware of his heritage, has become the architect of immigration policies that repudiate the very foundation of our family's life in this country."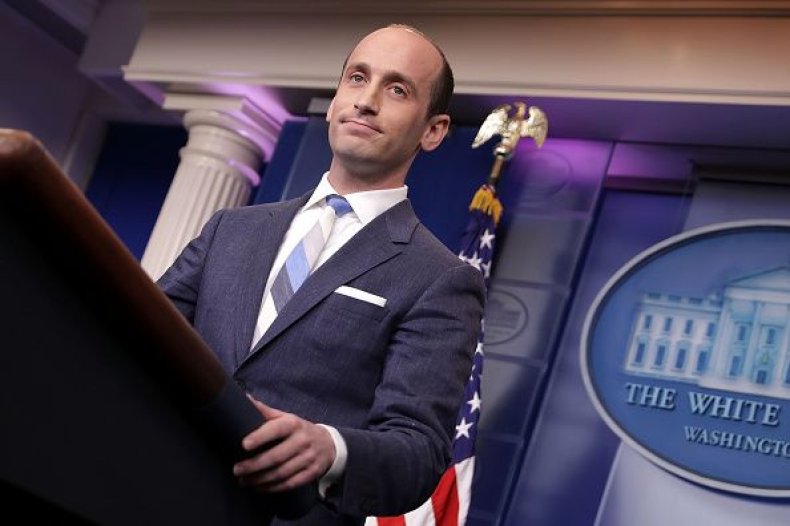 Sims's book is the latest look behind the curtain of the Trump presidency, with the former communications aide describing the administration as "absolutely out of control."
In one excerpt, Sims described White House counselor Kellyanne Conway as a "cartoon villain brought to life." Sims claimed Conway consistently leaked information to reporters, though she responded to the allegation by saying she preferred to "knife people from the front, so they see it coming."
Sims also wrote about president's obsession with television news coverage. The former staffer claimed that Trump often bragged about how many televisions were in the West Wing, and once requested that a positive New York Times article be framed in gold and hung up in the White House.
In an interview with The View on Monday, Sims said that while he differed with the president on certain issues, he would not "apologize for working with him."
"I was proud to work for the American people, I was proud to work for this White House and I was proud to work for Donald Trump," Sims said.