Stephen Miller 'Is Trump's Real DHS Secretary' Regardless of Who Replaces Kirstjen Nielsen, Immigration Group Says
After Department of Homeland Security Secretary Kirstjen Nielsen resigned Sunday, speculation has swirled around who might become her permanent replacement, with U.S. Customs and Border Protection Commissioner Kevin McAleenan stepping in as acting DHS chief for now.
As President Donald Trump appears to be moving to clear the senior ranks of the DHS, immigration advocates argue that regardless of who holds the top job in the department, it is Stephen Miller, Trump's senior policy adviser, who will be in charge.
"Whether it is John Kelly, Kirstjen Nielsen or whoever comes next, Trump's real DHS secretary has always been Stephen Miller, who continues to order the government to make his and Donald Trump's racist fantasies become real and deadly," United We Dream Advocacy Director Sanaa Abrar said in a statement released Monday.
A report from The Wall Street Journal adds fuel to that assertion. The newspaper reported Monday that Trump recently told Miller that he is "in charge" of the government's immigration policy, according to an unnamed administration official.
With Nielsen's departure, Abrar said, the White House is simply "making another show of hiring, firing and becoming even harsher on the people who Trump and Miller hate."
Miller has long been named as the architect of some of the Trump administration's most hard-line immigration policies. The 33-year-old was the mastermind behind the president's initial travel ban against Muslim-majority countries, which also saw the U.S. refugee program suspended indefinitely.
Miller reportedly has also been working behind the scenes to reinstate the Trump administration's large-scale separation of immigrant families. Hundreds of children were separated from their parents at the U.S.-Mexico border before Trump signed an executive order to end the practice on June 20.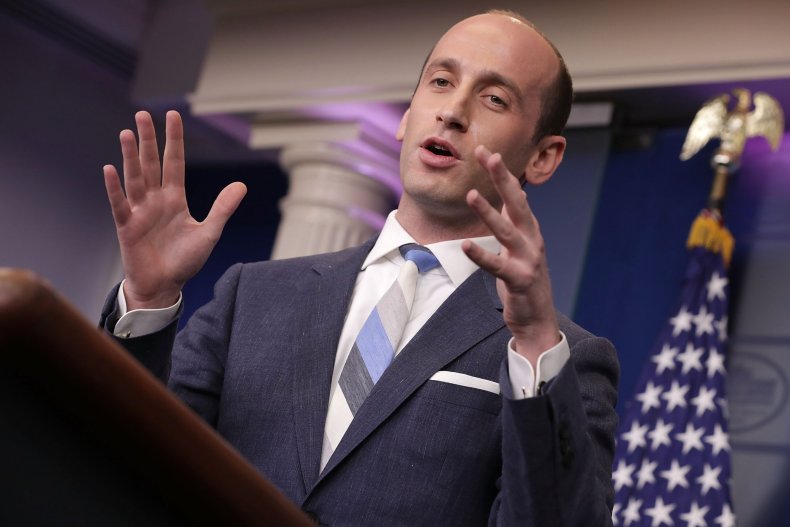 The Trump adviser and speechwriter has also been named as the main obstacle preventing any immigration deal between Republicans and Democrats. "Every time we have a proposal, it is only yanked back by staff members," Republican Senator Lindsey Graham of South Carolina once complained. "As long as Stephen Miller is in charge of negotiating immigration, we're going nowhere."
The senior Trump adviser's views on immigration are so strict that members of Miller's own family have spoken out against them, with his uncle, David Glosser, writing of his "dismay and increasing horror" at his nephew's role as the "architect of immigration policies that repudiate the very foundation of our family's life in this country," in an essay published by Politico.
Noting that their ancestor, Wolf-Leib Glosser, had been forced to flee the village of Antopol, in what is now Belarus, to America in search of safety from "violent anti-Jewish pogroms," Glosser said if his nephew's "ideas on immigration had been in force a century ago, our family would have been wiped out."
Abrar said that "beneath the frenzy," immigration enforcement agencies such as the Immigration and Customs Enforcement and Customs and Border Protection "are getting steadily stronger," with Trump's fiscal year 2020 budget proposing a significant funding increase for both agencies. Abrar called on members of Congress to "immediately do their duty to provide oversight of ICE and CBP to stop their abuses and rein in their never-ending budget increases."
Abrar said that as United We Dream continues to "fight to stop ICE and CBP from becoming even more dangerous," the advocacy group would also be working to ensure that Nielsen's "legacy reflects the truth."
"She directed children to be pulled from the arms of their parents, put families in cages, and treated immigrants seeking refuge as if they were less than human," Abrar said.
The graphic below, provided by Statista, illustrates the number of immigrants apprehended at the U.S.-Mexico border each month.