Stephen Miller's Uncle Says He's Horrified by His 'Immigration Hypocrite' Nephew
White House senior adviser Stephen Miller has faced widespread backlash over his ideas on immigration. Now, even his own uncle has expressed his "horror" over the policy proposals supported by the "immigration hypocrite."
In a scathing editorial published Monday by Politico, Miller's uncle, David Glosser, said that if his nephew's "ideas on immigration had been in force a century ago, our family would have been wiped out."
Glosser told of how his ancestor, Wolf-Leib Glosser, was forced to flee the village of Antopol, in what is now Belarus, and come to America in search of safety from "violent anti-Jewish pogroms."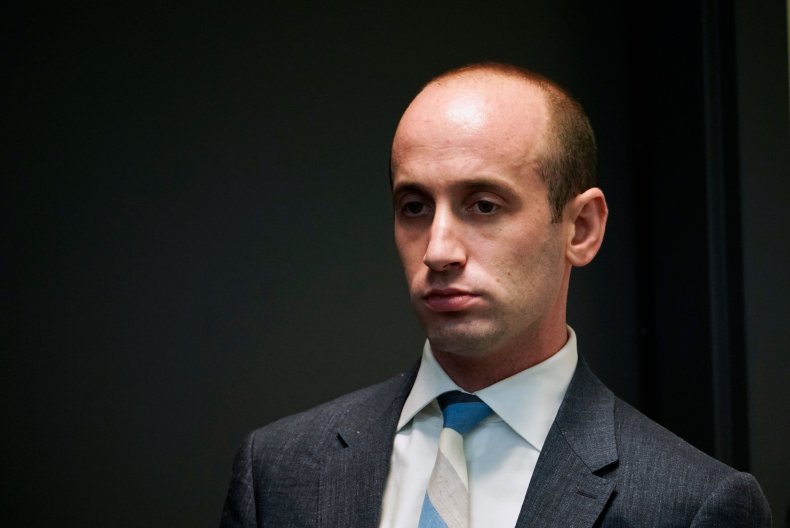 He described how Wolf-Leib arrived in Ellis Island on January 7, 1903, with just $8 in his pocket but managed to work his way from "corner peddling and sweatshop toil" to eventually running a number of businesses in Johnstown, Pennsylvania—an American dream come true.
"The Glosser family quickly progressed from selling goods from a horse and wagon to owning a haberdashery in Johnstown run by Nathan and Wolf-Leib to a chain of supermarkets and discount department stores run by my grandfather, Sam, and the next generation of Glossers, including my dad, Izzy," Glosser wrote.
Miller's uncle wrote with pride of how Wolf-Leib's shops were "big enough to be listed on the AMEX stock exchange and employed thousands of people over time."
An opinion piece in the Pittsburgh Post-Gazette described the Glossers as being "Pennsylvania's first family of retail."
"In the span of some 80 years and five decades, this family emerged from poverty in a hostile country to become a prosperous, educated clan of merchants, scholars, professionals, and, most important, American citizens," Glosser wrote in his own editorial.
"What does this classically American tale have to do with Stephen Miller? Well, Izzy Glosser is his maternal grandfather, and Stephen's mother, Miriam, is my sister," Glosser said.
The uncle said he has watched with "dismay and increasing horror" as his nephew, "an educated man" who he said is "well aware of his heritage," has become "the architect of immigration policies that repudiate the very foundation of our family's life in the country."
Miller recently faced widespread condemnation after it came to light that he was pushing for a policy that would see legal immigrants penalized for using support programs, such as food stamps, by making it more difficult for them to obtain green cards.
The adviser, who previously served as communications director for then-Senator Jeff Sessions, once called the Trump administration's "zero tolerance" policy that led to separating families at the U.S.-Mexico border a "simple decision." He told The New York Times that the now-rescinded policy sent a "message" that "no one is exempt from immigration law."
Glosser said he could not help but "shudder" at the thought of what would have happened to the Glossers had the same policies his nephew "espouses—the travel ban, the radical decrease in refugees, the separation of children from their parents and even talk of limiting citizenship for legal immigrants—been in effect when Wolf-Leib made his desperate bid for freedom."
Related: What kind of guy Is Stephen Miller? Twitter #StephenMillersTheTypeOfGuy has the answer
The uncle also hit out at Donald Trump, saying that both the president and Miller "may have become numb to the resultant human tragedy and blind to the hypocrisy of their policy decisions."
"After all," he wrote, "Stephen's is not the only family with a chain immigration story in the Trump administration." He noted that Trump's own grandfather is reported to have been a German migrant "on the run from military conscription to a new life in the U.S.A.," while his mother is reported to have "fled the poverty of rural Scotland for the economic possibilities of New York City."
"These facts are important not only for their grim historical irony but because vulnerable people are being hurt," Glosser wrote. "They are real people, not the ghoulish caricatures portrayed by Trump."
Glosser said that while his family was able to "build the American dream," they too faced the wrath of "hate mongers who regarded the most recent groups of poor immigrants as scum, rapists, gangsters, drunks and terrorists."
He warned against the Trump administration repeating mistakes of the past, writing that "the Glossers came to the U.S. just a few years before the fear and prejudice of the 'America First' nativists of the day closed U.S. borders to Jewish refugees."
"Had Wolf-Leib waited, his family would likely have been murdered by the Nazis along with all but seven of the 2,000 Jews who remained in Antopol," Glosser said.
Reflecting on the one-year anniversary since the deadly rallies that saw 32-year-old Heather Heyer killed last August in Charlottesville, Virginia, Glosser said he would "encourage" his nephew to "ask himself if the chanting, torch-bearing Nazis of Charlottesville, whose support his boss seems to court so cavalierly, do not envision a similar fate for him."
"Almost every American family has an immigration story of its own based on flight from war, poverty, famine, persecution, fear or hopelessness," Glosser said. "These immigrants became the workers, entrepreneurs, scientists and soldiers of America."