Steve Bannon Plans Comeback With Pro-Trump Midterm Ad Campaign, GOP War Room
Former White House chief strategist Steve Bannon is set to release a "top secret" midterm election advertising campaign aimed at touting President Donald Trump's accomplishments while also bringing him back into good favor with Republicans.
Bannon is attempting to stage a political comeback ahead of the 2018 midterm elections by unleashing a multimillion-dollar ad blitz designed to combine his "America First" views on foreign policy with the Republican Party's need to get behind Trump's agenda, CNBC first reported. Bannon has been funding ads in several U.S. cities since May and hopes to create a "war room" to monitor the GOP's strategies for holding on to majority control of both the House and Senate. Bannon, who referred to Donald Trump Jr.'s 2016 meeting with a Russian lawyer as "treasonous," was fired by the president in August 2017 despite widely being viewed as one of the main architects behind his successful 2016 presidential campaign.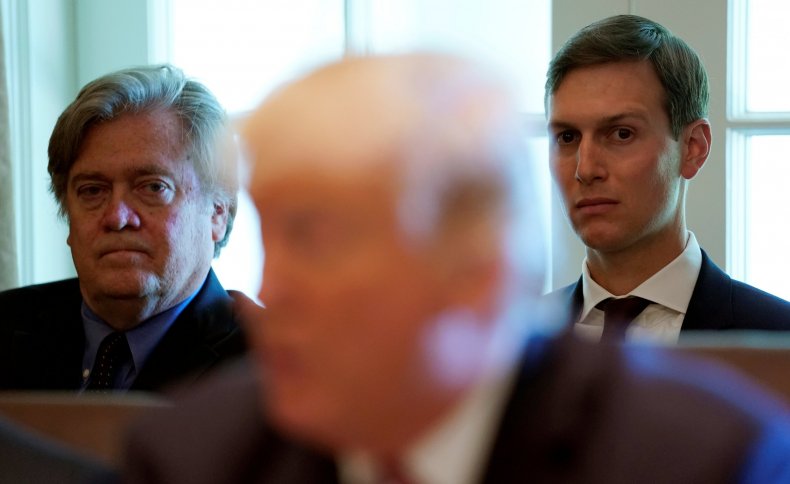 Since his controversial departure from the White House last year, Bannon took his national populism ideals abroad last month to meet with Italian populists and has backed U.S. candidates such as Arizona Republican Kelli Ward, who is seeking retiring GOP Senator Jeff Flake's seat in the November midterm elections. CNBC's Brian Schwartz reported that Bannon's "top secret" ad campaign will tout Trump's passing of a comprehensive tax reform bill in December and his work with Congress to dampen the Dodd-Frank Act's effect on local banks.
Bannon's multimillion-dollar, nationwide messages won't endorse specific candidates, but instead illustrate how Trump and establishment Republican Party members need each other to move forward with a conservative agenda. The ads have not yet been released, and sources said it's not clear if his ads will be distributed on television, social media or through the radio. CNN reports that former White House press secretary Sean Spicer joined the Trump-aligned super PAC America First Action this week as a sign that Republicans are seeking consolidation with Trump ahead of the midterm elections.
Bannon, the former Breitbart News executive, was ridiculed as "Sloppy Steve" and allegedly "cried when he got fired and begged for his job," according to a Trump tweet in January after the release of Michael Wolff's book, Fire and Fury: Inside the Trump White House. Bannon left the White House in August after allegedly calling Trump aide and son-in-law Jared Kushner a "cuck" and a "globalist," the Daily Beast reported.
The New York Times reported this week that Bannon is investing in Bitcoin and other cryptocurrencies through his investment business, Bannon & Company. CNBC reported that though it's unclear where Bannon is receiving financing for his political comeback tour, he has a wide source of wealthy right-wing backers in media and banking.