Steve Bannon Confirms His Involvement in January 6 Insurrection on 'War Room' Podcast
Former White House Chief Strategist Steve Bannon admitted on his War Room podcast that he had a hand in planning the rally for then-President Donald Trump that preceded the riot at the U.S. Capitol on January 6.
Bannon played a clip on War Room from an MSNBC broadcast in which Washington Post journalists Robert Costa and Bob Woodward, who just released the book Peril, discussed Bannon meeting up with Rudy Giuliani and other Trump allies the night before the insurrection.
Costa claimed that on January 5, Bannon, Giuliani, and the other allies had a "war-room-type meeting" at the Willard Hotel, which is located blocks from the White House.
"And Bannon had actually been in close touch with President Trump for days before January 6th," said Costa on MSNBC. "Based on our reporting, he privately told President Trump to have a reckoning on January 6th. And he said to the president, it's time to kill the Biden presidency in the crib."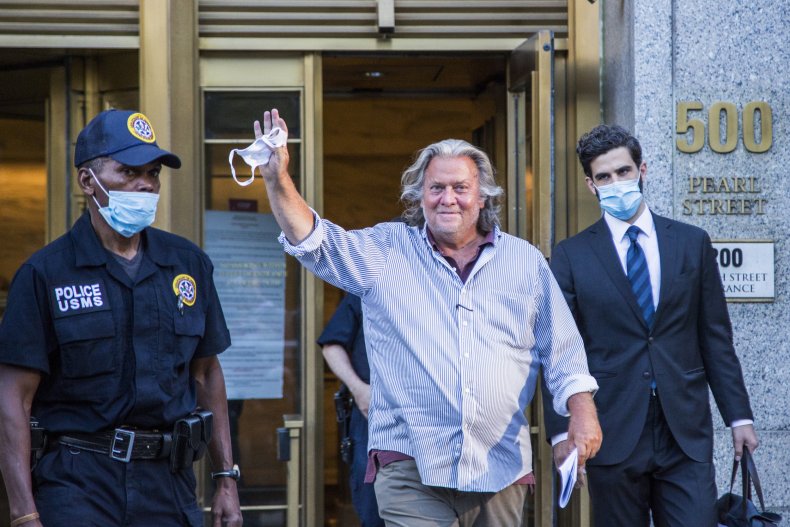 Bannon said on War Room confirmed that he met up with Trump and discussed how to "kill the Biden presidency" because of the supposed illegitimacy of now-President Joe Biden's win over Trump in 2020, a claim that has been debunked multiple times.
"Forty-two percent of the American people think that Biden did not win the presidency legitimately," said Bannon.
"It killed itself," Bannon continued. "Just look at what this illegitimate regime is doing. It killed itself. OK? But we told you from the very beginning, just expose it, just expose it, never back down, never give up and this thing will implode."
Woodward, a former Washington Post associate editor, and Costa, a national political reporter, also reported in Peril that on December 30, Bannon convinced Trump to return to Washington D.C. on January 6, the day that Biden's 2020 election win was to be certified by Congress.
"You've got to return to Washington and make a dramatic return today," Bannon said to Trump, according to the book. "You've got to call [Vice President Mike] Pence off the f**king ski slopes and get him back here today. This is a crisis."
"People are going to go, 'What the f**k is going on here?'" Bannon said of the looming election. "We're going to bury Biden on January 6th, f**king bury him."
Bannon served as White House chief strategist and senior counselor to Trump from January 2017 until August 18, 2017, when he was fired by Trump. Bannon allegedly used over $1 million from the Trump campaign for personal benefits and was arrested in August 2020. He pleaded not guilty to the charges.
Newsweek reached out to Bannon for comment but did not hear back in time for publication.