Former White House Chief Strategist Steve Bannon allegedly convinced then-President Donald Trump to return to Washington D.C. for January 6, the day the Capitol riots took place, a new book has claimed.
On December 30, Bannon convinced Trump to return to the White House on January 6, according to Peril, a new book by journalists Bob Woodward and Robert Costa. At the time, Trump was in his Mar-a-Lago resort in Florida. January 6 was the date set for Congress to vote on certifying the 2020 electoral victory of now-President Joe Biden.
"You've got to return to Washington and make a dramatic return today," Bannon told Trump, according to the book. "You've got to call [Vice President Mike] Pence off the fucking ski slopes and get him back here today. This is a crisis."
"People are going to go, 'What the f*ck is going on here?'" Bannon said of the election's outcome. "We're going to bury Biden on January 6th, f*cking bury him."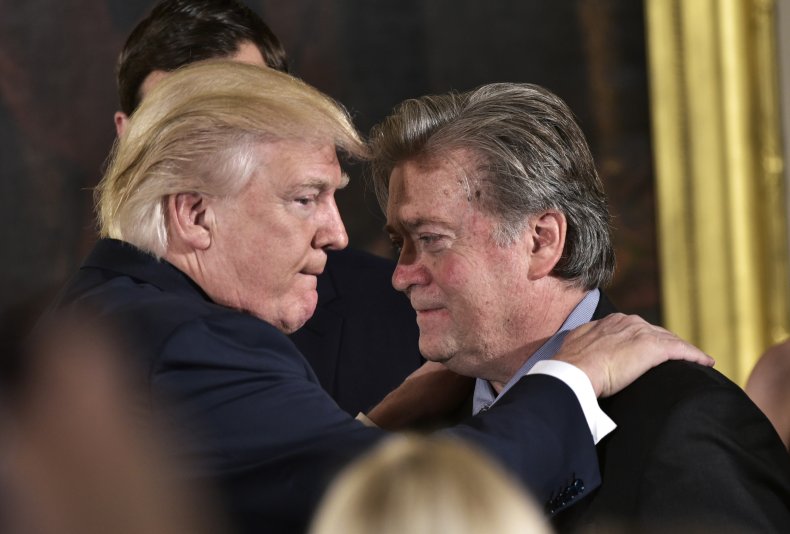 The book, Woodward's third on the Trump presidency, covers Trump's attempts to hold onto power during the last days of his presidency.
In the weeks following the November 2020 elections, Bannon and Trump spoke regularly. During the conversations, Bannon reportedly advised Trump on his efforts to overturn the election's result through baseless claims of voter fraud, Bloomberg News reported.
Peril claims that Trump campaign attorney Rudy Giuliani and Trump's other allies persuaded him to keep pursuing his claims of voter fraud after the 2020 election. In reality, Trump had lost the election by over 7 million popular votes and 74 electoral votes. No evidence of voter fraud has been found.
Hours before the January 6 riots, Trump repeated his baseless claims of voter fraud to a crowd of thousands of supporters at a "Stop the Steal" rally near the Capitol. There, he told his supporters to march to the Capitol and "fight like hell" to let legislators know that they opposed the "theft."
In January, the House impeached Trump for inciting the riots.
Bannon served as White House chief strategist and senior counselor to Trump from January 2017 until August 18, 2017, when Trump fired him.
On January 20, Trump pardoned Bannon from federal charges of conspiracy to commit mail fraud and money laundering. The charges stemmed from the We Build the Wall campaign, a $25 million GoFundMe crowdfunding campaign to help Trump construct a border wall between the U.S. and Mexico. Trump had originally said that the Mexican government would entirely pay for such a wall.
Bannon himself was alleged to have used over $1 million from the campaign for his own personal benefit. He was arrested for the charges in August 2020. He pleaded not guilty.
Newsweek contacted Trump's office for comment.