Steve Bannon Could Be Behind Bars Before Fraud Trial Begins
Conservative political strategist and former Donald Trump campaign adviser Steve Bannon turned himself in to law enforcement on Thursday regarding his alleged role in a money laundering scheme, marking a significant break in New York State Attorney General Leticia James' inquiry into a fundraising scheme to build a wall on the southern border.
Bannon, a top figure in conservative media, was officially arraigned Thursday afternoon on a bevy of charges, including money laundering, fraud and conspiracy related to his alleged role in a scheme to raise $15 million in funds for a wall that was ultimately never built.
Hundreds of thousands of those dollars went directly into Bannon's pocket via a nonprofit organization Bannon owned, prosecutors claimed, after he initially said that he would not accept a single cent of those dollars.
While President Trump preemptively pardoned Bannon in the case shortly before exiting office in 2021, federal and state prosecutors have continued to pursue charges against him and We Build The Wall Inc., for which Bannon served as chairman of the board.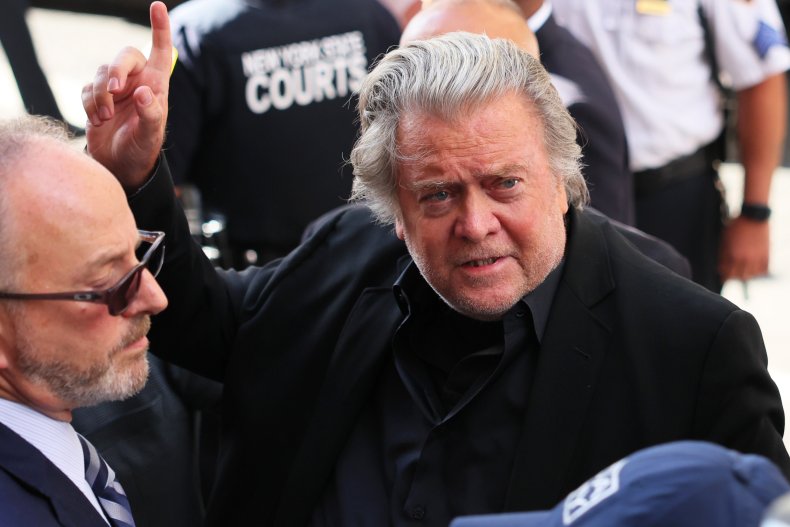 "The simple truth is that it is a crime to profit off the backs of donors by making false pretenses," Manhattan District Attorney Alvin Bragg said in a press conference shortly after the arrest.
Bannon, who has fought the charges for more than a year, told reporters he plans to appeal the charges while entering Manhattan Criminal Court early Thursday.
"This is irony—on the very day the mayor of this city has a delegation down on the border, they're persecuting people here," Bannon shouted on his way into court, referring to New York City Mayor Eric Adams' recent announcement of a "fact-finding mission" to the border investigating the Texas government's plans to bus apprehended migrants from the border to New York.
If convicted of the most serious charges, Bannon could serve anywhere from zero to 15 years in prison for his role, Bragg told reporters Thursday.
Peter Navarro, a former Trump official who was indicted for contempt of Congress over his alleged role in the January 6, 2021, Capitol riot, described Bannon's arrest as a "Jihad by the Democrats" in a guest-hosting spot on Bannon's War Room podcast Thursday morning, calling the indictment a distraction by Democrats with 60 days left until election day.
"Today, yet another indictment by Democrats in a blue stronghold using lawfare to try to silence the man, Stephen K. Bannon, who has through the force of his intellect, taken this show to the number one podcast and show on politics in the world," Navarro said on the show. "Democrats fear him, and rightly so."
Meanwhile, Bannon continues to find himself mired in a number of legal complications.
Thursday's indictment comes just two months after Bannon was convicted of contempt of Congress for his refusal to appear before members investigating the January 6 riot, with investigators saying he played a central role. An effort by Bannon's attorneys to request a new trial in that case were denied last week by Trump-appointed Judge Carl Nichols, who said in court documents that Bannon failed to offer sufficient reason to argue that he was unjustly treated.
Bannon's associates in the fundraising scheme have continued to file a number of motions to delay the start of the trial against them.
On Wednesday, U.S. Attorney of the Southern District of New York Damian Williams filed a motion asking the judge to deny We Build The Wall's requests for myriad changes to the hearing, including a change of venue and the denial of certain exhibits being entered into evidence, arguing that their lawyers sought to "improperly exert pressure on the Government to compromise its principled position in the ongoing plea discussions."