Steve Bannon Says 'They Will Have To Kill Me' In Response To New Indictment
Steve Bannon, former White House senior strategist to Donald Trump, has hit out at the "phony" charges against him following reports he is due to surrender to prosecutors in New York as a part of a federal fraud case.
Bannon is facing a new criminal indictment in a case similar to the fraud investigation for which he was pardoned by Trump (just as the former president was leaving office), and is preparing to hand himself in on Thursday, The Washington Post reported.
In the 2020 case, Bannon and several other people were accused of defrauding people who contributed to a $25 million "We Build The Wall" campaign, which promised to construct a barrier across the southern U.S.-Mexico border.
In a statement released to several journalists, Bannon suggested the charges against him are politically motivated and somehow linked to George Soros, the Jewish billionaire philanthropist who is often the target of right-wing conspiracy theories.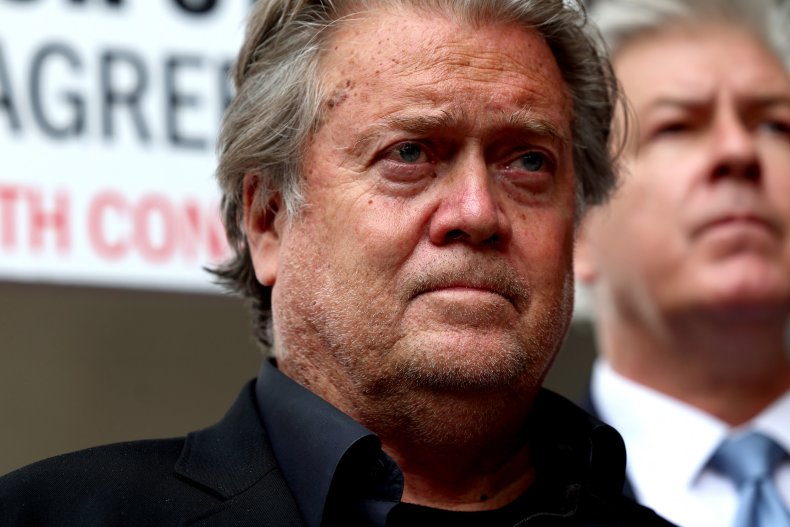 Bannon also makes reference to police recently visiting his New York home after receiving false reports of an armed man at the premises, while stating "they will have to kill me first" before he and Trump "stop fighting" for their cause.
The exact details of the new charges Bannon is allegedly facing have not been revealed.
The Manhattan district attorney's office opened its investigation into Bannon shortly after Trump pardoned his longtime ally as he was leaving the White House in January 2021, reported CNN.
Presidential pardons can only apply to federal investigations and are not applicable to state investigations.
"Just days after being swatted three different times by deranged thugs from New York City inspired by the Biden Administration to assassinate me by police, the Soros-backed DA has now decided to pursue phony charges against me 60 days before the midterm election because WarRoom is the major source of the MAGA grassroots movement," Bannon said.
"The SDNY [Southern District of New York] did the exact same thing in August 2020 to try to take me out of the election. It didn't work then, it certainly won't work now. This is nothing more than a partisan political weaponization of the criminal justice system."
"They are coming after all of us, not only President Trump and myself. I am never going to stop fighting. In fact, I have not yet begun to fight. They will have to kill me first."
Bannon added that he is "proud to be a leading voice" on protecting the U.S. borders and promised that his WarRoom show will be "more vital, more intense, more urgent, and bigger" in the wake of the new investigation.
Reports of the new indictment arrive as Bannon is awaiting sentencing after being found guilty of contempt of Congress for defying a subpoena issued by the House Select Committee investigating the January 6 attack.
A lawyer for Bannon has been contacted for comment.