Steve Bannon's 'War Room' Pushes Political Hit Job Theory as Trial Starts
As ex-Trump strategist Steve Bannon goes to trial for refusing to comply with the January 6 congressional committee, his "war room" is floating a theory that his contempt of Congress charges are part of a political hit job.
Bannon, who served as former President Donald Trump's chief strategist in 2017, was subpoenaed last year by the House select committee investigating the January 6, 2021, attack at the U.S. Capitol—when a mob of Trump supporters, motivated by unfounded claims of election fraud, rioted in a failed attempt to force Congress to block President Joe Biden's win—but he has refused to comply.
Bannon's trial kicked off this week, as investigations into the Capitol riot continue heating up. But his allies are now floating a theory that Democrats are using the trial to eliminate Bannon, instrumental in Trump's success, from helping Republicans win in the 2024 presidential election.
Jack Posobiec made the claim on Monday while filling in for Bannon on the War Room podcast, saying the "show trial" is proof of "the regime going after the opposition."
"Both sides know that the only reason he's there is because of the effectiveness of the war room posse, the effectiveness of the national populist movement and the fact that he was the architect of so much of the MAGA movement, the 2016 victory," said Posobiec.
He said that Democrats are "trying to take him off the playing field for 2024."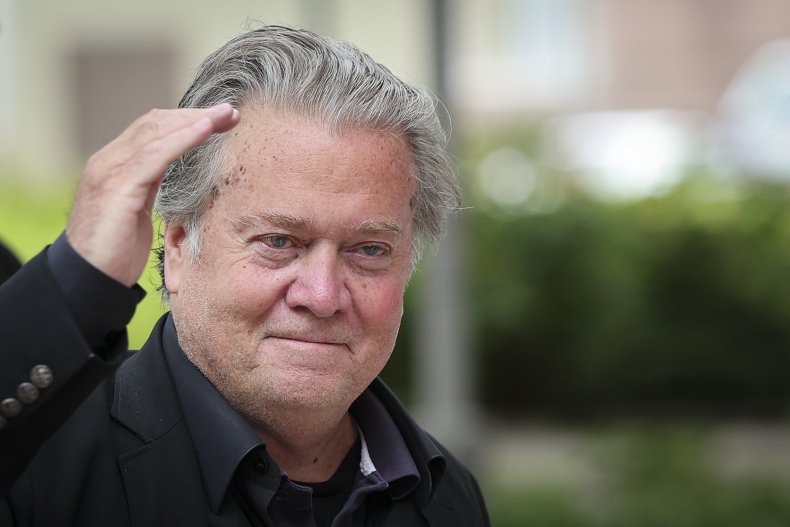 Bannon Trial Begins
Posobiec's remarks came as jury selection for the trial enters its second day on Tuesday. Congress, in October, voted to hold him in contempt, and a grand jury indicted him in November on two counts of contempt of Congress charges, each carrying a penalty of up to one year behind bars.
On Tuesday, the 22 potential jurors identified on Monday will be narrowed down before the trial begins, the Associated Press reported.
Bannon was among the first ex-White House officials to be called to testify before the January 6 committee. Investigators have said that Bannon allegedly communicated with Trump on December 30, 2020, and urged him to focus his efforts on January 6. He is also accused of attending a gathering at the Willard Hotel in Washington, D.C., on January 5, 2021, where Trump allies allegedly planned efforts to block Biden's Electoral College victory.
He refused to testify for months, making claims of executive privilege that legal experts have scrutinized, as Bannon was not working inside the White House at the time of or around January 6.
The trial comes just weeks after Bannon agreed to testify before the January 6 committee, a move federal prosecutors described as a "last-ditch attempt" to avoid accountability. Trump, in a July 9 letter, agreed to waive the claims of executive privilege to allow his testimony.