These 9 Republicans Voted to Hold Trump Ally Steve Bannon in Contempt
Nine House Republicans joined their Democratic colleagues in approving a criminal referral against Steve Bannon after he refused to comply with a subpoena issued by the House select committee investigating the January 6 attack against the U.S. Capitol.
Bannon's lawyer told the House select committee last week that his client would disregard the subpoena, citing former President Donald Trump's claims of executive privilege. After Bannon failed to appear before the House select committee, the members voted unanimously on Tuesday in favor of holding him in contempt and issuing a criminal referral. The issue then went before the full House of Representatives on Thursday, where it passed 229-202.
GOP Representatives Adam Kinzinger of Illinois, Liz Cheney of Wyoming, Peter Meijer of Michigan, Fred Upton of Michigan, Anthony Gonzalez of Ohio, Nancy Mace of South Carolina, Jaime Herrera Beutler of Washington, Brian Fitzpatrick of Pennsylvania and John Katko of New York voted to approve the measure along with 220 Democrats.
Kinzinger, Cheney, Meijer, Upton, Gonzalez, Herrera Beutler and John Katko were among the 10 House Republicans who voted in support of Trump's second impeachment for inciting his supporters to attack the U.S. Capitol on January 6. Notably, Republican Representative Greg Pence of Indiana—the brother of Trump's Vice President Mike Pence—was the only House member not to vote.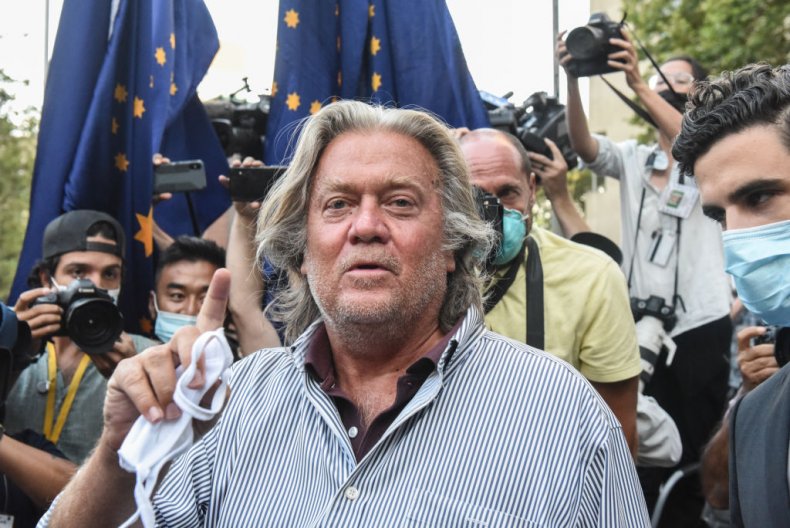 "Mr. Bannon's willful disregard for the select committee subpoena demonstrates his utter contempt for the American people's right to know how the attacks on January 6 came about," Kinzinger, who has emerged as one of Trump's staunchest critics and serves on the House select committee, told the House during debate ahead of the vote.
"No one, and I repeat no one, is above the law, and we need to hear from him," the Republican lawmaker asserted.
Cheney, the vice-chair of the House select committee, suggested earlier on Thursday that Bannon's and Trump's efforts to obstruct the investigation suggest they are concerned about what it could uncover.
"Mr. Bannon's and Mr. Trump's privilege arguments do appear to reveal one thing, however: They suggest that President Trump was personally involved in the planning and execution of January 6th," Cheney said, CNN first reported.
"And we will get to the bottom of that," she said.
Meijer posted to Twitter about his vote, saying that it was the "sole recourse" that Congress has to enforce its subpoena power.
"Holding individuals who refuse to comply with congressional subpoenas in contempt is the sole recourse available to Congress to protect its power of inquiry [McGrain v. Daugherty]. I voted today to hold Steve Bannon in contempt of Congress to protect this power," Meijer said.
The criminal contempt referral will now be sent to the Justice Department, which will weigh whether or not to pursue charges against Bannon. President Joe Biden has voiced support for prosecuting the close Trump ally, but Attorney General Merrick Garland has insisted the decision will be made independently.
"The Department of Justice will do what it always does in such circumstances, we'll apply the facts and the law and make a decision, consistent with the principles of prosecution," Garland said Thursday during testimony before the House Judiciary Committee before the vote.
Bannon served as chief executive of Trump's 2016 presidential campaign and then as White House chief strategist and senior counselor to the president from January 2017 to August 2017. In August 2020, Bannon was arrested and charged with fraud related to a crowdfunding campaign intended to support building a border wall between the U.S. and Mexico. Trump formally pardoned Bannon in January right before leaving office.
A day before the January 6 attack against the U.S. Capitol, Bannon predicted that "all hell" would "break loose."
"Just understand this. All hell is going to break loose tomorrow. It's going to be moving. It's going to be quick," he said on his War Room podcast.
Newsweek reached out to Trump's press office for comment.