Steve Bannon Declares War Over James O'Keefe Being 'Terminated'
Donald Trump's former chief strategist Steve Bannon declared "war" on anyone responsible for the removal of Project Veritas founder James O'Keefe as the right-wing group's leader.
Bannon spoke to Trump's former special assistant Peter Navarro on his show War Room on right-wing channel Real America's Voice on Monday night. He said that "no one who had anything to do with O'Keefe being terminated at Veritas will ever have anything to do with War Room." Bannon added: "This is going to be war."
O'Keefe announced his removal from the company on Monday. He said the group's board stripped him of all decision-making powers. It had removed O'Keefe from his role as chairman following complaints over his treatment of staff.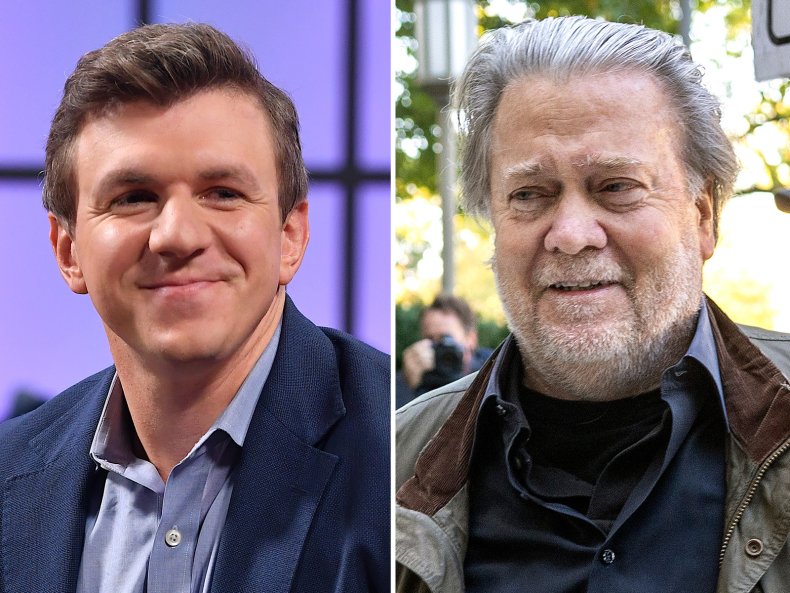 "So, currently, I have no job at Project Veritas," O'Keefe said in a video shared on Vimeo, despite it being meant for internal use only at the controversial group. "I have no position here based upon what the board has done. So, I'm announcing to you all that today, on Presidents Day, I'm packing up my personal belongings." During the video, O'Keefe can be seen choking up on his words and tearing up.
O'Keefe founded the non-profit group 13 years ago. It is known for its undercover sting operations using hidden microphones, and these have embarrassed Democratic politicians and news organizations. The group's operations have often been found to be selectively edited.
Talking on his show on Monday, Bannon said it was suspicious that O'Keefe has been removed right after Project Veritas was focusing on Pfizer. The group was looking into the methods of the pharmaceutical giant that worked on the coronavirus vaccines.
"I just can't believe that the situation with Pfizer [...] is somehow unrelated. This happened at the same time," Bannon said.
O'Keefe's removal from his role as Project Veritas CEO and board member was confirmed by the board of directors. A statement read that it had revealed "financial malfeasance." The board accused O'Keefe of spending "an excessive amount of donor funds in the last three years on personal luxuries."
O'Keefe has announced he will launch a rival group to Project Veritas. He accused internal adversaries of "ruining our reputation in front of supporters and donors and leaking confidential information and fabricating stories." It was, he said, part of an internal power struggle within the group.
"I need to make clear I have not resigned from the company, Project Veritas, I founded 13 years ago. I was stripped of my position as CEO and Chairman," wrote O'Keefe on Twitter while sharing the video already circulating online.
"I came to the PV office today to remove my personal belongings. If you're wondering what's next, stay tuned... " O'Keefe added.
Newsweek contacted O'Keefe for comment.