Steve Bannon Is Politically Dead As Republican Support for Former Trump Strategist Craters, New Poll Finds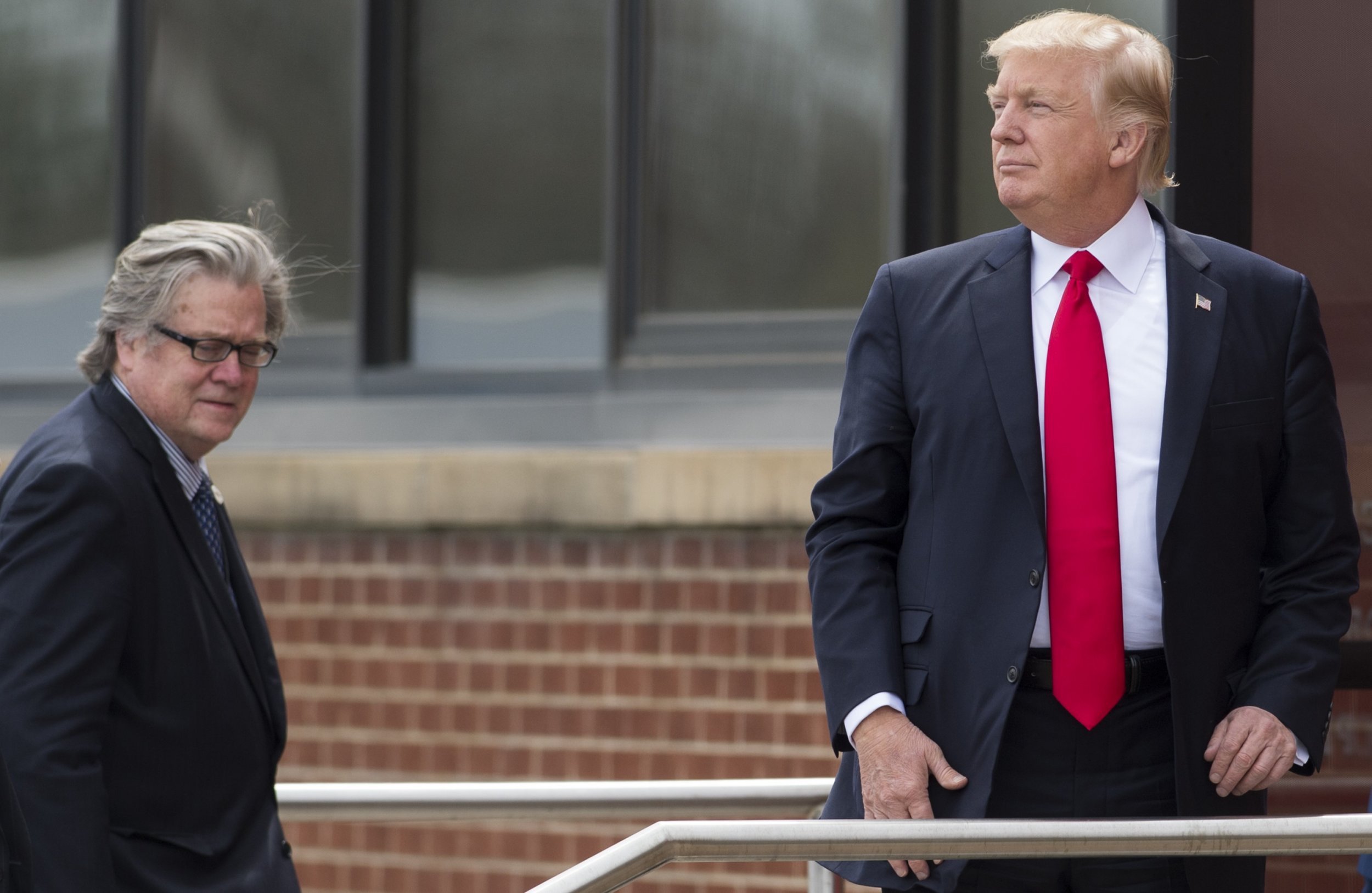 How the mighty have fallen. Eight days ago, former White House Chief Strategist Steve Bannon was still the chairman of Breitbart News. Today a new poll suggests he is all but politically dead.
Related: Trump campaign officials watched in shock as the president and Bannon tried to destroy each other Wednesday
Bannon, who stepped down from his post at the right-wing news organization last Tuesday following a week-long public feud with his former employer and political ally President Donald Trump, has lost the support of nearly all Republicans according to a new poll.
A HuffPost/YouGov survey released Monday found that just 13 percent of Republicans still hold a favorable view of Bannon, compared with 58 percent who hold an unfavorable view of the former Trump campaign chief executive. Further, when respondents were asked if they agree more with Trump or Bannon following the recent public comments made by each man, just four percent of identified Republicans sided with Bannon, while a whopping 61 percent chose the president.
When asked whether Trump made the correct decision in firing Bannon as his chief strategist in August 2017, 68 percent of Republicans said the president made the right decision, with just three percent saying it was the wrong call.
Bannon's fall from grace is far from shocking following his falling out with the president and the pair's overlapping supporter base. But what is eye-opening is just how rapidly the wholesale demise of the self-anointed kingmaker has taken place.
Though Bannon was fired from the White House in August, the public falling out between the two men didn't take place until January, when the bombshell tell-all Fire and Fury: Inside the Trump White House by author Michael Wolff was released. The book quotes Bannon as saying, among other things, that Donald Trump Jr., the president's son, was "treasonous" in taking a meeting with Russians purporting to have dirt on Hillary Clinton during the 2016 campaign. In the same book, Bannon is said to have told Wolff that there was "zero" chance that Trump did not meet with the Russians following the meeting, effectively calling the president and his son liars.
Trump wasted no time in coming down hard on Bannon, releasing an official White House statement the day after the first book excerpts were released.
"Steve Bannon has nothing to do with me or my presidency," the statement read. "When he was fired, he not only lost his job, he lost his mind."
Bannon's political death could have big implications for the upcoming 2018 midterm elections. Bannon was planning to recruit a slate of conservative candidates to run primary challenges against incumbent Republican senators that he, now ironically, believed were not supportive enough of the president's agenda. It now appears increasingly unlikely that candidates would hitch their political hopes to a sinking ship.
One such candidate, Arizona Republican Kelli Ward, who had been the recipient of Bannon's endorsement, immediately distanced herself from the fallen former Trump ally.
"Steve Bannon is only one of many high-profile endorsements Dr. Ward has received," campaign press secretary Zachery Henry said in a statement. "Her focus remains on winning this race ... and then helping President Trump advance an America First agenda."