Steve Bannon, Marjorie Taylor Greene Discuss 'National Divorce' Between Red and Blue States
Former top Trump adviser Steve Bannon and Representative Marjorie Taylor Greene, a Georgia Republican, discussed interest among some Americans in a "national divorce" between Republican- and Democratic-leaning states.
Greene conducted an unscientific Twitter poll on the topic, publishing the results on Friday. According to her, 43 percent of the more than 84,000 respondents supported splitting the nation between blue and red states, 48 percent said the country should "stay together," and 9 percent were "undecided."
The GOP congresswoman told Bannon on his War Room podcast on Friday that Americans want to split due to "irreconcilable differences." She said her survey should be "a wakeup call to Democrats in particular, that they cannot do this to our country."
Bannon insisted the country should not split apart, saying he's "vehemently" opposed to the idea.
"We have to start to govern like we mean it," said the former Trump administration official. "The problem is we win elections and we have these country-club Republicans, and we basically are the controlled opposition—even in power. My take is that if you're going to keep this country together, start acting like you're in charge. We're putting together a coalition from the Rio Grande Valley to the inner cities, African American males, the hard-working blue collar Hispanics from those hard-scrabble counties in south Texas."
In a series of Twitter posts, Greene touted the unscientific poll to attack Democratic leadership.
"In just 9 short months, Joe Biden and the entire Democrat party has ruined so many people's lives and destroyed our country so badly that 43% of Americans want a #NationalDivorce and want to split btw Republican and Democrat states," the Republican lawmaker wrote.
Democrats have blamed former President Donald Trump and his faction of the Republican Party for stoking divisions throughout American society. Trump critics have routinely complained about his "divisive" rhetoric and combative style of politics, arguing that it's worked to further split the country along political lines.
During an Iowa Trump rally last Saturday, a supporter of the former president went viral for predicting that there would soon be a "civil war" in the U.S.
"They're establishment. They don't care about the American people because they're in their elite little tower," said Lori Levi, describing congressional lawmakers during an MSNBC interview at the Des Moines event. "So we're just sick of it, you know, and we're not going to take it anymore. I see a civil war coming. I do. I see civil war coming."
The term "civil war" became a top trending topic on Twitter after her remarks were shared widely online and by the media. Many criticized the assessment, while others insisted it would not happen. Some also raised concerns about the growing political divide within the nation.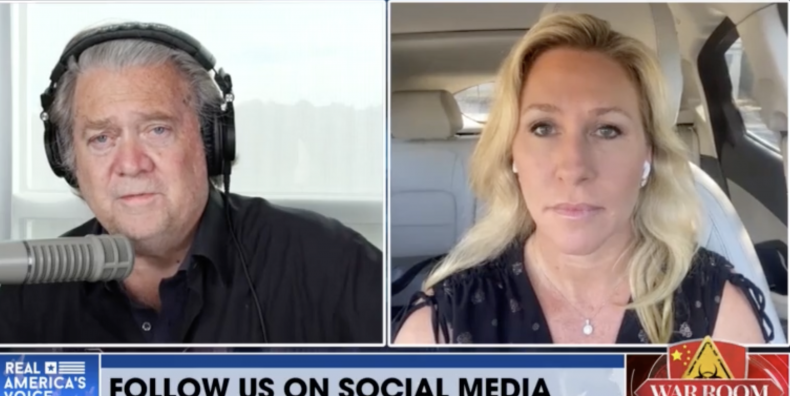 "Polarization is worse than ever and getting worse not better. There is a Civil War coming if we don't stop dehumanizing those we disagree with politically," tweeted Andrew Yang, an unsuccessful Democratic presidential contender and New York City mayoral candidate, as the topic trended.
February polling conducted by CBS News and YouGov showed that 57 percent of Republicans tend to view Democrats as "enemies." Meanwhile, 41 percent of Democrats feel the same about Republicans.
Newsweek reached out to Greene's spokesperson for further comment but did not immediately receive a response.