Steve Bannon Holds Kansas Holiday Inn 'Rally' Attended by Approximately 17 People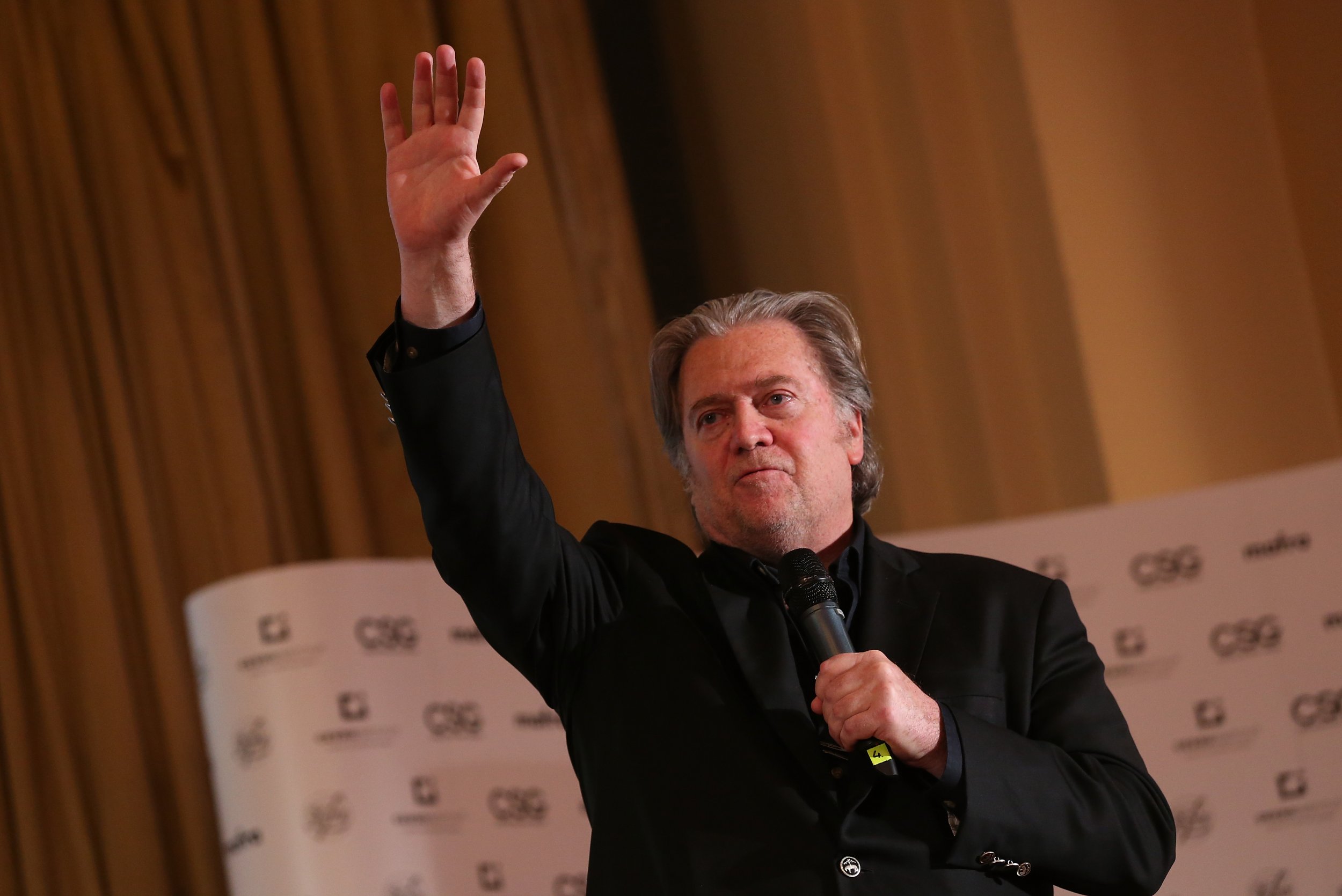 Former White House Chief Strategist Steve Bannon only pulled in approximately 17 people to a Republican candidate's "rally" at a Kansas Holiday Inn Tuesday.
Bannon's latest stop on his lengthy international tour touting right-wing populism led him to the Topeka, Kansas, hotel in support of GOP congressional candidate Steve Watkins. The Watkins campaign reportedly had no idea Bannon would be holding the "Red Tide Rising Rally" at the Highway 24 Holiday Inn conference room, where the few number of attendees was widely mocked on social media.
Bannon's wide-ranging speech to the tiny audience warned voters that Democrats are "highly energized" ahead of the midterm elections.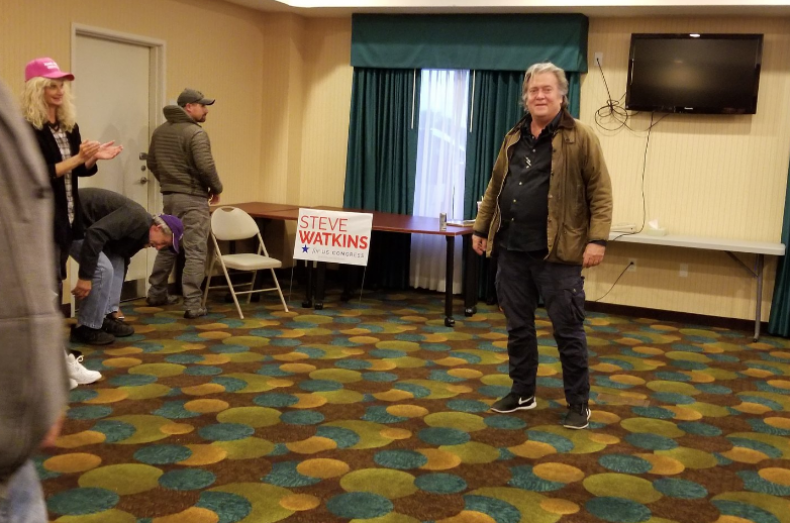 Managing Editor for The Topeka Capital-Journal, Sherman Smith, posted a thread on Twitter which detailed the event attended by about a dozen total people. Attendees were notified of Bannon's last-minute appearance through "unsolicited text messages" which read, "UPDATED VENUE: Support Trump and MAGA! RED TIDE RISING RALLY with STEVE BANNON Tuesday, Oct 30, 5pm. Holiday Inn, 601 NW US Highway 24, Topeka, KS 66608. Reply MAGA if you will attend.
Smith used a series of comedic tweets to illustrate the bizarre "grass roots" rally Tuesday. He posted photos of the sparse crowd with playful jabs such as, "Here's a broad look at the attendees" and "Crowd has swelled to 17. We're told Bannon has arrived. #ksleg."
Bannon lectured the few attendees against "any handwringing about electing a RINO" and urged volunteers to get conservatives to the polls on election day. The man Trump once labeled "sloppy Steve" noted a poll showing Watkins' 2nd Congressional District opponent, Democrat Paul Davis, having a slight edge over the Republican. He warned "if the Trump base doesn't show up, we're going to lose this."
Bannon said left-wing voters are energized by the #MeToo movement and have the "urgency" conservative voters had with the Tea Party during the 2010 midterm elections.
Kansas City, Missouri, alternate weekly newspaper The Pitch blared a headline reading, "Steve Bannon draws crowd of tens to rally for Steve Watkins in Topeka," showing a photo of Bannon standing practically alone in the Holiday Inn conference room.
The Watkins campaign told Smith "they have nothing to do with this rally" and Bannon himself conceded, "I never thought I'd be in Kansas in a House race. This is the situation."
Last month, a Republican Party dinner and fundraiser featuring Bannon as the keynote speaker reduced the price of tickets from tens of thousands of dollars to completely free.