Tickets for Trump Anniversary Dinner Fundraiser Featuring Steve Bannon Are Now Free
A Republican "Trump Anniversary Dinner" in Florida to raise funds for the party and mark two years since President Donald Trump won the election, featuring his former senior adviser Steve Bannon, was eventually made free to all after ticket prices were first slashed by thousands.
According to the Tampa Bay Times, prices for the dinner with Bannon were as high as $20,000 to buy a table of 10 seats. Bannon left the White House as Trump's chief strategist in August 2017 before falling out with the president over candid comments published in a book.
There were less-expensive tickets available at $1,000 for VIP status at the dinner, laid on by the Hillsborough County Republican Party in Tampa, and general admission for $125. But an advertisement on the party's website shows "new prices" of $5,000 for Bannon's table. A VIP ticket is now $500 and a general admission ticket is $50.
Jeff Lukens, vice chairman of the Hillsborough Republicans, emailed local party members telling them the dinner on Friday be free for all because "we have a donor who will cover our expenses," the Times reported. The event has since sold out.
The donor's name nor how much money was put up so the dinner could go foreard was not revealed.. It is also not clear if those who already bought tickets would be reimbursed.
The Hillsborough County Republican Party did not immediately respond to Newsweek's request for comment.
Bannon, who ran the president's election campaign and co-founded the far-right publication Breitbart, is still a staunch support of Trump despite a public row between the two men.
The journalist Michael Wolff interviewed Bannon for his book on the Trump administration titled Fire and Fury: Inside the Trump White House.
He told Wolff a 2016 meeting between Trump's son Donald Trump Jr. and a Russian lawyer with links to the Kremlin who touted dirt on Hillary Clinton was "treasonous."
Bannon also said Trump Jr. would "crack like an egg" under questioning from special counsel Robert Mueller who is running the Russia investigation.
President Trump lashed out at Bannon, calling him "Sloppy Steve" and saying he had "lost his mind." Bannon subsequently apologized to Trump.
Just 38 people showed up to a recent Bannon speech on Staten Island, New York, a Trump-supporting Republican stronghold, reported the New York Daily News. Bannon was screening his documentary Trump @ War.
"I'm a Trumper. I'm not going to tell you I'm in love with Steve Bannon, though," Michael Shapiro, 57, a recycling worker from New Jersey, told the Daily News.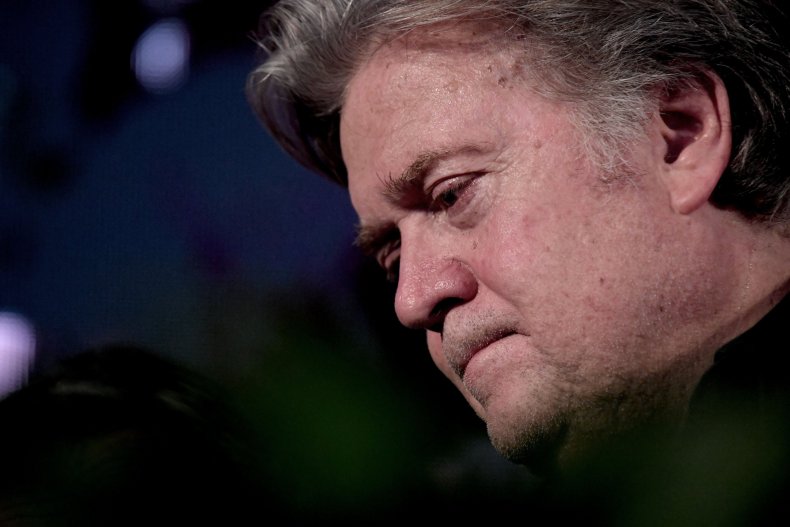 This article was updated to include more background information.