Steve Bannon's Next Fight in Criminal Court Will Be 'Very Difficult' to Win
Steve Bannon's next fight in criminal court will be "very difficult" for him to win, former federal prosecutor Neama Rahmani told Newsweek.
Bannon, who served as an adviser during former President Donald Trump's administration, will be on trial this year for allegedly defrauding donors who provided funds to build a wall at the U.S.-Mexico border. A court appearance is scheduled for Tuesday.
Bannon was indicted on charges including money laundering and scheming to defraud in September 2022 in New York for the alleged WeBuildTheWall scheme. Prosecutors, who spent more than a year investigating Bannon, accused him of misappropriating millions of dollars, with the organization's CEO allegedly receiving $20,000 monthly payments despite bragging that he would forego a salary.
"It's going to be a very difficult case for him to win," Rahmani said, explaining that Manhattan might be a particularly difficult jurisdiction for Bannon because it is so liberal. He said the jury will "unlikely be sympathetic" to Bannon, a high-profile figure in conservative politics.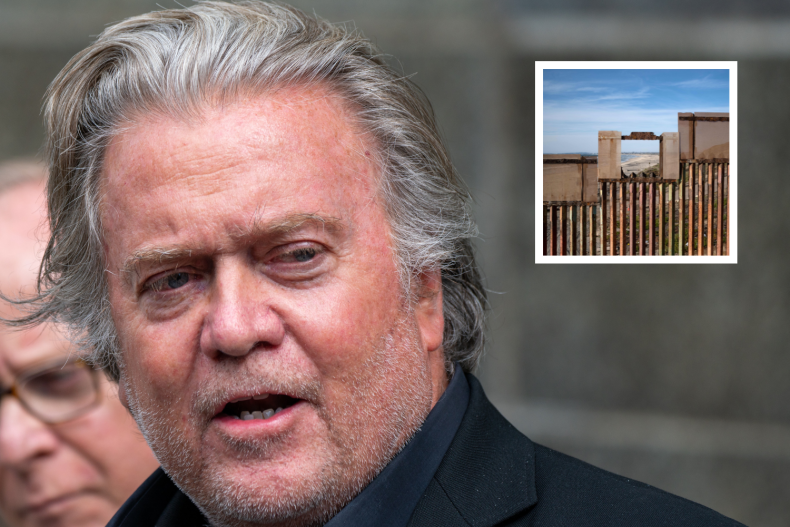 Further, prosecutors often score convictions in "proactive investigations," Rahmani said. In this sort of investigation, prosecutors spent months investigating Bannon, allowing them more time to secure strong evidence before an indictment.
"Prosecutors have the luxury of waiting until they have what they believe is a rock solid case before they file charges," he said. "So the conviction rate tends to be high."
Rahmani outlined that Bannon's defense will likely fall into two categories—accusing other people in the organization of leading the scheme or denying he was aware crimes were being committed. However, he warned that prosecutors would have spent their investigation collecting emails and text messages related to the case.
He said that Bannon will likely face prison time if he is found guilty, as judges "don't like defendants who don't accept responsibility." He added that Bannon has previously declined to plead guilty before a conviction in his contempt of Congress trial, indicating that he's "not the type of person to accept responsibility."
"I don't think that a judge is going to give him a slap on the wrist if he's convicted," Rahmani said. "I think he's going to get jail time....Why should a judge give him any type of break? I think when and if he's convicted, and I expect him to be convicted, he's going to be sentenced to significant time in New York jail."
Bannon, meanwhile, has maintained his innocence and pleaded not guilty to the charges in September.
He was indicted by a federal grand jury for alleged conspiracy to commit mail fraud and money laundering in August 2020, but Trump pardoned him before leaving office.
Bannon was ordered to find new attorneys to represent him by the end of February after his lawyers sued him for nearly $500,000 in allegedly unpaid legal fees.
Newsweek reached out to Bannon's spokespersons for comment.