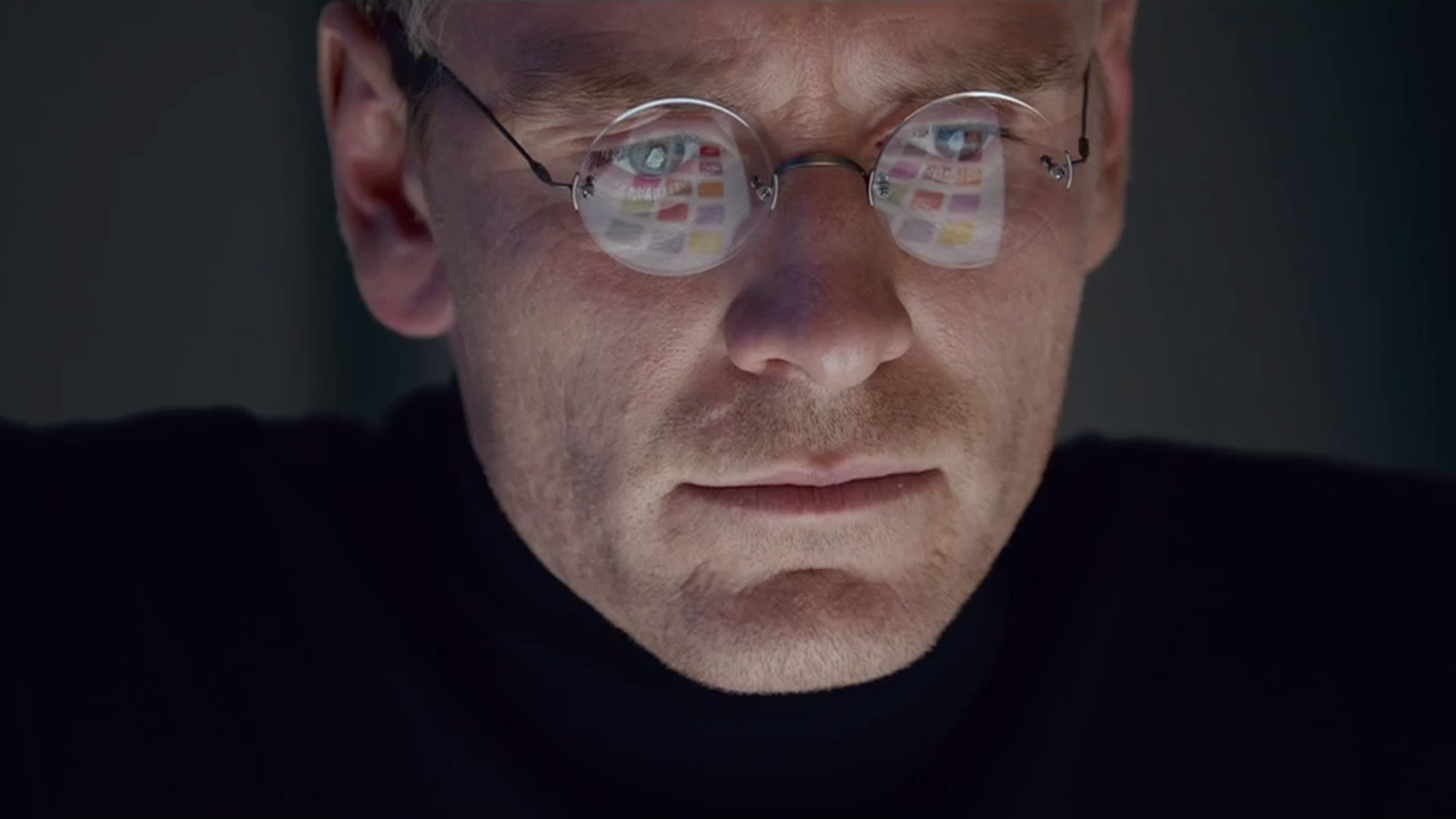 Steve Jobs worshipped Bob Dylan.
By most accounts, the Apple CEO took inspiration from Dylan more than he did any figure in the corporate world. "Of all the people that he idolized—the rebels, he called them, the people that thought differently—I think Dylan was the most consequential for Jobs," Steve Jobs director Danny Boyle tells Newsweek.
The Jobs-Dylan connection goes far back. In the early days of Apple, Jobs collected more than 100 hours of Dylan bootlegs from the 1960s. According to Walter Isaacson's biography, he and early Apple wiz Steve Wozniak bonded over their fandom: "We'd buy brochures of Dylan lyrics and stay up late interpreting them," Wozniak has said. "Dylan's words struck chords of creative thinking."
Later, Jobs would quote a Bob Dylan song in his 1984 speech introducing the Macintosh. He finally met Bob Dylan in 2004; the two men "sat on the patio outside [Dylan's] room and talked for two hours," according to Jobs's biography. Jobs was nervous, but his hero "was everything I'd hoped. He was really open and honest."
The new Steve Jobs biopic gives ample hint of this obsession. The film is stuffed with appearances and mentions of Bob Dylan's music, some more subtle than others. We asked Danny Boyle to run us through a playlist of Dylan songs involved in Steve Jobs and explain his choices. (This post contains some very minor spoilers.)
"THE TIMES THEY ARE A-CHANGIN'" (from The Times They Are a-Changin')
At the real 1984 unveiling of the Macintosh, Steve Jobs began by quoting from the second verse of Dylan's "The Times They Are a-Changin'": "Come writers and critics / Who prophesize with your pen / And keep your eyes wide / The chance won't come again / For the wheel's still in spin / And there's no tellin' who / That it's namin' / For the loser now will be later to win / For the times they are a-changin'."
The founder's reasoning was obvious: He believed in the revolutionary potential of his own innovations. As a New York Times review points out, Steve Jobs picks up on this quality, suggesting "that the energy and creativity that fueled rock 'n' roll has been diverted to technology."
Boyle knew he had to incorporate "The Times They Are a-Changin'" into his film. The script includes an overt reference to the song, but when Boyle tried having it play over a transitional sequence, "I thought it was too obvious to hear it again after they discuss it." They settled on "Rainy Day Women #12 and 35" in that sequence instead (see below).
"RAINY DAY WOMEN #12 & 35" (from Blonde on Blonde)
The Blonde on Blonde opener is used as a key transition in Steve Jobs, as the movie's narrative time-travels from 1984 to 1988. The song's initially outrageous chorus ("Everybody must get stoned!") makes it a classic, if an unlikely fit for Steve Jobs's sleek, corporate environs.
But the feel of the song—rowdy, ragtime-y and full of energy—works well. That's what drew him to it, Boyle says. (Plus, the choice felt especially appropriate after Boyle came across a Dylan quote describing 1966's Blonde on Blonde as "the closest I ever got to the sound I hear in my mind.") "I think it's a great surprise when it comes," Boyle says. "I think if we used 'The Times They Are a-Changin',' it would have been expected. So that's why you do those kind of things, you know?"
The filmmakers toyed with a number of songs for this sequence, but nothing quite fit. "We changed it to 'Rainy Day Women' and it suited it perfectly," Boyle says. "Nothing is as good as that, really. It's the joy of it, I suppose. It's slightly disarming as well. What is coming is an act; [Jobs] is actually full of cunning. He's got a very hidden agenda. And yet it's a relaxing song taking you through these slightly odd images of Napoleon Bonaparte and The Raft of the Medusa and this stuff that's going through. I thought it just puts you off-guard."
(Another unexpected transition in the movie incorporates The Libertines's "Don't Look Back into the Sun." "There's absolutely no justification for that other than that I heard that in my head," Boyle says. "I'd love to be able to tell you there's a Libertines connection to the digital revolution, but sadly I cannot.")
"SUBTERRANEAN HOMESICK BLUES" (from Bringing It All Back Home)
Though he didn't include it in the movie, Danny Boyle took inspiration from yet another Bob Dylan creation: the iconic 1965 music video for "Subterranean Homesick Blues."
"That was the first ever pop video," Boyle says. "We tried to involve that spirit of innovation that Dylan signified to Jobs and to us, really." Fittingly, when the film crew set about re-creating the garage at Steve Jobs's childhood home in Los Altos, California, they included a vintage poster of Dylan holding a "Get Born" sign from the famous clip.
While it's not clear if Jobs had any real affinity for this song, some speculated that a 2010 Google ad modeled after the famous video was cheekily intended to piss off the Apple founder.
"MEET ME IN THE MORNING" (from Blood on the Tracks)
The bluesy 1975 track, which Dylan himself has rarely played live, can faintly be heard playing on a radio in the background. "I don't think that's on the soundtrack or anything like that," Boyle says (though Dylan did give permission for two other songs to appear on the soundtrack, to the director's surprise). "It's just a beautiful song, isn't it?"
"SHELTER FROM THE STORM" (from Blood on the Tracks)
The solemn Blood on the Tracks cut is mentioned toward the start of the film, when Jobs compares himself to Dylan in an early meeting with Apple II designer Steve Wozniak. It also plays over the end credits.
Did Jobs have a connection to this particular song? Maybe. The song is mentioned once in Isaacson's biography, when the author describes Jobs's early vision for iTunes: "He believed that people had an emotional connection to the songs they loved. They wanted to own 'Sympathy for the Devil' and 'Shelter from the Storm,' not just rent them."
Boyle says he was drawn to the song because of its melancholy tone. "I kind of sense a loss in 'Shelter from the Storm,'" the director says. "[It] was rather beautiful at the end." Boyle liked how it fit with the film's last scene, which involves an emotional meeting between Jobs and his estranged daughter, Lisa. "When you leave the theater, it's no longer 1998," he says. "You're back in 2015—and her dad's gone. So there's a kind of loss there. He lost out on her, for a section of her life. It involved that feeling. It's like not knowing what you have until it's gone, really."
Oh, and there's a simpler reason: "The fact that it is a great song. A truly, truly great song."