Republican Steve King Complains to Google CEO About Apple iPhones, Wants Names of Search Engine Employees
Republican representative Steve King requested Google CEO Sundar Pichai give the government the names of more than 1,000 employees who oversee the company's search engine to determine whether its algorithm was biased, The Hill reported. King said he wanted to look at employees' social media and see if they're biased.
As Pichai appeared before the House Judiciary Committee, Democrats questioned the tech giant's privacy regulations, The New York Times reported. Republicans expressed distrust for the company, questioning whether it stifles conservative search results.
"There is a very strong conviction on this side of the aisle that the algorithms are written with a bias against conservatives," King said, alleging that Google has an inherent ideological tilt because it is located in the Democrat-heavy Silicon Valley. "What we don't know are who are these thousand people and we don't know what their social media looks like."
California Republican Kevin McCarthy voiced similar concerns. "All of these topics — competition, censorship, bias and others — point to one fundamental question that demands the nation's attention," he said. "Are America's technology companies serving as instruments of freedom or instruments of control?"
Pichai said at the beginning of his testimony, "I lead this company without political bias and work to ensure that our products continue to operate that way," according to The Guardian. "To do otherwise would go against our core principles and our business interests. We are a company that provides platforms for diverse perspectives and opinions—and we have no shortage of them among our own employees." He also said that the employees do not choose which news outlets show up in searches, saying the search engine adapts based on what users select.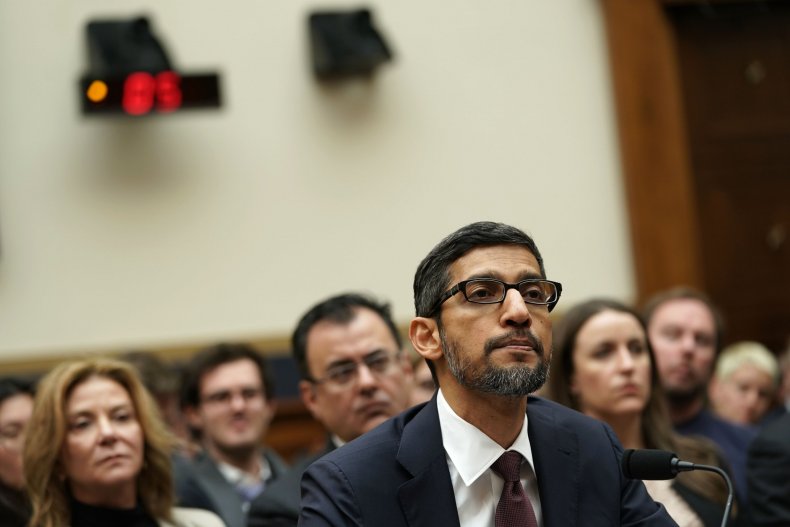 Democrats rejected conservative concerns about political bias affecting search algorithms. "We should not let the delusions of the far right distract us from the real issues that should be the focus of Tuesday's hearing," New York Democrat Jerry Nadler said, according to Forbes.
King also asked why his granddaughter sees undesired content while playing games. "Up on there pops a picture of her grandfather. And I'm not going to say into the record what kind of language was used around that picture of her grandfather, but I'd ask you: how does that show up on a seven-year-old's iPhone, who's playing a kid's game?" he asked, according to The Hill.
Pichai responded that his company does not make iPhones.
Major Google products have more than 1 billion monthly users, The New York Times reported. The company has recently faced security flaws. On Monday, the company announced an issue with Google Plus had exposed the personal information of more than 52 million people to third-party developers.
A similar security issue was discovered in March and reported in October. Google said it did not publicize the security flaw because it didn't have evidence that user information had been gathered.