Steve King's Campaign Complains About NYT's 'Mexican Billionaire' Owner as He Fundraises Off White Supremacy Controversy
The congressional campaign of Iowa Representative Steve King is seeking to raise funds from the controversy over the lawmaker's recent remarks about white supremacy.
On Wednesday, King's campaign sent an email mentioning the backlash and asking for donations, according to Iowa-based outlet WHO-DT. The email, viewed by Newsweek, touted King's stance on immigration and his alliance with President Donald Trump. It also called for a border wall.
"As you may have noticed, the unhinged Left has teamed up with Republican 'NeverTrumpers' and is pulling out all the stops to destroy me. Since they were unable to defeat my campaign in the 2018 Midterm Elections, the rabid Leftist media is currently blasting the airwaves in a pathetic attempt to paint me as a 'racist,'" the email from King's campaign, titled "reject their labels," said.
"They know full well that I've been pushing for tougher immigration laws for years. In fact, I went to the floor of Congress and built a model wall—live on C-SPAN! They universally understand that, were it not for me in Congress, amnesty would be the law of the land for tens of millions of illegal aliens," it continued. "Why would they target this seated member of Congress? The answer is that I'm one of Trump's strongest allies. In addition, my position on the Judiciary Committee put me in a perfect position to defend Donald Trump against the impeachment charges that are so likely to be brought."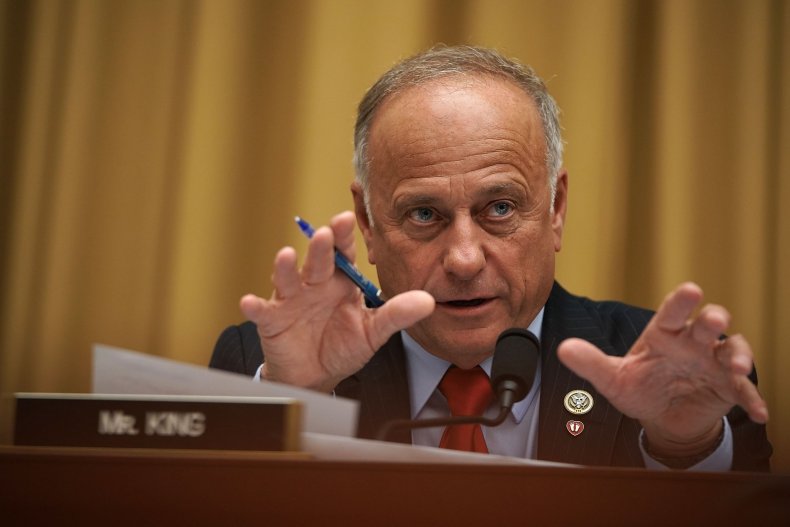 The congressman rejected white nationalism and supremacy as "evil ideologies" after a New York Times story published last week quoted King asking "white nationalist, white supremacist, Western civilization—how did that language become offensive?" He has claimed that his remarks were misinterpreted.
The campaign email repeated King's condemnation of "those labels and the ideology they define" and blamed The New York Times for "biased coverage."
"You and I know 'Fake News' when we see it," it read, claiming The Times was "quoting me out of context, and using their Leftist comrades in the media to parrot their false talking points." It also took aim at Mexican business magnate Carlos Slim. "I need to know if you will stand with me as The New York Times—whose largest owner is Mexican billionaire Carlos Slim—seeks to destroy me and defeat border security."
King has been widely attacked for his comments to The Times. The House Republican Steering Committee removed the congressman from his committee assignments on Monday. Senate Majority Leader Mitch McConnell has denounced the Iowa lawmaker, saying, "if he doesn't understand why 'white supremacy' is offensive, he should find another line of work."
Iowa newspapers have called for the congressman to resign, and articles have noted King's history of endorsing racist views.
The congressman, who has appeared on a panel with a white nationalist, claimed most undocumented immigrants were drug smugglers, and he endorsed a white nationalist for Toronto mayor.
White House press secretary Sarah Huckabee Sanders called King's remarks "abhorrent" on Wednesday. When asked about the comments on Monday, President Trump said, "I haven't been following it. I really haven't been following it."
King's campaign and congressional office in Washington, D.C., did not immediately respond to Newsweek's request for comment.