Steven Homan, Bar Owner Accused of Beating Black Student Jazzpher Evans, Charged
A male bar owner in Illinois has been charged for allegedly beating a 19-year-old Black female student in what her attorney said was a "racially-fueled" attack.
Steven W. Homan, 47, the owner of The Barn, a bar and nightclub in Quincy, is facing a Class 3 felony charge of aggravated battery.
According to court documents obtained by Newsweek, Homan, who is white, allegedly placed his arm around Jazzpher Evans' neck inside The Barn, located on South Front Street, and dragged her for 20 seconds in the early hours of April 4.
Earlier this month, attorneys representing Evans, known as "Jazz" to friends and family, said she had been standing near the DJ booth requesting a change in music when Homan pushed her against the wall and threw her to the ground.
He allegedly placed her in a chokehold and "strangled her until she lost consciousness," they said, then dragged her outside and slammed her to the ground.
Evans, a freshman at Quincy University, sustained a traumatic brain injury and sustained multiple cuts to her face and body, her attorneys said.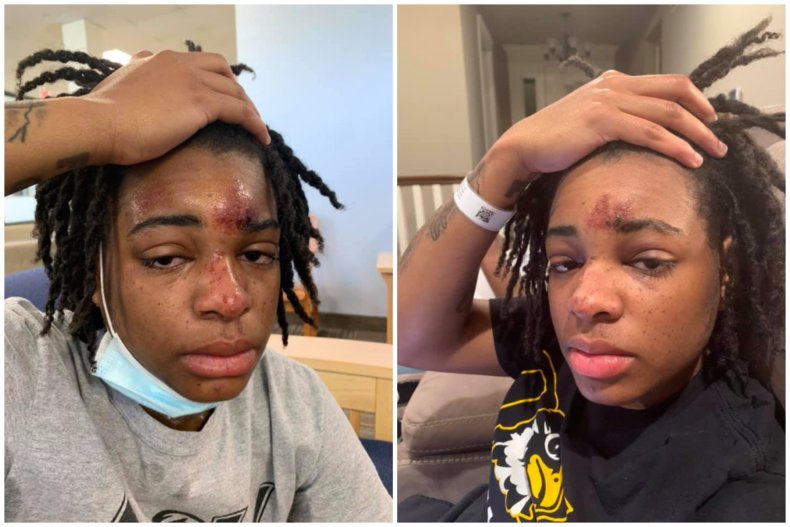 The Quincy Police Department launched an investigation and said officers were reviewing videos and interviewing witnesses.
The department said a primary criminal investigation was concluded this week.
A judge signed a warrant for Homan's arrest on Wednesday and set bail at $25,000, according to court records. He was not in custody as of Wednesday evening, a spokesperson for the Quincy Police Department confirmed.
"The family of Jazzpher Evans is encouraged that charges are being filed against Steven Homan who violently attacked her in a racially-fueled incident," Evans' attorney Keenan Saulter, of Saulter Law P.C., said in a statement on Wednesday.
"Jazzpher Evans, her family and our firm understand the announcement of charges against Steven Homan is just a first step in obtaining the justice Jazzpher deserves as she makes a gallant effort towards a full recovery.
"While the news of charges spark hope, we remain relentless in our pursuit that Steven Homan is held fully accountable for his wrongdoing and the trauma he inflicted on Jazzpher."
Evans' family are planning a "peaceful" rally to be held in Quincy's Washington Park on Saturday afternoon, Saulter added.
Protesters intend to march to The Barn, according to a statement on his firm's website.
"Organizers stress that this will be a peaceful protest to raise awareness and amplify Jazzpher's voice that justice be served," the statement says.
More than 100 people have indicated they will attend, with another 300 or so expressing interest, on the rally's Facebook page.
Meanwhile, the police department said a separate administrative investigation was also initiated to look into whether any liquor laws have been violated at The Barn. When complete, the case will be sent to the Quincy Liquor Commissioner for review.
"Detectives with the Quincy Police Department's Investigations Unit have worked tirelessly over the last 10 days reviewing evidence, locating witnesses, and conducting interviews," the police department said in a news release on Wednesday.
"Both investigations are still open and ongoing," the department added, urging anyone with information about either case to contact them.
Homan and The Barn could not be reached for comment.