Steven Seagal to Leave Russian 'Special Envoy' Role Amid Tensions With U.S.
Actor Steven Seagal has said his Moscow-appointed role as a Russian cultural ambassador to the United States could "change" as ties between the countries plummet amidst the war in Ukraine.
In one of the more unusual appointments in global diplomacy, the Russian foreign ministry gave Seagal in 2018 the unpaid role of "special representative" for humanitarian ties with the U.S. Popular in Russia, the star of Under Siege and Sniper: Special Ops, had been a regular visitor to Moscow where he has praised President Vladimir Putin.
Putin has hosted the actor and martial arts specialist at his residence outside Moscow and the Kremlin has said the pair are longtime friends. The leader personally presented Seagal with a Russian passport in 2016.
Seagal's paternal grandparents were Russian Jews who immigrated to the U.S. and the actor traced his roots in the regions of Kalmykia, Tuva and Yakutia, RIA Novosti reported.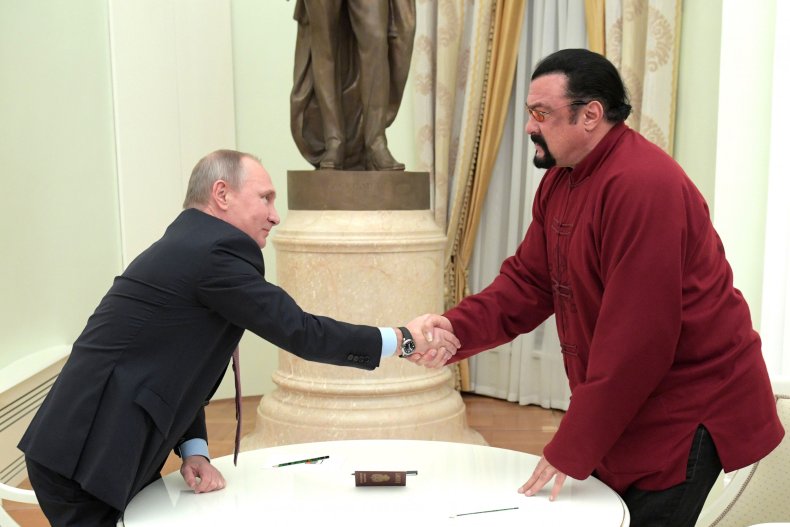 When given the role of Russia's representative to the U.S., which is akin to a goodwill ambassador, Moscow said it hoped he could boost contacts as well as "mutual understanding and trust between the Russian and American peoples."
But with Washington condemning Russia's invasion of Ukraine in February, and leading tough international sanctions against Moscow, mutual understanding between the countries is scarce.
"Relations between the US and Russia, as you know, are very tense," Seagal told RIA Novosti. "There are discussions about how to change my position in terms of what I was previously appointed to," Seagal added, without specifying further.
Seagal had previously said he supported Russia's annexation of Crimea in 2014 and has called Putin "one of the great living world leaders." In 2017, Ukraine banned the actor from entering the country for five years, deeming him a "security threat."
But soon after the start of Putin's invasion, Seagal told Fox News Digital that he viewed Russia and Ukraine "as one family" and that it was "an outside entity spending huge sums of money on propaganda to provoke the two countries to be at odds with each other."
"My prayers are that both countries will come to a positive, peaceful resolution," he told the outlet. This week, he told RIA Novosti that he would "never give up" his Russian passport, telling the state news agency, " I face Russophobia every day."
The reaction contrasts with that of French actor Gerard Depardieu, who also once boasted of close ties with Putin. The Russian leader gave him a passport in 2013. After the start of the war, Depardieu accused Putin of "crazy, unacceptable excesses" in Ukraine which the Russian people "are not responsible for."