Steven Seagal Calls Russian TV Anchor Live On-Air
Steven Seagal phoned a Russian TV network to speak with a popular news anchor who had previously labeled Elon Musk "a war criminal."
Vladimir Solovyov was presenting his controversial talk show, Evening with Vladimir Solovyov on the state-owned Russia-1 television station when the actor called him while he was on-air.
The 70-year-old was made a Russian citizen in 2016, with Russian President Vladimir Putin even handing the actor his Russian passport himself. Seagal is also a United States citizen by birthright and was made a Serbian citizen in 2016.
Solovyov had been discussing Ukrainian politician Anton Gerashchenko, who is now the advisor to the Ukrainian Minister of Internal Affairs when he picked up his cell phone. Gerashchenko uploaded the clip to his Twitter and added English subtitles.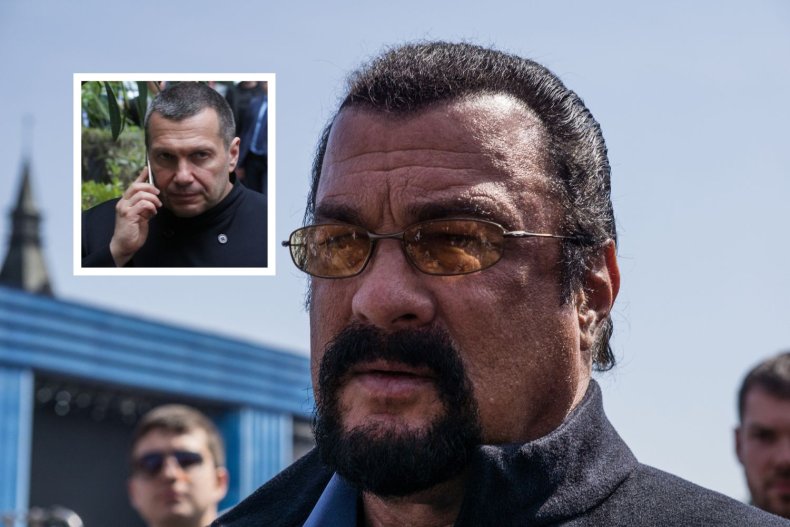 "So sorry," the anchor began in Russian. "My friends don't all know I am on air, one of them is Steven Seagal, who's calling me right now. We'll answer him now."
Solovyov continued in English: "Steven I'm on the air," and it appeared the call was then disconnected.
The anchor switched back to Russian and told his audience: "Now we were talking about Elon Musk and Steven Seagal called, and that happens, I'm sorry folks. Now I am texting Steven saying that I can't talk."
"There you go, wrote and [he] answered 'just ordinary life'."
Solovyov continued his attack on Musk saying he had "picked the side of the Ukrainian Nazis," because of his company's SpaceX donation of more than 20,000 Starlink satellites to Ukraine's military since the start of the war with Russia.
Musk has often voiced his opinions about the war since Putin launched his "special military operation" in Ukraine a year ago.
The CEO of Tesla and Twitter had previously suggested a peace proposal thought to be favorable for the Russians but was condemned by the West.
But his donation of the satellites led Solovyev to describe him as "in principle, a war criminal."
Gerashchenko accused the TV anchor of teeing up the call from Seagal to "double his efforts of pouring mud."
"War criminal and propagandist Solovyev follows my tweets. He found out that Elon Musk finally knows about his existence from my post," he tweeted. "So the propagandist doubled his efforts of threats and pouring mud. He organized a call from Steven Seagal for support."
In October, Seagal was one of six people recommended to be put under sanctions for his support of Russia's military actions in Ukraine and for his approval of Putin's "aggressive occupation policy."
The recommendation was made in a letter addressed to Secretary of State Antony Blinken and the High Representative of the European Union, Josep Borrell. It was sent by the Commission on Security and Cooperation for Europe and signed by its co-chair Steve Cohen, fellow member Congressman Joe Wilson and politicians from Estonia, Ukraine, the European Parliament and Poland.
Ukrainian MP Oleksiy Goncharenko also co-signed the letter and told Newsweek at the time that "sanctions should be imposed on everyone who serves the Putin regime, not just Steven Seagal.
"Putin has such a favorite pastime—former politicians, famous actors, musicians—to involve in his propaganda. He gives a lot of money, and for this, he asks to promote his narratives or put these famous people in high positions in state-owned companies in Russia," he said.
Goncharenko added that Putin was using his celebrity friends in the propaganda war against Ukraine to "pretend that all [Russia's] crimes are not crimes, but a fight against the Ukrainian Nazis, whom he invented."