Steven Spielberg's Spending on Private-Jet Fuel Divides Fans
Oscar-winning filmmaker and climate-change activist Steven Spielberg has come under fire after his spending on private-jet fuel was revealed.
The legendary director, 75, has reportedly burned more than $116,000 of jet fuel since June 23, according to flight-tracking data from ADS-B Exchange.
The news of Spielberg's usage of a private jet comes at a time when celebrities such as Kylie Jenner and Taylor Swift have recently been criticized for traveling on private planes.
Spielberg is being accused of hypocrisy by some after his well-documented stand against climate change.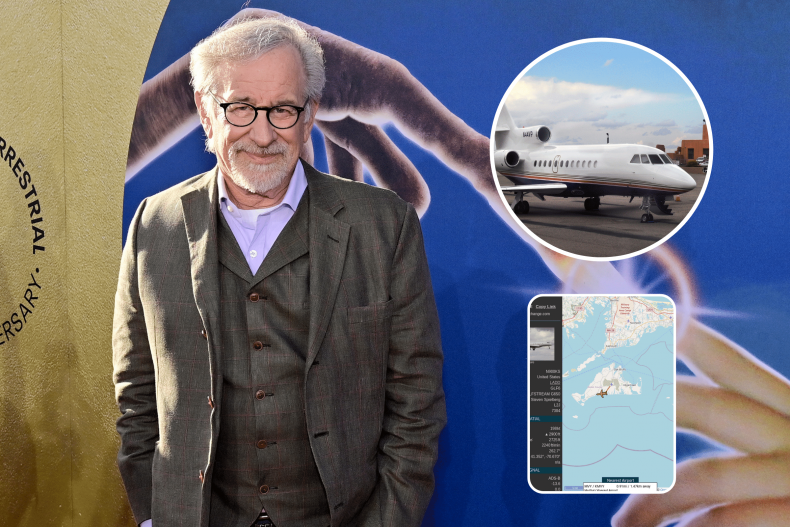 The flight-tracking database Celebrity Jets found that, since June 23, 2022, Spielberg has taken 16 trips, spanning nearly 17,000 miles on his plane, a Gulfstream G650. According to ADS-B Exchange, across those flights, he has spent at least $116,159, with his jet emitting some 179 tons of carbon dioxide over that period.
The Celebrity Jets Twitter account shares details of celebrity flights on private jets. On July 19, 2022, Spielberg's 56-minute flight from Massachusetts to New Jersey was highlighted.
In 2018, according to The New York Post, Spielberg stated that global warming "terrified him" and criticized people who "go blithely through life" without caring about it.
"Climate Activist Clowns:" Twitter user @APatriotsRage wrote. "Climate activist Steven Spielberg's private jet has burned $116,000 worth of jet fuel in two months." In a later tweet, they added, "Climate activists are such phonies..."
@PalusRaluca also shared his anger on Twitter, highlighting Spielberg's previous comments and his expenditure on jet fuel. "Do you know how much I spent on my jet fuel last year?" They asked before answering, "$0."
"Steven Spielberg says he's terrified of climate change yet he has emitted 179 tons of co2 in 2 months from his jet. Just for reference a typical passenger car emits 4.6 tons a year," wrote @Senor3ringsWitt, before ending the tweet with an expletive. And British political broadcaster Sophie Corcoran wrote, "You would think that if they themselves were actually scared of climate change, they would stop flying."
Not everyone was out to attack Spielberg, though. Some fans, such as @ShokXoneStudios, have stood by him. "You're not coming for Steven Spielberg today, Twitter. I don't care how much fuel his jet used," the graphic artist wrote.
Aviation advisor and pilot Fabrizio Poli explained to Newsweek in July 2022 that the use of private jets can be balanced against the purpose of their travel.
"Elon Musk has been criticized for his use of private jets, because he's into the electric car, and this and that, but some environmentalists complain that he flies by private jet.
"What they don't realize," Poli continued, "is that if he didn't fly by private jet, he wouldn't be able to manufacture all the cars that he does. So, yes, he does pollute the air when he flies his private jet, but then he does a lot of deals on all these electric cars, so that really does outweigh the pollution."
Spielberg has donated plenty of money to political and charitable causes in the past. In 2007, he donated $1 million for relief efforts in Israel during the 2006 Lebanon War. In 2008, he gave $100,000 to the campaign against the "Proposition 8" legislation that would have banned same-sex marriage in California. Later, in 2018, Spielberg and his wife, the retired actor Kate Capshaw, donated $500,000 to March for Our Lives, a gun-control cause in the United States.
Newsweek has reached out to Spielberg's representatives for further comment.