Stimulus Check, Unemployment Boost Didn't Prevent Americans Burning Through Emergency Savings
A large number of Americans have less emergency savings than they did at the start of the coronavirus pandemic, despite the initial offer of individual stimulus checks and a boost to unemployment benefits, a new poll has found.
The latest survey from Bankrate found that a little more than a third of Americans reported having lower emergency savings as extra unemployment assistance was set to expire and the first round of stimulus checks had been spent.
By comparison, only 13 percent of U.S. adults said they had more savings than when the COVID-19 pandemic began. A further 16 percent told pollsters they felt "very comfortable" with their emergency savings balance.
Some 47 percent of Americans said their emergency savings accounts were in the same state as they were before the ongoing crisis.
"More Americans have some emergency savings socked away, but what they have isn't enough to give them a warm a fuzzy feeling amid so much economic carnage," Bankrate Chief Financial Analyst Greg McBride said.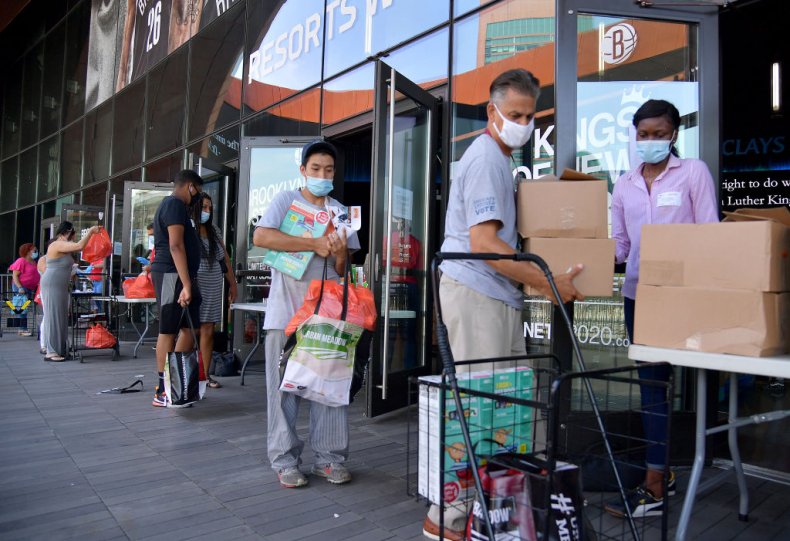 According to the Bankrate poll, more than one in five Americans (21 percent) have no emergency savings at all, while a further 27 percent said their emergency savings would last them less than three months.
The remainder of poll respondents claimed they had enough money at least three to six months' worth of expenses in the event of an economic emergency.
When asked how comfortable they were with their emergency savings accounts, a small majority told pollsters they were either very or somewhat comfortable with their balances. Thirty-eight percent described themselves as somewhat comfortable, while 16 percent said they were very comfortable.
Forty-four percent of Americans said they were uncomfortable with their emergency savings to one degree or another, while a further 3 percent didn't know how they felt, or refused to respond.
The new Bankrate poll published Thursday surveyed more than 1,000 U.S. adults between July 28 and August 2. Its margin of error stands at roughly 3.5 percentage points.
"At the time the polling was conducted, federal unemployment assistance was in the process of expiring and without an obvious renewal or replacement, likely contributed to the level of discomfort that millions of Americans felt about their emergency savings," McBride said in a statement.
Bankrate revealed that many Americans were struggling with their emergency savings as negotiations between Democrats, the Trump administration and Republican lawmakers continued to stall, delaying much-sought-after economic relief legislation.
Top GOP lawmakers unveiled a new COVID-19 bill earlier this week that proposed a cut to the unemployment extension provided under the CARES Act, while also leaving out a second round of $1,200 stimulus checks. Under the $3 trillion bailout plan proposed by House Democrats, dubbed the HEROES Act, another tranche of $1,200 checks would be offered.