New GOP 'Skinny' COVID Relief Bill Doesn't Include More Stimulus Checks, Cuts Extra Unemployment Pay In Half
Some Senate Republicans have put forward another economic stimulus bill to address the fallout caused by the novel coronavirus pandemic and resulting lockdowns. But the proposal does not include another round of $1,200 stimulus payments and would cut the extra federal unemployment in half compared to the CARES Act, which Congress passed in March.
The proposal, dubbed the "skinny" plan, comes as Democrats, Republicans and the White House have reached an impasse in negotiations, while the Senate remains in recess. The extra $600 in weekly unemployment as well as an eviction moratorium included in the CARES Act expired at the end of July, and lawmakers have not yet agreed on further economic stimulus legislation. Politico and Bloomberg first reported the "skinny" plan.
Under the new GOP proposal, the previous $600 per week would be cut to just $300. The legislation, which Politico reported could be added to a continuing resolution to fund the government through September, does not include stimulus payments of up to $1,200. Under the Democratic proposal—the $3 trillion HEROES Act—and the previous Republican plan—the $1 trillion HEALS Act—checks or direct payments of up to $1,200 would have been sent out to most Americans.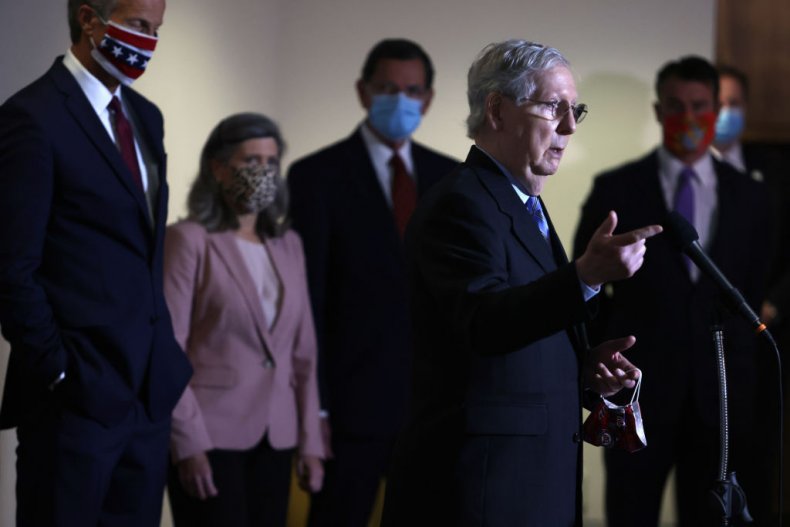 It's unclear why the new Republican plan would not include the direct payments, which President Donald Trump and his administration also support.
Beyond the unemployment benefits, the bill would provide just over $100 billion in funds for education, a sticking point that some conservative GOP lawmakers have argued against. The legislation would also provide $10 billion in funding to bolster the U.S. Postal Service, as Democrats have accused the White House of attempting to undermine the federal agency ahead of the election. Meanwhile, the Democrat-controlled House of Representatives is set to vote Saturday on USPS legislation that would give the agency $25 billion in additional funding.
The new GOP bill would also give $45 billion to the Department of Health and Human Services, as the federal agency continues to address the novel coronavirus pandemic. Of that $45 billion, $20 billion would go toward vaccine and therapeutic manufacturing and production, $16 billion would go to state and local governments and $6 billion would be put aside to prepare for and distribute potential vaccines.
Whether Democrats—and even all Republicans—will agree to the proposal, remains to be seen. Meanwhile, millions of Americans continue to struggle financially as unemployment remains at historic levels. At the end of July, the Census Bureau reported that some 30 million Americans were struggling to have enough food to feed themselves and their families. But the Republican-led Senate currently is set to remain on recess until after Labor Day on September 7—meaning any further relief from Congress likely won't arrive until autumn.