The Financial Cost of Stimulus Checks Sent to Dead Americans Is Unclear. The Emotional Cost Is Palpable
The financial cost of stimulus checks been sent to the deceased is so far unclear. But for the families of those receiving such post for their late loved ones, the emotional cost is all too real.
Amid millions of payments being sent out as part of the CARES Act, the issue of people who have passed away still being delivered them has arisen, with the Internal Revenue Service (IRS) urging relatives to return the payments.
The expense of the problem, through payments that have not been returned and administrative costs, has not been detailed. But those sent checks bearing their late relatives' names have spoken of the upset caused.
Cheryl Jones, a grief counselor who also hosts a radio show titled Good Grief, told Newsweek of how a check was sent for her late mother-in-law.
"My wife picked up the mail and it was obvious by the look on her face that it was very upsetting, traumatic and angering," she said.
After that, the issue was compounded by trying to work out what to do with the check. She describes the experience as "very surreal," adding that it "ripped off the scab of grief."
"What a grieving person never wants is for the world to be completely oblivious to the loss. This is a great example," she said.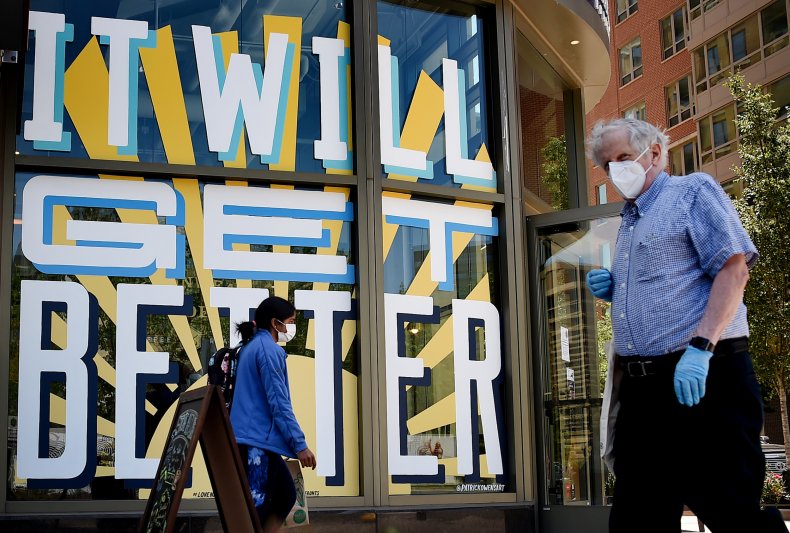 Innessa Manning said she received a check for her mother, marked the outside of the envelope and returned it, only for it to be sent back to her again.
She also received a letter addressed from President Donald Trump to her mother, which spoke of her economic impact payment having arrived.
On the correspondence, the letters DECD, a code used to indicate a person is deceased, were next to her mother's name.
Manning said receiving letters for her mother "always makes me sad."
"She passed away peacefully due to Alzheimer's complications over 2 years ago, but receiving mail for her is a trigger that reminds me that she is missed each and every day," she said.
Her sister, Rebecca Emily Darling, told Newsweek of the "absurdity of the situation" that the payment had arrived for their late mother before she herself had received one.
In emailed correspondence with Newsweek describing the upset of such letters being sent for her mother, she said: "It's hard to fill out forms where you have to mark your mother as "deceased". It feels like a jolt to your heart, no matter how long it's been (which in our case is two years). And it seems that it would be so easy for at least one person to ensure this stops happening. I hope, in the future, they do."
Joe, who asked his last name not be used, spoke of receiving a stimulus check for his late partner Mark, who died three years ago at the age of 60.
He said his loss was "made harder by a reminder of his death" and he was surprised the situation occurred at this point after Mark's passing.
Joe said he thought: "Really? After 3 years they still don't realize he's gone?"
Jill Cohen, a grief counselor based in New York City, told Newsweek receiving post for late relatives can be "jarring and upsetting."
"It is just yet one more reminder in the course of a day, when the mail arrives, and there in print, is the name of the deceased loved one. Sometimes it's even harder than hearing the name, because, when written, it just kind of stares at you. Inviting in the name of the person who is no longer physically here to open it, to receive its contents," she said.
"At first, it can bring on a wave of sadness. It's a stark reminder, in your face, that the loved one is gone, and will never open the mail again."
Marty Tousley, a grief counselor, told Newsweek that people's reactions will differ, though said usually such mail will not be appreciated.
"As a grief counselor, I can tell you this much: the reactions will vary as much as the individuals themselves will vary. Everyone has his or her own unique experiences in grief, and their responses will differ accordingly—because so many individual factors are at play," she said.
"Usually, however, the receipt of such a letter acts as a trigger for the bereaved, and it is not at all appreciated."
Newsweek has asked the IRS for comment and if it has an estimate of the number of checks sent to the deceased, how many of those sent have been returned and the cost of the problem.
Following the CARES Act, eligible people were sent payments of up to $1,200 per adult, to help them through the economic turmoil posed by COVID-19.
During the act of these been processed, scenarios have arisen where people who shouldn't have been sent the money have, with the IRS encouraging them to return it.
Speculation continues as to whether there will be a second round of stimulus payments. While indications would suggest a fourth relief package will come at some point, it is not guaranteed it will include them.