Stimulus Checks Update: Legislators Considering Direct Payments in Relief Package
Another round of stimulus checks may be on the way, but they may be for less than what they were under the CARES Act.
Legislators are ironing out the final details of a $908 billion economic relief package, which has now been reported to include another round of stimulus checks. As reported by Politico, the second round of direct payments is likely to be less than the CARES Act's $1,200 payments that were sent to individuals earlier this year and could arrive by the end of 2020 if lawmakers can pass a package this week.
Stimulus checks were originally left out of the bipartisan, bicameral package unveiled on December 1 because Republicans wanted to keep the price tag low, according to Senator Joe Manchin. The West Virginia Democrat told CNN's New Day on December 9 that Democrats wanted direct payments in the package but weren't willing to sacrifice federal unemployment benefits for another round of stimulus checks.
"To say that we only have X amount of dollars and I'm going to send checks to people that still have a job, still have a paycheck coming in—but I'm going to ignore and not help the people who are still unemployed or becoming more unemployed because this pandemic is ravaging—I don't think that makes any sense to anybody," Manchin said.
As the package stands now, it includes both direct payments and unemployment assistance but leaves out aid to state and local governments and liability protections, according to Politico. Those last two provisions have been contentious points during the negotiations and contributed to the holdup of a new relief package in Congress.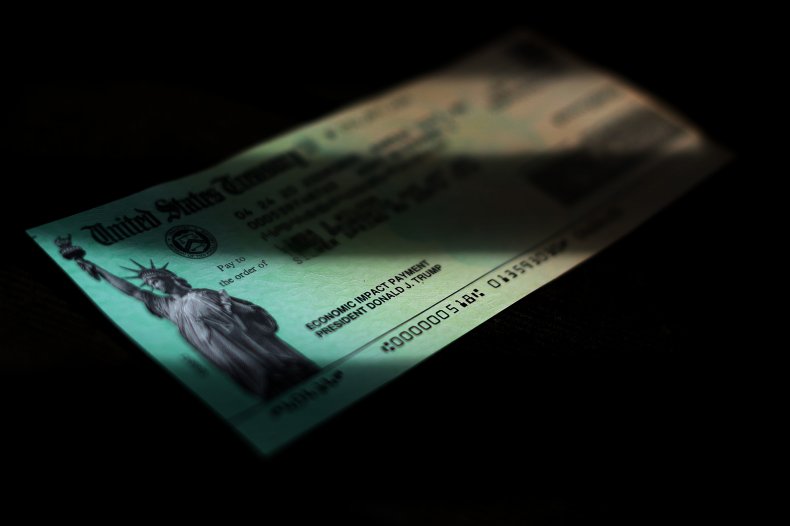 Taking state and local government aid out of the equation would free up $160 billion, about half of the $290 billion that was needed for the first round of payments. If eligibility requirements remain the same as they were in last spring's CARES Act, it could mean that the payments would be $600 instead of $1,200. However, the finalized deal has yet to be announced, so that's far from a guarantee.
Senate Majority Leader Mitch McConnell has committed to passing another package before Congress leaves for Christmas, and Senator Steve Daines told CNBC's Squawk Box on Wednesday morning that negotiations "went through the night." The Montana Republican was confident a package would be announced Wednesday morning and confirmed that it would exclude state and local government aid. He didn't specifically mention the stimulus checks but didn't deny the report about them either.
"I'm cautiously optimistic we're going to see this $908 billion package released today, and this will likely get passed before we go home this weekend," Daines said.
President Donald Trump has said on numerous occasions that he wants to see another round of payments going directly to Americans and has agreed to sign off on a stand-alone bill. The measure has support from both sides of the aisle, and Senators Josh Hawley, a Missouri Republican, and Bernie Sanders, a Vermont independent who caucuses with the Democrats, have pushed legislators to include a second round of direct payments in the package.
Hawley introduced a stand-alone bill for direct payments and joined Sanders on an amendment that would provide a second round of stimulus checks in line with the CARES Act. Both legislators deemed it unacceptable for Congress members to leave for Christmas without another round of direct relief. Hawley said if Congress doesn't pass legislation with direct payments by the end of this week, he would demand a vote on his legislation.
Newsweek reached out to Hawley and Manchin for comment but did not receive a response in time for publication.
If Congress can pass a relief package that includes direct payments and the legislation gets Trump's signature, people could see payments by the end of the year. The problems that delayed payments the first time around won't be an issue now, according to Treasury Secretary Steve Mnuchin. In August, he said that if Congress passed a package on a Monday, he could get payments out the following week.
"I could have them out immediately.... I can get out 50 million payments really quickly, a lot of it into people's direct accounts," Mnuchin said.