Stimulus Checks on the Way in Michigan's Wayne County as Americans Await COVID Relief Deal
As Americans await a COVID relief package from Congress, Michigan's largest county is giving a $500 payment to lockdown-affected workers in the food, fitness and entertainment industries.
The "Wayne County Cares" program, funded through the federal CARES Act, will provide cash cards to eligible residents who meet income limits and work in those areas, including at bars, bowling alleys and movie theaters.
Wayne County Executive Warren Evans announced the program in a news release Thursday, and commented Friday on its immediate popularity.
"The public health orders were a difficult but necessary step to keep our communities healthy," Evans said Thursday. "However, we know many Wayne County families are hurting. It's critical we help to ease the financial burden for those affected. This effort empowers displaced workers with direct support to spend however they need."
The day after the announcement, Evans' office said that more than 2,400 people have already applied for the grant, which assists workers affected by the state's public health orders.
"I'm not surprised, frankly, by this response because we know people are hurting," Evans said in a news release Friday. "The public health orders are critical to keep our communities safe during this pandemic, but affected workers shouldn't have to bear this burden alone. We are working hard to use our limited resources to provide the most help to those most in need."
The Wayne County Economic Development Department is expected to provide up to 8,000 cash cards to eligible applicants, who must apply by December 15, while utilizing its $4 million budget.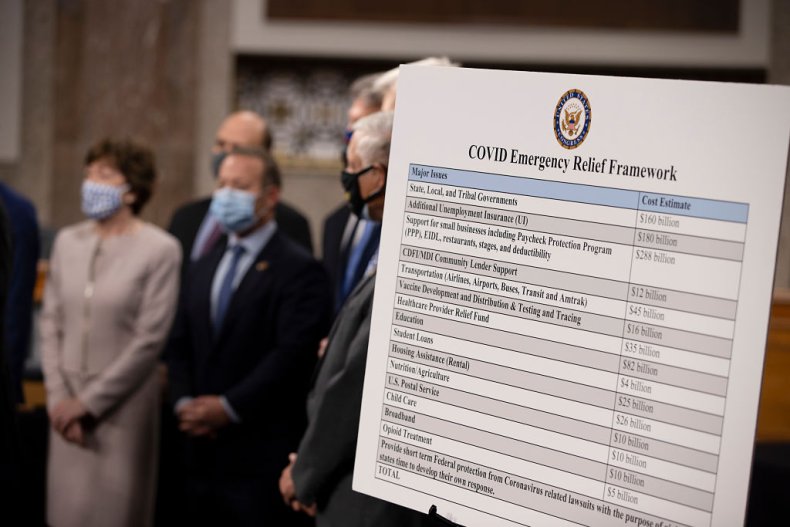 Meanwhile, lawmakers in Washington are working to pass another COVID relief package for Americans weathering the pandemic before Congress adjourns for the holidays. But prospects of receiving much-needed aid continue to look dim as Congress missed another critical deadline on Friday to deliver a stimulus package and instead agreed to extend government funding for a week.
A $908 billion bipartisan relief bill was proposed on Wednesday after days of negotiations, which includes an additional $300 in unemployment aid and extending pandemic unemployment insurance programs. However, the bill would leave out stimulus payments for Americans.
The plan is intended to strike a compromise between Democrats, who have been fighting for a $2.2 trillion relief package, and Republicans, who continue to argue for smaller plans. But Senate Majority Leader Mitch McConnell has signaled that Senate Republicans will likely not support the plan.
Treasury Secretary Steven Mnuchin also proposed a $916 billion relief package on Tuesday that would provide Americans with a one-time $600 stimulus check, but would not include a weekly enhancement of jobless benefits. House Speaker Nancy Pelosi and Senate Minority Leader Chuck Schumer pushed back on the White House's proposal this week.
On Thursday, Pelosi suggested that negotiations could continue over the holidays.
"If we need more time, then we take more time. But we have to have a bill, and we cannot go home without it," Pelosi said at a press conference. "We've been here after Christmas, you know," she later added.
Senators Bernie Sanders, an independent of Vermont, and Josh Hawley, a Republican of Missouri, have both vocalized their support for a second round of $1,200 stimulus checks.
"I will insist that any agreement in terms of a COVID-19 relief package must include not only strong unemployment benefits, but a $1,200 direct payment for the working families of this country similarly structured to what was included in the CARES package of March," Sanders said on the Senate floor Thursday.
While Americans and small businesses continue to struggle in the ninth month of the pandemic, counties like Wayne, which includes the city of Detroit, are providing at least some much-needed relief. In addition to the $500 grant, Evans' office has issued $70 million in grants to local businesses, grants to more than 2,500 minority-owned businesses, awards to nearly 2,000 women-owned businesses and support to 137 veteran-owned businesses.
"The pandemic has been a challenge unlike anything we've experienced in our lifetime," Evans said in Thursday's news release. "Our goal is to ensure Wayne County residents and businesses have the support they need to safely get through these difficult times. We are all in this fight together."