Calls Grow for Pelosi, Schumer to Accept Smaller Initial Stimulus Deal
Calls are mounting for Democratic figureheads to accept a smaller relief package if necessary and push for more later amid the ongoing COVID-19 crisis, despite their continued insistence Republican proposals are insufficient.
Former Chairman of the Council of Economic Advisers Austan Goolsbee, who advised the Obama administration, told CNN that he feels something needs to be done soon in order to prevent a potential double-dip recession.
"There are a lot of people really hurting in the country, I hope that they can agree on something soon," Goolsbee, who was also chief adviser for the Economic Recovery Advisory Board established during Obama's presidency, said.
After being asked if Democrats should accept a smaller package before the end of the year, amid the ongoing stalemate over stimulus, Goolsbee said they should potentially take less now and push for more down the line.
"I know everyone calls it stimulus and its sort of a pedantic point but this isn't stimulus, this literally just relief money until we can get the furnace back on. We have to do this. It's not jumpstarting growth it's just keeping people from being evicted, keeping businesses from shutting down permanently from what was supposed to be a temporary shock. And I think it's important," he said.
"So if they have to accept half a loaf, then I think they should accept half a loaf and then let's try to get another half of a loaf. But right now is really touch and go and I wish both sides could see that."
In further comments shared with Newsweek, Goolsbee said: "My view is that the economy needs the relief immediately. The virus is raging out of control and until we get a handle on it, it will cost a lot to keep people afloat and prevent permanent damage from a temporary hit.
"That means it can't wait until next year without millions of people getting really hurt. It needs to be as big as possible as fast as possible. It needs to have money for people, for small businesses, for cities and states and, above all, for COVID response. The CARES act shows us that even large amounts of money will run out quickly and need to be replenished until we get control of the virus."
Goolsbee joins a raft of economists who have pushed for further stimulus action to be taken.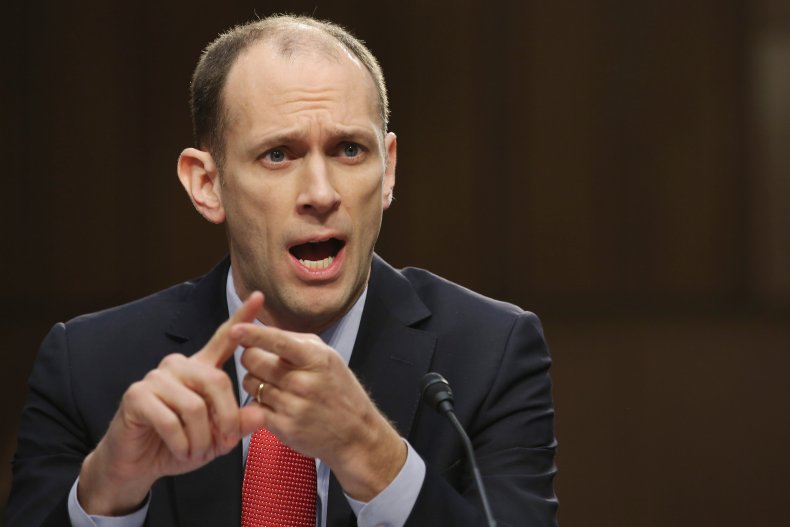 Meanwhile, some Democrats have called for a deal to be taken before the end of the year with a compromise for a smaller bill to get support out to the public sooner. They echoed suggestions of something happening now then potentially more in future.
"I just hope that we can get agreement. It may not be everything that everybody wants but at least if we can get some significant relief to people," Maryland House Majority Leader Steny Hoyer (D-MD) told Roll Call. "And then we're going to be here next year. If we need to do other things, we'll do other things."
Lawmakers across both sides have expressed desire for measures to be enacted. The Senate returns Monday, with eight months having passed since the last relief package, the CARES Act, was signed by President Donald Trump.
While there has been support from both sides of the aisle for further stimulus action, there has been disagreement on the finer points of a deal and a split on how much should be spent overall.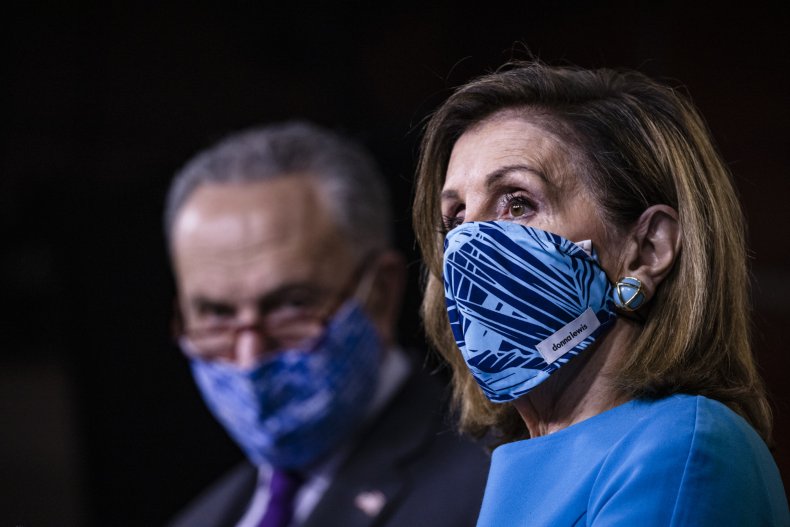 Democrat proposals in the form of the HEROES Act and an updated version of this which took its overall spend down to $2.2 trillion have passed the House, but faced pushback in the GOP-led Senate.
Senate Majority Leader Mitch McConnell (R-KY) has meanwhile pushed for a cut down bill worth around $500 billion. However, this sort of offer has been rejected by House Speaker Nancy Pelosi (D-CA) and Senate Minority Leader Chuck Schumer (D-NY).
Pelosi has been outspoken in her belief that Republican proposals have been insufficient to tackle the needs of the crisis.
In October, she told Bloomberg that Republicans were not offering enough and said: "This isn't half a loaf. What they're offering is the heel of the loaf."
She said if Democrats came down further they would not be "meeting the needs of the American people."
Pelosi also said there was no point entering a negotiation if you would just take the "path of least resistance" straight away.
McConnell said earlier this month that Democrats were looking for something "significantly larger" than Republicans and that "that's not a place I think we're willing to go."
Newsweek has contacted Pelosi, Schumer and McConnell for comment. Goolsbee has also been contacted for further comment.
The debate over further relief comes with confirmed COVID-19 cases having passed 13 million in the United States, according to Johns Hopkins University figures.
The graphic below, from Statista, shows the nations with the highest numbers of confirmed cases.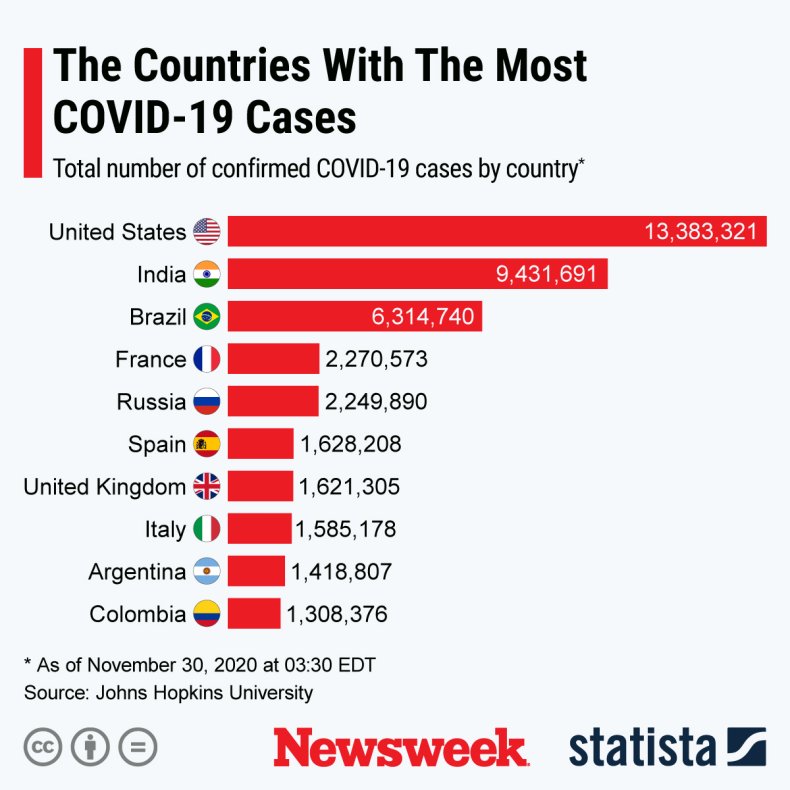 Correction 11/30/2020: This page has been corrected to say the size of Mitch McConnell's stimulus proposal is $500 billion. This article was updated to include additional comment from Austan Goolsbee.