Stimulus Boost to Unemployment Payment Is Expiring, but Most Americans Want Extension: Poll
With unemployment benefits outlined by the CARES Act due to expire in December, polling indicates widespread support for them to be extended.
Pandemic Emergency Unemployment Compensation and Pandemic Unemployment Assistance programs outlined in that stimulus package, signed off nearly eight months ago, are due to end December 26, with no further relief in sight.
An estimate from The Century Foundation suggests that some 12 million people could be impacted by the end of these support measures.
"This cutoff threatens to pull the rug out from under an economy that has already seen millions of workers lose their state unemployment benefits this fall," a report from the foundation states.
An ongoing stalemate has hampered the progress of a further package through Congress despite support for such action on both sides of the aisle, with disagreements on the specifics stalling an agreement being reached capable of passing the House and Senate.
With the prospect of these unemployment support measures coming to an end, polling from YouGov indicates most Americans want to see it continue.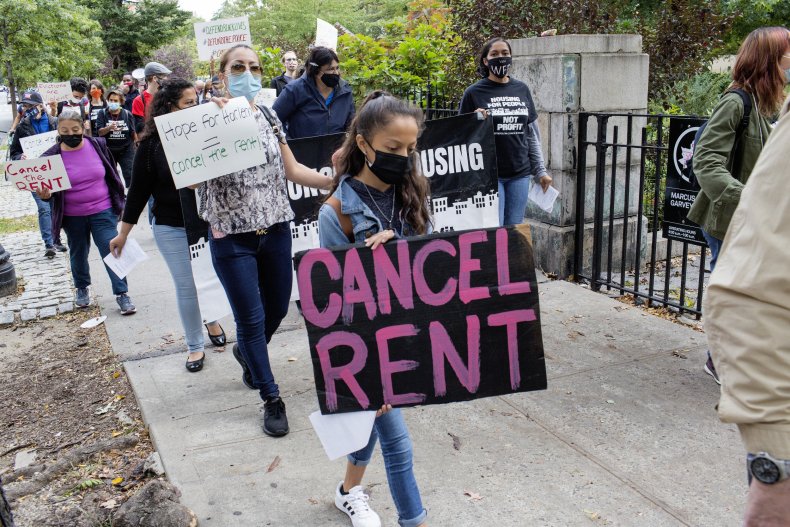 On November 20, 7,306 U.S. adults had the following put to them: "Enhanced federal unemployment insurance created by the CARES Act is set to end on December 26. Do you think these programs should end as scheduled, or should they be extended?"
Of those asked, 65 percent said that they should be extended. This compared to 17 percent who said they should end as scheduled.
The below graphic, from Statista, highlights the number of people who could be impacted by the programs expiring.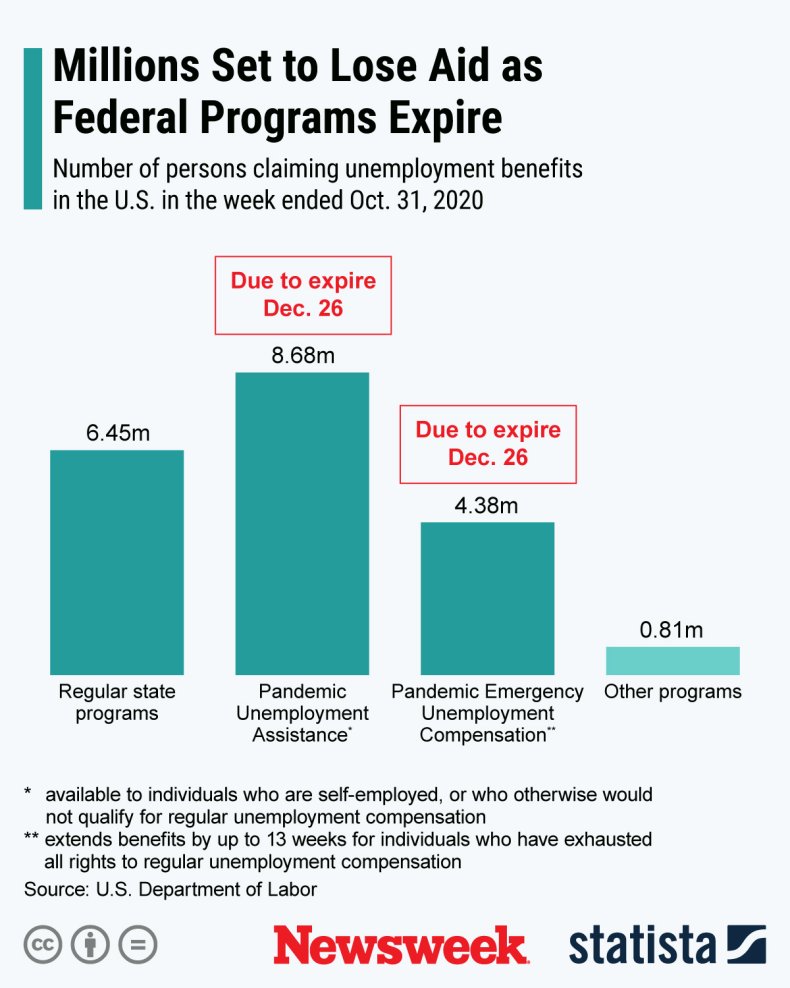 This adds to other polling indicating public support for further stimulus action, with measures such as stimulus checks—formally known as Economic Impact Payments—also being backed to be enacted again.
It comes with Democrat figureheads House Speaker Nancy Pelosi (D-CA) and Senate Minority Leader (D-NY) having asked Senate Majority Leader Mitch McConnell to resume talks in order to facilitate a bipartisan relief agreement being reached.
Democrats have twice passed packages of their own, the HEROES Act and an updated version of this, in the House, though have met opposition to their proposals in the Senate.
Talks thus far have failed to breach the impasse, with each side blaming the other for a lack of compromise.
Republicans have proposed less costly proposals while the White House has previously suggested moving forward in a piecemeal fashion, starting with points of agreement. However, Democrats have insisted such proposals have been insufficient to meet the continuing COVID-19 crisis, pushing for a comprehensive package of measures.
Newsweek has contacted Pelosi, Schumer, McConnell and the White House for comment on the end of the unemployment programs.
It comes with confirmed COVID-19 cases in the U.S. having surpassed 11 million throughout the pandemic, according to Johns Hopkins University figures.
The below graphic from Statista shows the nations with the most confirmed cases.