I can remember the exact moment I stopped being a child.
It wasn't the moment I turned 18 and was finally able to vote. I was 16 years old at the happiest place on Earth when it happened. The irony of being at Disney World when my childhood nearly ceased to exist is not lost on me.
It was July 2013, my first time at Disney World. We were at the start of our family trip when one night after a long day at the parks, my mindless scrolling through television channels was interrupted by breaking news: George Zimmerman was found not guilty in the murder of 17-year-old Trayvon Martin.
I felt my heart sink and my body go tense. At 16, I failed to understand how someone who looked like me and was close to my age could be murdered without consequence. I feared that anyone Black could be next—me, my cousins or my classmates.
More than confusion, I felt anger and frustration. I wanted to scream at the TV and beg the defense attorneys to recognize that Martin was not a "thug," "criminal," or "young Black man." He was a child just like me.
In those moments, that inescapable realization ended my childhood: Black children don't get to be children.
The adultification of Black children happens at a young age. In some instances, as young as pre-school and it can be deadly. It's the reason that Trayvon Martin was referred to as a young man and not a little boy. It's the reason Emmett Till was lynched and brutalized decades prior. It's what led to the death of Michael Brown, Tamir Rice and most recently Ma'Khia Bryant.
We must stop the adultification of Black children. Not only do their lives depend on it, but so does their childhood.
In their 2017 book, Rest in Power: The Enduring Life of Trayvon Martin, Sybrina Fulton and Tracy Martin describe the loss of their son Trayvon Martin: "The child I lost was a son, a boy who hadn't yet crossed the final threshold to becoming a man. He had been seventeen for only three brief weeks, still in the beautiful and turbulent passage through childhood's last stages, still on his way to becoming. Instead, he will be remembered for the things he left behind."
Research published by the American Psychological Association found that Black boys as young as 10 may not be viewed in the same light of childhood innocence as their white peers. They discovered that as a result of this, Black boys are more likely to be mistaken as older, perceived as guilty and face police violence if accused of a crime.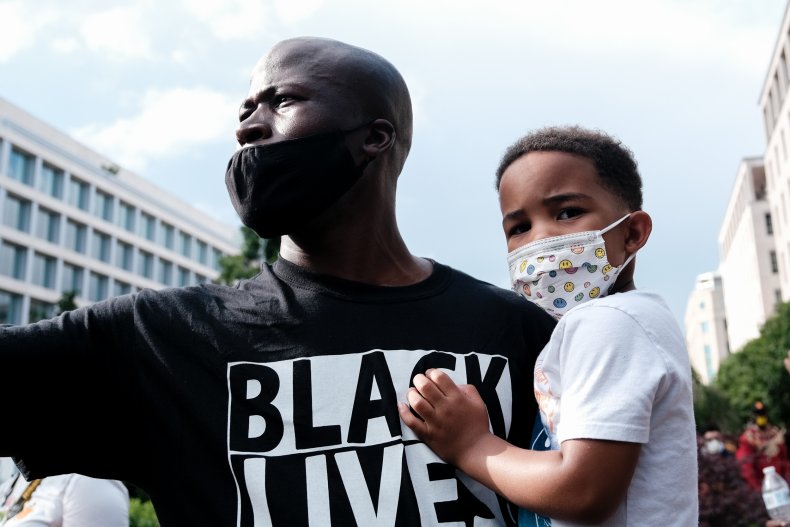 This adultification does not only impact Black boys. In 2017, Georgetown Center on Poverty and Inequality surveyed over 300 parents and found that, on average, adults viewed Black girls as "more adult" than white girls of the same age.
Twenty-four minutes before the George Floyd verdict was read, Ma'Khia Bryant was shot and killed by police in Columbus, Ohio. As reports of her death came out, she was referred to as a "young woman." Bryant was not a young woman, she was a 16-year-old child.
Like Trayvon Martin, Tamir Rice and Michael Brown, Ma'Khia Bryant was robbed of the chance to transition from childhood to womanhood. When Black children are viewed as adults, both in the media and by the criminal justice system, their deaths become justified.
There is no justification for the killing of Black youth. We must—not only for the survival of life but the preservation of Black childhood—change the language we use when talking about Black youth.
They are children, not adults. Their Blackness does not age them, make them something to fear, or make them worthy of death.
Not only must we change language about Black youth, we must also change policy that allows guns to be drawn at children. Some would argue that there are instances where officers need to draw guns for their safety, but only about 4 percent of what officers respond to are violent crimes. That means that 96 percent of the time they are not responding to crimes that require guns to be drawn, or fired.
Black youth are owed the same perception of innocence and grace given to their white peers. Until we do this, more Black youth will lose their lives.
Satoria Ray is an educator and organizer for racial equity and restorative justice practices in schools. She is also a Public Voices Fellow with The OpEd Project.
The views expressed in this article are the writer's own.