Cher, Bette Midler and Other Celebrities React to Election 'Stop the Count' Protesters
A number of Donald Trump supporters have been taking part in protests in an effort to get poll workers to stop counting votes.
In Michigan, the "stop the count" demonstrations began Wednesday night outside the TCF Center in Detroit causing police officers to push back crowds.
The unrest kicked off after Trump's 2020 campaign manager Bill Stepien released a statement saying the campaign would file a lawsuit with the Michigan Court of Claims to stop the count in the crucial swing state of Michigan where Joe Biden is ahead.
"President Trump's campaign has not been provided with meaningful access to numerous counting locations to observe the opening of ballots and the counting process, as guaranteed by Michigan law," Stepien said in a statement.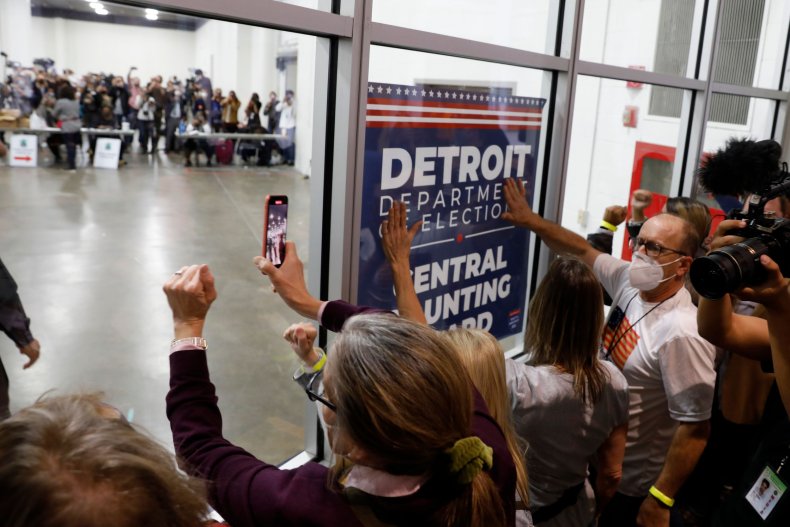 "We have filed suit today in the Michigan Court of Claims to halt counting until meaningful access has been granted. We also demand to review those ballots which were opened and counted while we did not have meaningful access."
He added: "President Trump is committed to ensuring that all legal votes are counted in Michigan and everywhere else," Stepien's statement concluded."
Several videos of crowds of Republican supporters chanting "Stop the count! Stop the count!" have been circulating on social media and garnering a lot of attention as similar protests have been taking place in Pennsylvania and Arizona.
A number of Democrat-voting celebrities have been condemning the protests on Twitter.
"In the United States of America, people are protesting 'vote counting,'" Bernice King tweeted.
While music icon Cher mocked Trump for not graciously accepting defeat asking if he is 5 years old.
Frequent Trump critic Bette Midler shared a meme disparaging Trump's call to stop counting.
Comedian Sarah Cooper shared footage of a protest and asked why protesters are protesting democracy.
Musician John Legend tweeted: "So I'm clear, is team trump protesting to count all the votes or stop the count? Oh, so it depends on who's winning. Got it. Makes perfect sense."
Activist Shaun King labeled the protests "utter foolishness."
Actor David Schneider tweeted: "How do you even begin to defend chanting "stop the count!" where you think you might lose and "count that vote!" where you think you might win?"
Charmed actress Alyssa Milano said: "President Trump's baseless attempt to silence these votes is un-American, un-democratic, and distracting. People on the left and the right have condemned the president for his unfounded claims of fraud at the ballot box."
Avengers actor Mark Ruffalo shared a video and tweeted: "Cut to Arizona where there are armed white people threatening to disrupt counting votes and state volunteers. Not a damn thing happening to them. Priorities of America in total disarray. This is what we are going to address family. This apartheid system."