Twitter Users Plead: 'Stop President Bannon'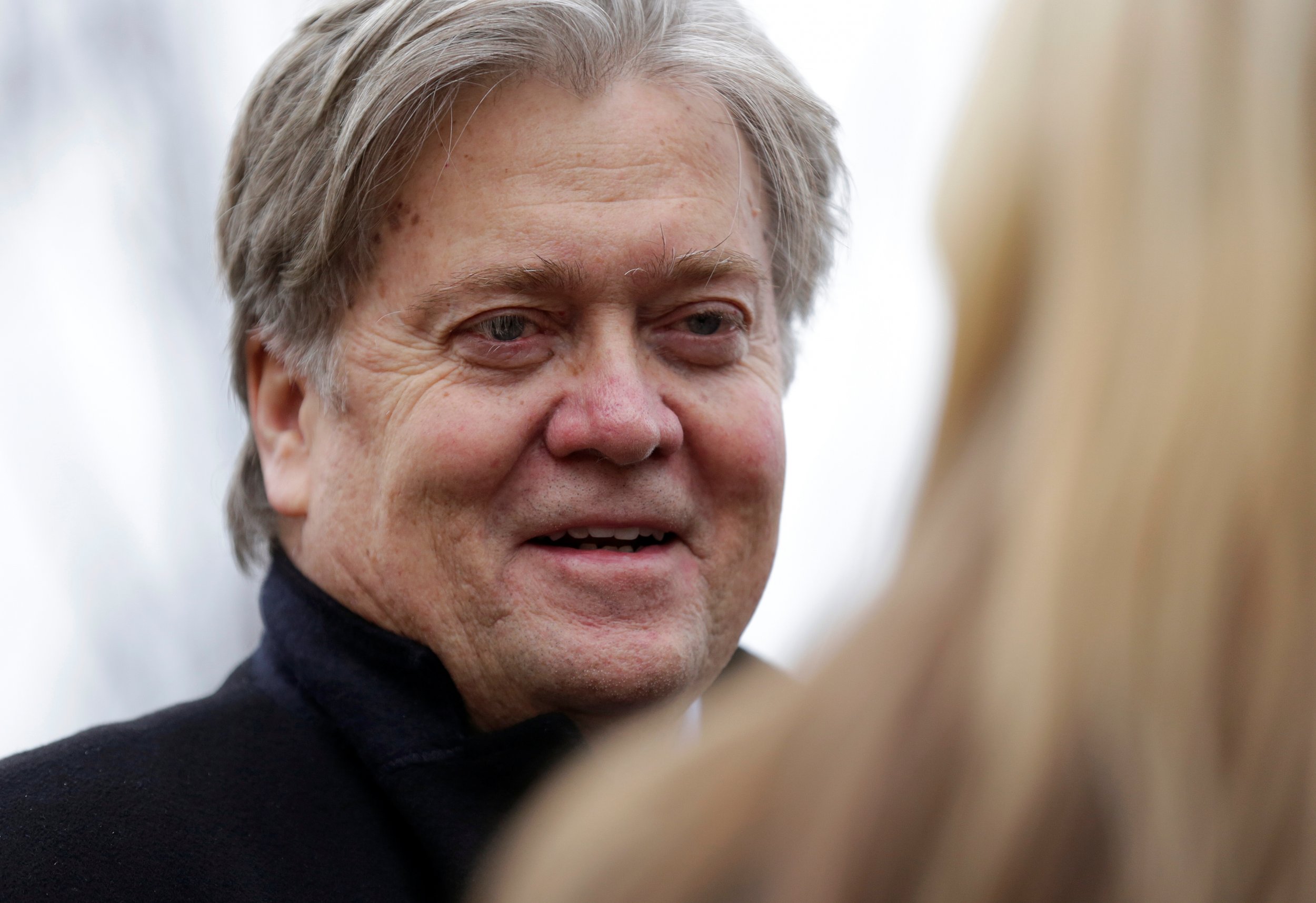 There are at least thousands of people who don't believe President Donald Trump could really be behind the executive order that blocks immigration from seven Muslim-majority nations and turns away Syrian refugees fleeing war and destruction. Instead, they're pointing to a likelier suspect—Trump strategist Stephen Bannon—and want him stopped.
RELATED: Trump aides say the immigration ban may be expanded
The #StopPresidentBannon hashtag flooded Twitter Sunday, targeting the protectionist former chairman of alt-right news site Breitbart who Politico reports has been drafting Trump's executive orders with Stephen Miller, Trump's senior adviser for policy, with little to no consultation with affected agencies.
The nation has seen widespread confusion from Trump's Friday order that went into immediate effect, stranding travelers at airports across the country until a federal judge issued an emergency stay, releasing those travelers from detention. Despite Trump's insistence that the government was "totally prepared" for the abrupt shift in decades of immigration policy, Homeland Security staff didn't even see the executive order until Friday, CNN reports. Bannon and Miller then reportedly overruled Homeland Security guidance that Trump's order did not cover green card holders—permanent, legal residents of the United States—although the White House said Sunday that the ban will not include such residents, although they may see extra vetting at airports.
Bannon's influence is likely to only grow based on another executive order Trump issued Saturday. The former Naval officer, a political hire, will take a seat on the National Security Council's principals committee while the director of National Intelligence and the chair of the Joint Chiefs of Staff are demoted and will attend the committee's meetings only when "issues pertaining to their responsibilities and expertise are to be discussed."
The prospect of elevating Bannon—often accused of racism and sympathizing with white nationalists due to the noxious views expressed on Breitbart—first to the White House and then to the defense establishment, without election or Senate review, is just too much for many. "When you make a white nationalist your closest advisor and keep giving him power, we know where you stand," one Twitter user wrote. "Like every despot regime half the population does not care about the other half of the population," another wrote. Still another wrote, "As awful as the #MuslimBan is, THIS is on a whole other level. A man with his ideology in this position is horrifying."
Bannon hasn't publicly made his feelings known about social media, but he's clear on the press. "The media should be embarrassed and humiliated and keep its mouth shut and just listen for a while," Bannon told the New York Times this week. "I want you to quote this. The media here is the opposition party."
Over at Breitbart, Bannon is being hailed as a "rising star" in the Trump administration, while headlines mock Senator Chuck Schumer's demand for an end to the immigration order, applaud Chief of Staff Reince Priebus for telling NBC's Chuck Todd that he talks too much, and characterizes the response to Trump's order as "hysteria."