Trump Aides: More Nations May be Added to Immigration Ban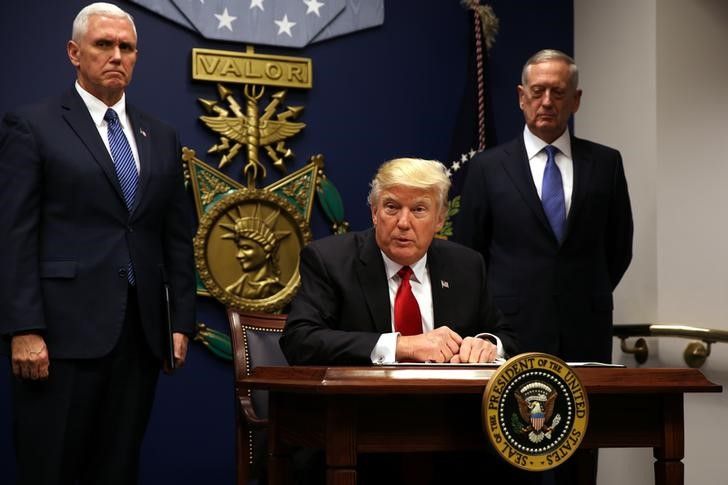 Updated | Members of the Donald Trump team defended the president's immigration order Sunday, suggesting it could be expanded to more nations, but also sparked confusion on the fate of travelers holding green cards.
Chief of Staff Reince Priebus and counselor Kellyanne Conway both characterized Trump's executive order as necessary to keep America safe in appearances on Sunday news shows and said the list of Muslim-majority nations under a temporary travel ban could be enlarged going forward. However, Priebus appeared to contradict himself as he tried to explain how the administration will treat green card holders—legal, permanent residents of the United States.
RELATED: What does the stay on Trump's order mean?
"If you're coming in and out of one of those seven countries...then you're going to be subjected, temporarily, with more questioning until a better program is put in place," Priebus said on NBC's "Meet the Press." Trump issued an order Friday that temporarily banned both Syrian refugees and travelers from seven Muslim-majority countries—Iran, Iraq, Syria, Sudan, Libya, Yemen, Somalia—from entering the United States. Customs agents enforced the order by detaining up to 100 people at airports around the U.S. Saturday until a federal judge in Brooklyn issued an emergency stay of Trump's order. The order remains in force, however.
"These are countries that have a history of training, harboring, exporting terrorists," Conway said on "Fox News Sunday." "We can't keep pretending and looking the other way."
However, both were questioned as to the nations on the list and why other Muslim-majority nations, such as Saudi Arabia and Pakistan, with a history of terrorism were not included.
"Perhaps other countries need to be added to an executive order going forward," Priebus said. Conway agreed but suggested the seven nations were included because "the president and Congress will always have information we do not," although she and Priebus said the Trump administration was using guidance from the nations included in the Terrorist Prevention Act of 2015.
The Trump administration has been denounced by individuals, businesses and governments around the world after the chaos and confusion on Friday and Saturday as those with valid visas to enter the U.S. were detained for questioning. Outrage followed with multiple protests as the Department of Homeland Security's clarified that green card holders, who largely enjoy the same rights as American citizens, also could be barred from entering the United States.
Priebus didn't do the administration any favors with his take on green card holders' rights Sunday. "As far as green card holders, moving forward it doesn't affect them," he told NBC's Chuck Todd—until explaining how the ban will affect them.
"If you're traveling back and forth you're going to be subjected to further screening," the chief of staff said, suggesting that while green card holders were not officially included in the executive order, Customs agents would use "discretion" with such travelers. "The order is not affecting green card holders going forward," he still asserted.
Priebus also said U.S. citizens could face extra hurdles as they travel internationally. "I would suspect that if you're an American citizen traveling back and forth to Libya you're likely to be subjected to further questioning when you come into the airport," he said.
Conway shrugged off the emergency stay issued by Eastern District Court Judge Ann Donnelly, citing her appointment by President Obama, and suggested that the travel ban is a "small price to pay" for the "greater protection of our borders, our people."
Senator John McCain, an Arizona Republican and chair of the Senate Armed Services Committee, said Trump's immigration order has "been a very confusing process" in an appearance on CBS's "Face the Nation." He questioned why Iraq, where U.S. forces fight alongside local troops, is included in the order and predicted it "will probably, in some areas, give ISIS (Islamic State) some more propaganda." His colleague Senator Mitch McConnell, the Republican majority leader, told ABC's "This Week" that he supports further vetting but "it's important to remember that some of our best sources in the war against radical Islamic terrorism are Muslims, both in this country and overseas ... We need to be careful as we do this."
Trump hasn't yet commented publicly on the federal judge's stay of his order, but defended it Saturday by insisting that it wasn't a "Muslim ban." On Sunday, he tweeted: "Our country needs strong borders and extreme vetting, NOW. Look what is happening all over Europe and, indeed, the world—a horrible mess!"
Meanwhile, the Senate's Democratic leader, Chuck Schumer, demanded the Trump administration overturn the executive order. "It must be reversed immediately, and Democrats are going to introduce legislation to overturn it," Schumer said in New York.
This article was updated to include comment from Chuck Schumer and Mitch McConnell.