Which Stores Require Shoppers to Wear Face Masks?
Wearing face masks in public is mandatory in some states, counties, and cities. But in areas where masks or face coverings are not compulsory, individual businesses may decide to enforce a mask policy or encourage shoppers to wear masks.
Walmart, Sam's Club, Kroger, and Kohl's are the latest stores requiring shoppers to wear face masks, with their new policies going into effect from the week beginning July 20. The will join stores such as Whole Foods and Costco, which enforce a face mask mandate earlier in July.
Major store chains such as Target and Trader Joe's are generally encouraging customers to wear masks, but are enforcing masks depending on local guidelines.
Which stores require shoppers to wear face masks?
Whole Foods
H-E-B
Costco
Walgreens
Walmart
Sam's Club
Kroger
Kohl's
Winn-Dixie
Whole Foods
Whole Foods is requesting its shoppers wear face masks and will provide masks to customers who do not have their own.
H-E-B
H-E-B is requiring its shoppers to wear masks from July 1, following 85 percent of its stores already operating with mandatory mask policies.
Costco
Costco requires all shoppers to wear face masks, except for children under the age of two and people with medical conditions that prevent them from wearing a mask.
Walgreens
Walgreens is asking customers to wear face masks, but will not enforce the rule or stop shoppers from entering the store, out of concern for the workers' safety.
Walmart
As of July 16, around 65 percent of Walmart stores already require shoppers to wear masks, but from July 20, masks or face coverings will be mandatory at all Walmart locations.
Sam's Club
Similarly to its parent company, the majority of Sam's Club locations require masks, but a mandatory face-covering policy will apply to all Sam's Club stores from July 20.
Kroger
Kroger will require all shoppers in all locations to wear a mask from July 22. If customers cannot wear a mask, Kroger is encouraging those shoppers to consider an alternative option, like a face shield or face covering. Otherwise, shoppers should use pickup or delivery service instead.
Kohl's
Kohl's will require its shoppers to wear face coverings from Monday, July 20, and will have an associate at the entrance to remind customers of its policy.
Winn-Dixie
Winn-Dixie announced on July 20 that shoppers would be required to wear face masks from July 27.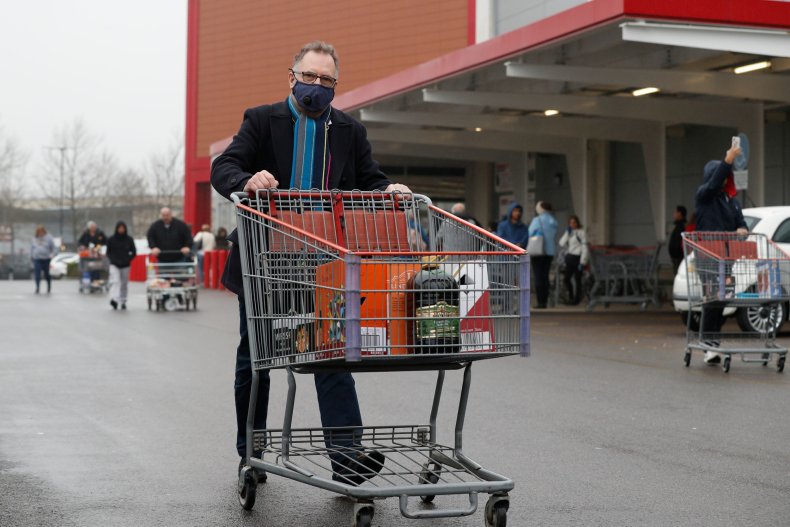 Stores that require masks following local guidelines
Albertsons
Albertsons is requiring customers to wear masks in select locations, so check with your local store for more information.
Trader Joe's
Trader Joe's encourages customers to wear masks or face coverings when shopping at its stores, and some Trader Joes stores are requiring masks, following local guidelines.
7-Eleven
7-Eleven is requiring customers to wear masks in certain locations, so check with your local store before heading out without a mask.
Target
Target requires shoppers to wear masks in locations where government officials have made wearing masks mandatory.
The Centers for Disease Control and Prevention (CDC) recommends wearing face masks to reduce the spread of coronavirus: "Cloth face coverings may help prevent people who have COVID-19 from spreading the virus to others. Wearing a cloth face covering will help protect people around you, including those at higher risk of severe illness from COVID-19 and workers who frequently come into close contact with other people (e.g., in stores and restaurants).
"Cloth face coverings are most likely to reduce the spread of COVID-19 when they are widely used by people in public settings. The spread of COVID-19 can be reduced when cloth face coverings are used along with other preventive measures, including social distancing, frequent handwashing, and cleaning and disinfecting frequently touched surfaces."
The map below from Statista shows which states have reopened and are reopening, and which are pausing or reversing their decision.