Belize Offers Free Vacations To Residents of Rachel, Nevada, During Area 51 'Raid'
Residents of Rachel, Nevada, are no strangers to talk about aliens, conspiracies and military bases, but that doesn't mean they're joining in the "Storm Area 51" phenomena. For those itching to avoid the expected millions, The Tourism Board of Belize is offering lucky residents of the Nevada desert town, population 54, an all-expenses-paid vacation.
Officials in the thriving Central American tourism destination see a similarity between the two locales: "We felt a kinship to the people of Rachel because their town—like our country—is a curious place," Karen Bevans, director of tourism for the Belize Tourism Board, told Newsweek.
"While tourism in Belize has increased significantly over the past few years, we have the industry, infrastructure and resources to support it," Bevans, whose organization is sponsoring the giveaway, added. "If the people of Rachel would rather avoid the chaos—which they certainly didn't ask for—we welcome them to Belize with open arms."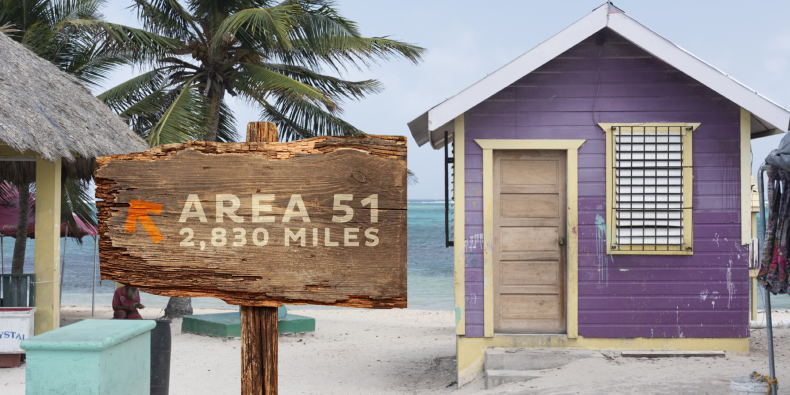 Locals can enter a "sweepstakes" for the paid-for adventure by providing documentation they're over 18 and legally reside in Rachel, along with proof of citizenship and a social security number.
Up to 10 winners in the "Retreat from Rachel" giveaway will be announced on Friday.
Residents of Rachel and the surrounding area are bracing for a flood of conspiracy theorists and tourists on September 20, when the "Storm Area 51" event is scheduled to take place. The "invasion" was sparked by a joke Facebook event page encouraging users to raid the United States Air Force facility located within the Nevada Test and Training Rang, long associated with UFOs, alien autopsies and other oddities.
The meme's creator, Matty Roberts, is partnering with filmmaker Jeremy Corbell to transform the invasion into a safe, educational music and arts festival in the Nevada desert. It's unclear how many of the 2 million Facebook users who have claimed they are "going" to Rachel will actually attend, but Corbell and Roberts are expecting a large crowd.
The pair are cooperating with local law enforcement to set up a designated area for the meet-up, which will take place at the Alien Research Center in Hiko, about 40 miles from Rachel. They're hoping to enlist UFO experts to share their knowledge at the festival.
Though the invite began as a joke, Corbell and Roberts are advocating for the release of any classified scientific information that the U.S. government may have obtained while investigating UFOs and extraterrestrials—information Corbell, director of Bob Lazar: Area 51 & Flying Saucers, says could be crucial for advancing human life.
.