Stormy Daniels 60 Minutes Interview: What Did CBS Cut From Broadcast?
A number of sensitive details were cut from adult actress Stormy Daniels's primetime interview on 60 Minutes last month—including a description of President Donald Trump's genitals, her lawyer said Wednesday.
"When she sat for that interview, it actually lasted over two hours in length, the actual interview," attorney Michael Avenatti told Megyn Kelly Today.
"There's a lot of information that was said during that interview that did not make it into the final 60 Minutes," Avenatti told NBC News's Megyn Kelly, pointing out only 14 to 16 minutes of the full interview actually made it to air.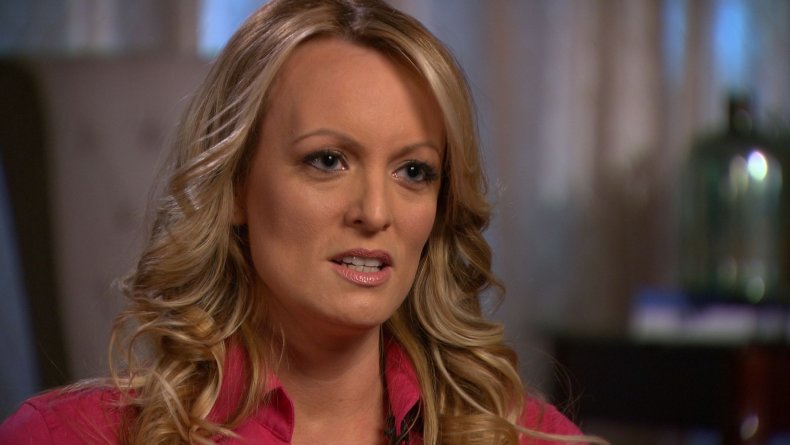 "For instance, she can describe the president's genitalia in great detail. That did not make it," Avenatti said, calling CBS a conservative network that "play it close to the vest."
"We don't need to hear that," Kelly responded, covering her eyes.
Avenatti has suggested he has information that will prove Daniels, whose real name is Stephanie Clifford, had an affair with Trump in 2006. Over the past month he has appeared in a series of high profile interviews on major television networks pressing his case.
In late March he posted a photo of a digital disc in a safe online and told CNN's Wolf Blitzer there is evidence on it to back up the porn star's allegations. Daniels told 60 Minutes that she had sex with Trump once.
Read more: Trump wants Stormy Daniels case settled behind closed doors
Avenatti is representing Daniels in a lawsuit as she seeks to free herself from a nondisclosure agreement she negotiated with Trump's lawyer Michael Cohen days before the 2016 election. Daniels was paid $130,000 for her silence at a time when multiple women had come forward with stories accusing Trump of decades of sexual misconduct.
Avenatti argues the agreement is invalid because Trump didn't sign it, even though his name is on it. Cohen says he paid the money out of his own pocket and that Trump was not aware of the agreement brokered on his behalf. The president denies having an affair with Daniels.
During the interview Wednesday, Kelly pressed Avenatti about why Daniels is only coming forward with her story now and questioned why she hasn't returned the money to Cohen.
"She abided by it for 16 months without objection and cashed the $130,000 check," Kelly said, questioning at what point the agreement suddenly became invalid.
Avenatti said Daniels is "a principled woman" who now wants the truth to come out.
On Tuesday David Schwartz, an attorney leading Cohen and Trump's defense against Daniels, mocked Avenatti and accused him of "trying the case in public" through his television interviews. He spoke on the Curtis and Cosby show on WABC Radio.
Schwartz said Avenatti is "playing games" by suggesting he has proof of the alleged relationship on a digital disc. "There's nothing there," Schwartz said. "This guy is playing games, I have no idea why, and he is going to lose in court." Cohen's legal team, he said, are going to stay out of the spotlight and won't make cable television appearances any time soon.
On Monday Cohen's legal team filed a motion in a federal California court to have the case settled in private arbitration.
Avenatti is seeking a jury trial and sworn depositions from both Trump and Cohen.