Trump Promised to Put Stormy Daniels on The Apprentice—And Cheat to Survive, Book Claims
President Donald Trump allegedly offered the adult film actress Stormy Daniels a spot on his reality TV show The Apprentice and said he would help her cheat to progress in the competition.
That is according to a new tell-all book by Daniels, real name Stephanie Clifford, titled Full Disclosure, a pre-sale copy of which was obtained by The Guardian.
Daniels claims she and Trump had sex in 2006, not long after the real estate mogul's marriage to Melania Trump and the birth of their son, Barron Trump. He denies the affair.
"We'll figure out a way to get you the challenges beforehand," Daniels quotes Trump as saying about The Apprentice, reported The Guardian. "And we can devise your technique."
Daniels continues: "He was going to have me cheat, and it was 100 percent his idea."
On The Apprentice, Trump oversaw a competition between individuals who took part in business-focused challenges to win a lucrative job managing a business for him.
Each week, at the end of a challenge, Trump fired the worst performer from the show.
The Daniels book also contains a lurid description of Trump's "unusual" penis.
Of the affair, Daniels writes: "It may have been the least impressive sex I'd ever had, but clearly, he didn't share that opinion."
In 2016, just before the presidential election from which Trump emerged victorious, Daniels received $130,000 to buy her silence about the affair.
Trump's former attorney and fixer Michael Cohen arranged the hush payment to buy the rights to her story, which she planned to sell to the media.
The president denied all knowledge of the payment until reports of its existence first emerged in the media.
However, Cohen, who faces multiple fraud charges, made a plea deal in which he implicated Trump in campaign finance violations relating to the Daniels payment.
Cohen initially claimed he made the payment unilaterally to protect Trump's family from embarrassment.
Now Cohen alleges Trump directed him to make the payment for the purpose of aiding his election campaign—which the president denies.
Daniels and Trump are locked in a legal wrangle over the hush payment after she broke cover with her claims of an affair at the beginning of 2018.
The pair met at a celebrity golf tournament in July 2006 at Lake Tahoe, California where their alleged sexual encounter took place.
The White House did not immediately respond to a request for comment.
Full Disclosure will go on sale October 2.
Announcing the book, which is a memoir, Daniels told ABC's The View that she was "going to write everything and include it, and people can think what they want about me. But at least it's the truth."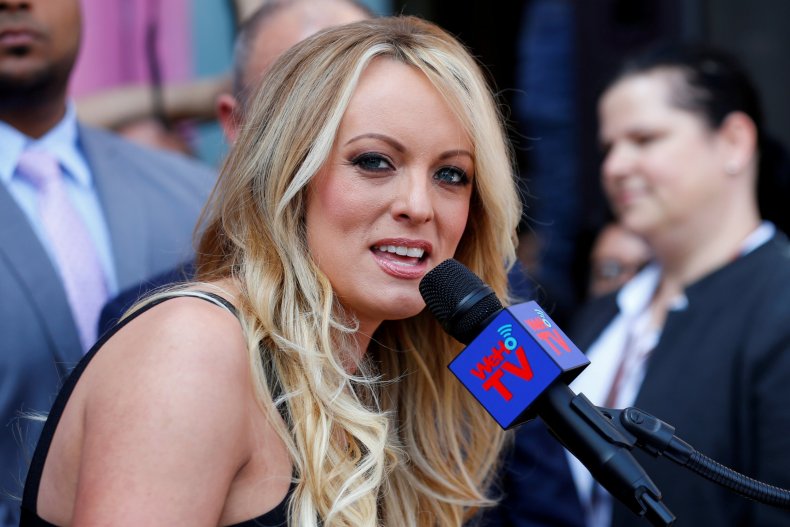 This article was updated with another quote from the Stormy Daniels book.