Watch: Stormy Daniels Says in TV Interview That she has More Damning Evidence Which Could Bring Down Trump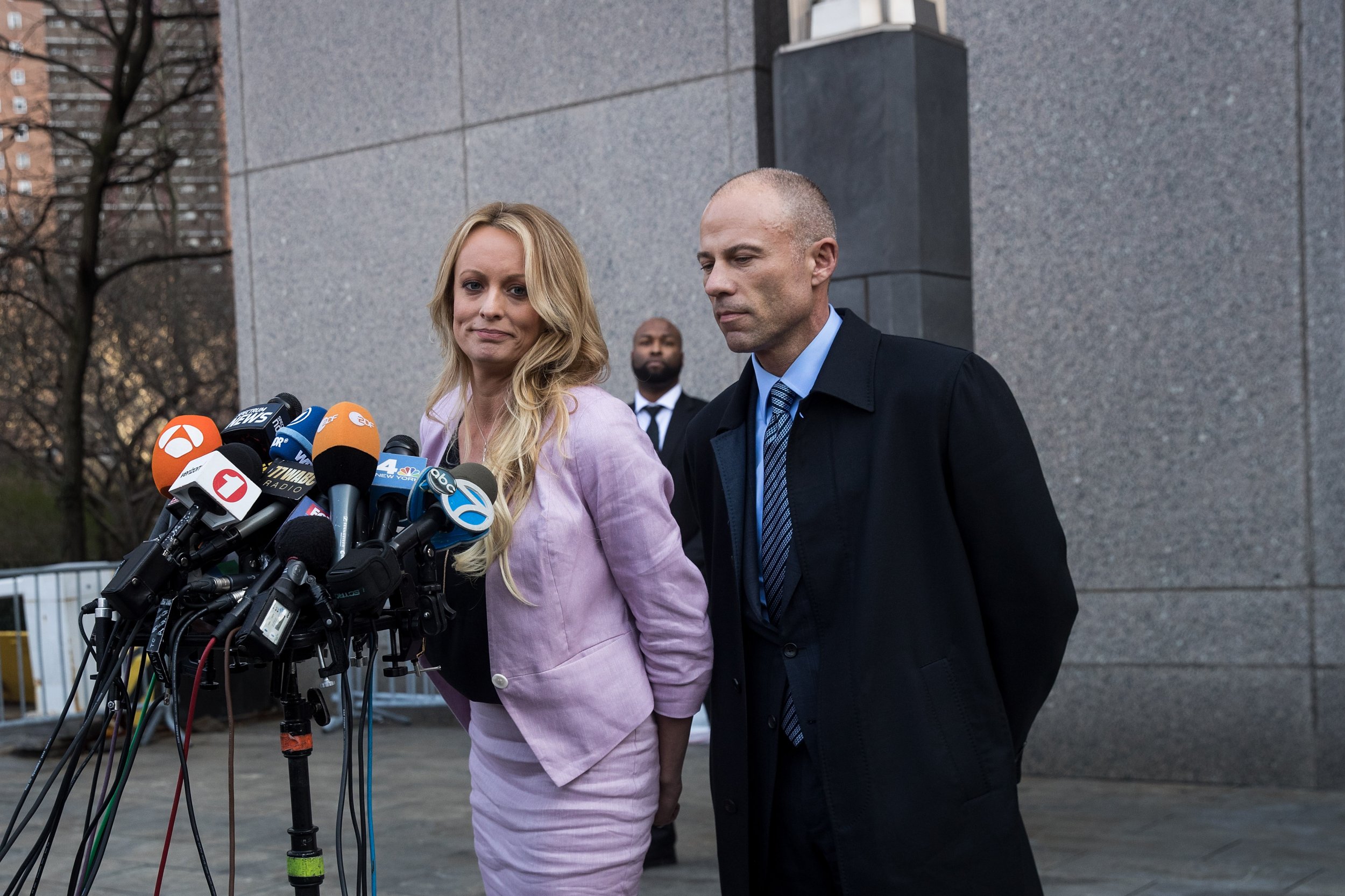 In a rare and wide-ranging TV interview in the Netherlands Thursday night, adult-film actress Stormy Daniels discussed damaging information she still has on Trump, her changed personal life and the day she heard ex-Trump attorney Michael Cohen pleaded guilty and admitted in court to paying her hush money at the behest of the President.
Daniels, whose real name is Stephanie Clifford, is currently suing President Donald Trump over a non-disclosure agreement and a hush-money payment for an alleged affair.
The president's former personal attorney Michael Cohen pleaded guilty last month to eight counts involving campaign finance violations and tax and bank fraud. The charges stemmed from his $130,000 payment to Daniels on behalf of Trump and another $150,000 payment to former Playboy model Karen McDougal in the months leading up to the 2016 election, which Cohen said were made to silence them about alleged affairs with Trump.
The McDougal payment was arranged through American Media Inc. owned by Trump associate David Pecker and parent company of the National Inquirer to "catch and kill" her story.
As part of his plea deal, Cohen admitted he withheld information about hush-money payments to Daniels and McDougal "in coordination and at the direction of" Trump, which essentially incriminated the president as a co-conspirator.
Speaking with the Dutch TV show RTL Late Night with Twan Huys, Daniels said the day she heard Cohen plead guilty and was arrested was one of the best days of her life. When she got the news, Daniels immediately opened a bottle of wine to celebrate.
"I will never forget that moment," said Daniels, who said that all the name-calling and insults she received about being a porn star did not bother her. "The only thing that ever really bothered me was people saying that I lied or was in it for the money."
At the time Cohen was going into court to accept his plea deal, Daniels was out of the country. She fell asleep waiting for a call from her attorney and later woke up to her phone exploding with unanswered messages and missed calls.
"I opened a bottle of wine because I was in Italy," Daniels recalled. "The first phone call I got was from one of my bodyguards, Travis, and he was in tears and I was in tears. And it was just this moment where he was like, 'Everyone knows you're not a liar.' And that's all I ever wanted. I didn't think it would hit me as hard as it did, but I broke down into sobs."
Daniels suggested that she and her attorney, Michael Avenatti, who represents other clients who have alleged affairs with Trump, have more damning information on Cohen and possibly the president. Daniels said she either could not go into details for legal reasons or did not know the specifics of the evidence.
"All I will say is that there is a lot of information that has yet to come out and I think a lot of it is going to very shocking and it will make sense as to why they were so desperate to come after me," Daniels said.
The host, Twan Huys, pressed further.
"Is there something you know now that we will know soon that could bring down this presidency?" Huys asked.
"Yes, there is stuff that I know, and I would say it's a 50-50 shot at this point," Daniels responded. "Which is pretty scary odds if you're the president."
Daniels believed Trump was "much too arrogant" to ever resign.
Daniels called Trump's current personal attorney, former New York Mayor Rudy Giuliani, a "twit." She said Trump "goes through attorneys faster than I go through underwear."
Giuliani levelled personal insults at Daniels and her appearance in June.
"Excuse me, when you look at Stormy Daniels—uh, I know Donald Trump—look at his three wives. Beautiful women. Classy women. Women of great substance. Stormy Daniels?" said Giuliani as he made a dismissive face.
"He's a twit," Daniels responded. "How sexist and rude to say that my job defines my character. I might be an actress or a porn star but it doesn't mean I don't know right from wrong and it doesn't mean that I don't know the truth from a lie. Also, he made himself look like a total ass because he forgot that President Trump's current wife has also been a nude model and photographed in pornographic photos with other women. So, hypocrite much?"
Daniels also recalled her alleged affair with Trump as "entertaining and interesting and regrettable." Daniels has given past in-depth interviews about what she alleged happened that night.
Despite the possibility of her trial going before a judge that could rule she owes Trump millions of dollars for breaking her non-disclosure agreement and for some of the things she has said, Daniels said Trump and his attorneys will "never silence me."
"I might be living in a cardboard box under a freeway overpass, homeless, but I won't be silenced," Daniels said. "Absolutely not."
When asked if all the ridicule, name-calling and public feud against the most powerful man in the world was worth it, considering she also has a daughter, Daniels said she sometimes struggles with her decision. Some days she broke down and wished it never happened. She now lives in constant fear.
"[Fear] of being ruled against, losing my case. Losing my family more than I already have," Daniels said. "Just the simple fear of some pissed-off Trump supporter or fan coming after me, doing something stupid."
But ultimately, Daniels said she believed it was "totally worth it."
"There's part of me that's like, 'Yeah, I should have just kept my mouth shut and stayed home or just take this mic off right now and walk out of here and go back to my daughter.'" Daniels explained. "But the bigger picture for that is, yeah, I might have given her a normal, happy, traditional home life for the next year or two, but what if things continue with Trump in the White House as they are, and he does something really stupid and pushes that red button? Yeah, okay, great, my daughter had a great year or two of her life but maybe this way, she'll have a great, full, 50, 60, 70 years of her life."