Stormy Daniels' Lawyer Michael Avenatti Says Attorney Who Negotiated Her NDA Is an 'Absolute Tool'
Adult film star Stormy Daniels' new legal representative in her lawsuit against President Donald Trump has branded the attorney who handled her 2016 non-disclosure agreement (NDA) with the then-presidential candidate an "absolute tool."
Michael Avenatti made the comments during an interview with CNN anchor Anderson Cooper on Wednesday, criticizing Daniels' former attorney, Keith Davidson, for speaking to the media about the case.
Davidson had earlier that day told CNN correspondent Sara Sidner that the "whole truth" about the NDA signed between the porn star and president had yet to be revealed. Davidson had previously represented Karen McDougal, who also said she had an affair with Trump around the same time as Daniels.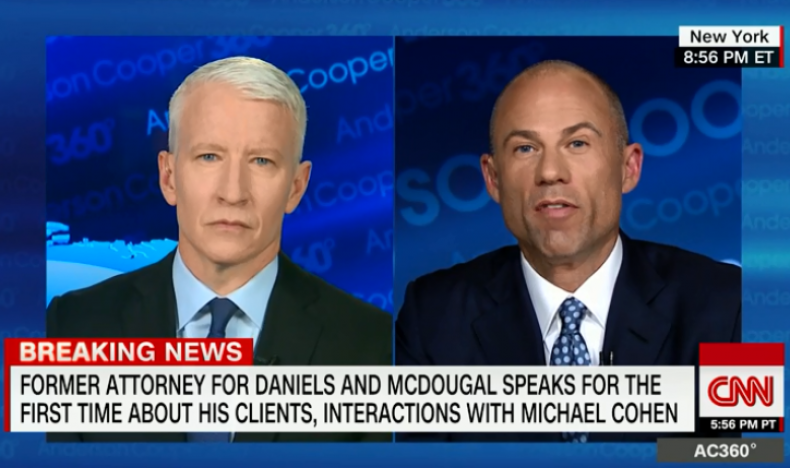 Daniels has argued that the NDA she signed with Davidson's help is invalid because Trump did not sign it. The agreement, which included a $130,000 payment, was meant to ensure that the adult film star would not speak publicly about her alleged affair with Trump in 2006.
Asked about Davidson's comments on the NDA, Avenatti said "Keith Davidson is an absolute tool," condemning the lawyer's actions as "unethical."
"I'm going to say it on national television tonight because what he has done by giving this interview is really unheard of in the legal profession," Avenatti said.
Read more: Trump Wants Stormy Daniels Case Settled Behind Closed Doors
"For him to go out and comment on two matters, one for McDougal and one for my client, after he was terminated from both cases… to get his name out there or his face on television, is really outrageous," Avenatti said. "And it's unethical and there's going to be serious consequences that result from it. I'm shocked."
Davidson told CNN that Trump's attorney, Michael Cohen, who negotiated the NDA with Daniels, had contacted him and encouraged him to disclose details of the agreement to the public. Davidson said Cohen had argued that Daniels and McDougal had both waived their attorney-client privileges by going public with their claims.
"He was in contact with Mr. Cohen, who's encouraging him to go out on television and tell a story, presumably to support Mr. Cohen," Avenatti said.
"It raises a whole host of suspicions about exactly what's been going on between these two attorneys," Avenatti continued. "Michael Cohen can't appear on your show or any other show to answer the most basic questions, and yet he's trying to act as a puppeteer… as it relates to Mr. Davidson."
Avenatti said that if the president or Cohen decided to waive their attorney-client privileges, Daniels might consider doing the same, though he said the move would be "highly unusual," adding "I doubt they're going to do it."