Stormy Daniels's Lawyer Michael Avenatti Says He Has 'Significant Evidence' of Brett Kavanaugh's Sexual Misconduct in High School
The lawyer of adult film actress Stormy Daniels has added to the growing clamor opposing Brett Kavanaugh's confirmation to the U.S. Supreme Court.
Michael Avenatti said that he had "significant evidence" that Kavanaugh had plied women with alcohol and drugs at parties to sexually assault them while he was in high school.
Avenatti made the allegations in an email to Mike Davis, the chief counsel on nominations for the Senate Judiciary Committee. Without identifying witnesses, Avenatti tweeted on Sunday night that Kavanaugh had not acted alone.
Avenatti said: "I represent a woman with credible information regarding Judge Kavanaugh and Mark Judge. We will be demanding the opportunity to present testimony to the committee and will likewise be demanding that Judge and others be subpoenaed to testify. The nomination must be withdrawn."
Mark Judge was a classmate of Kavanaugh's and was named in Christine Blasley Ford's sexual assault allegation against Kavanaugh.
Avenatti later told Politico that there were women who could corroborate claims against Kavanaugh, adding that one woman he had described as a victim "will testify. But before she does, she will likely appear on camera for an interview."
He also said he had many clients who had been witnesses to the alleged assaults who went to schools in the same general areas, adding: "These house parties were widely attended. I'm representing multiple individuals that have knowledge of this. There's no other attorneys involved," Politico reported.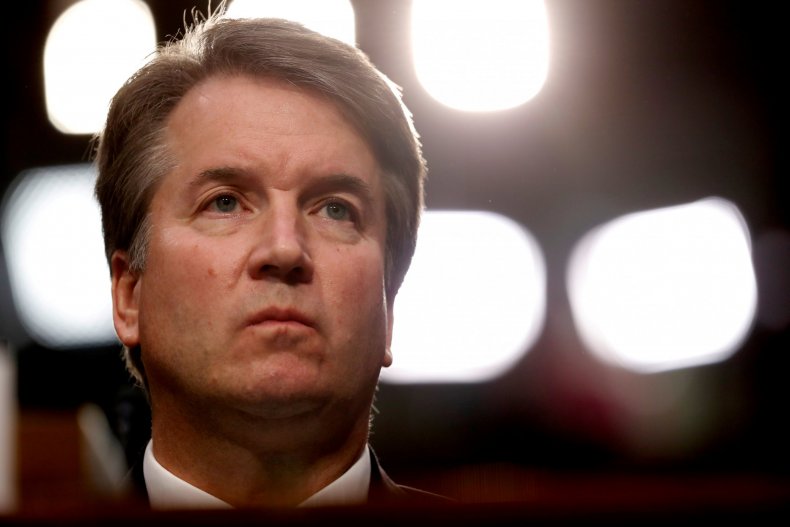 Neither Kavanaugh nor Judge have commented on Avenatti's claim. It comes after Deborah Ramirez told The New Yorker that when she was a freshman at Yale in 1983, Kavanaugh had exposed himself at a drunken dormitory party and thrust his penis in her face.
She said he had "caused her" to touch his penis "without her consent as she pushed him away. What does it mean, that this person has a role in defining women's rights in our future?" she told the magazine.
Kavanaugh has denied the accusation, saying that it "did not happen. This is a smear, plain and simple. I look forward to testifying on Thursday about the truth, and defending my good name."
Kavanaugh also denied sexually assaulting Christine Blasey Ford, who alleged he had pinned her to a bed in a locked bedroom and attempted to remove her clothes at a party while both were in high school. Ford and Kavanaugh are scheduled to testify in an open hearing before the Senate Judiciary Committee on Thursday.
Kavanaugh has to be approved by the 21-strong Senate Judiciary Committee and then the whole Senate to take his place on the Supreme court, which is the final arbiter of the law in the U.S. The Republican Party had wanted to confirm Kavanaugh before the Supreme Court begins its new session on October 1.
Avenatti represents Stormy Daniels, real name Stephanie Clifford, who was paid by former Donald Trump lawyer Michael Cohen to not reveal an alleged affair she had with the now U.S. president in 2006.