Stormy Daniels Says Trump Lasted 'Maybe' Two Minutes In Bed: 'I'm Being Generous'
Adult film star Stormy Daniels has taken a dig at president Donald Trump's sexual performance—suggesting the businessman "maybe" lasted two minutes in bed.
Speaking in an interview with Vogue that was published on Tuesday, Daniels was asked for details about her alleged sexual encounter with Trump.
"How many details can you really give about two minutes?" Daniels responded. Pressed further by interviewer Amy Chozick, who responded "Two minutes?" Daniels quipped, "Maybe. I'm being generous."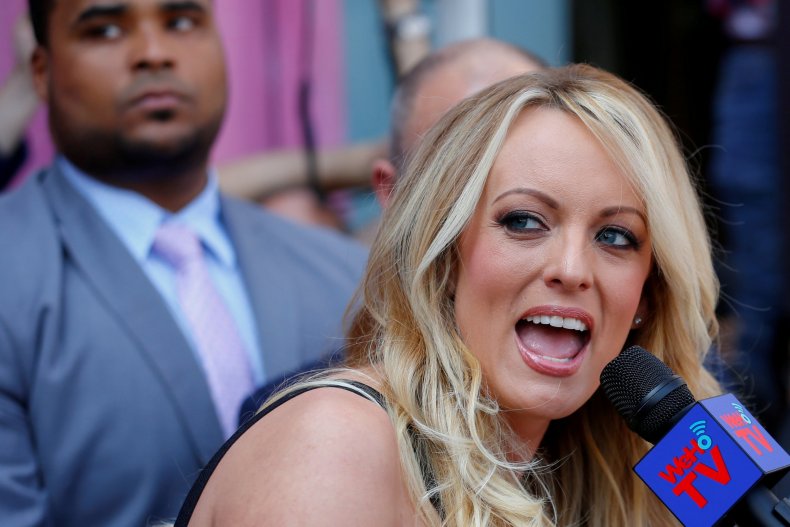 Daniels, whose real name is Stephanie Clifford, claims she had an extramarital affair with Trump in 2006, several months after the birth of his youngest son Barron, whom he shares with wife Melania Trump.
The alleged interaction led to the star being paid $130,000 in hush money by Trump's then-lawyer Michael Cohen, who last week admitted he made payments to Daniels and former Playboy model Karen McDougal in order to keep them quiet on alleged affairs—claiming he was directed to do so by Trump.
Speaking in further detail about her alleged interaction with Trump, which he has denied, Daniels said the businessman, who was then enjoying success with his show The Apprentice, asked her questions about the adult film industry.
"Businessmen like to talk about business," Daniels told Vogue. "The questions were good."
She then described the moment she came out of the bathroom in the hotel room the pair were in: "He was in his underwear and his shirt and he was like, 'Heeey…' It was just normal-people sex."
Daniels has previously spoken about the night she allegedly had sex with Trump, commenting that the "best thing" about the evening was watching Trump watch a shark documentary and observing that "he is obsessed with sharks," reportedly commenting: "I hope all the sharks die."
Despite claiming to have had an extramarital affair with Trump, Daniels recently said that she believed the first lady may be happy in her relationship, suggesting Melania Trump has every right not to speak out about her marriage.
"People should stop speaking for her," Daniels told U.K. tabloid The Daily Mirror. "Maybe she's happy. Everything we say about her is a projection. Some people misplace sorrow and pity on another person. The entire world would be interested to know what she feels, but if we never know, that is her right and I support it," she added.