Michael Cohen's lawyer has said his client is ready to tell special counsel Robert Mueller "all he knows" about President Donald Trump and the "conspiracy to collude and corrupt the 2016 election."
Cohen's lawyer, Lanny Davis, made the claim after his client pleaded guilty on Tuesday to campaign finance violations over hush money payments he made to adult film star Stormy Daniels, whose real name is Stephanie Clifford, and former Playboy model Karen McDougal, ahead of the 2016 election.
Former Trump campaign chairman Paul Manafort was separately found guilty on eight charges of tax fraud, bank fraud and failing to disclose foreign bank accounts.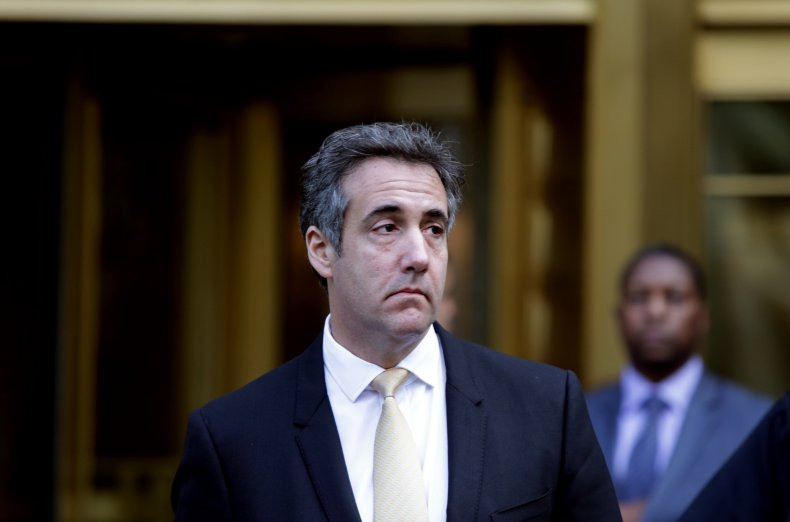 Speaking with MSNBC's Rachel Maddow, Davis said his client only made the payment to Clifford and McDougal "at the direction of" Trump, meaning the president should be considered just as "guilty of a felony."
"It was a crime for president Trump to direct Michael Cohen to the crime of a campaign finance donation that exceeded the legal limitations," Davis said.
"Why didn't president Trump do this himself? Why didn't he write or sign the check himself? Was he covering up because he knew that there was something wrong in what he was doing, so he directed his lawyer to do something that he didn't want anybody to know that he did?" he continued. "I think the answer to that question is obvious, so there's a cover-up here by our now-president of the United States that is undeniable."
Davis said now that Cohen has pleaded guilty to his charges, the former Trump attorney feels "liberated" to share "knowledge on certain subjects that should be of interest" to Mueller in his investigation into Russian meddling and possible collusion between the Trump campaign team and a Russian delegation, including one Kremlin-linked lawyer.
He said his client is "more than happy to tell the special counsel all that he knows…about the obvious possibility of a conspiracy to collude and corrupt the American democracy system in the 2016 election," which Davis said, "the Trump Tower meeting was all about."
But, Davis also said that Cohen would be prepared to provide Mueller with "knowledge about the computer crime of hacking and whether or not Mr. Trump knew ahead of the time about that crime and even cheered it on. We know he publicly cheered it on, but did he also have private information?"
Asked why Cohen was not given a "cooperation deal" in his case surrounding the payments to Clifford and McDougal, Davis said that his client "is dedicated to telling the truth" and suggested that "if that amounts to the word 'cooperation,'" such an avenue could still be a possibility.
"It's truth that Michael Cohen is committed to and it's the truth that threatens the president of the United States who has consistently lied in fact, on this issue, denied, knowing about these payments until Rudy Giuliani, his lawyer, waiving attorney-client privilege, said 'oh, he knew about the payments,'" Davis said.
"He's a good man with a good heart," Davis said. "He's relieved and liberated because now he has no shadow hanging over him. The uncertainty is gone. He has stepped up to the line and he has admitted what he did wrong, but he is now liberated to tell the truth–everything about Donald Trump that he knows."
"From this point, on you're going to see a liberated Michael Cohen speaking truth to power," he said.